Created in the 1960s the North Dakota Game and Fish Advisory Board is made up of eight members, four landowners and four hunter/anglers. Board members serve as liaisons between the department and the North Dakota public. Bi-annual meetings are held in each of eight districts giving citizens an opportunity to discuss fish and wildlife related issues.
Spring 2014 Meeting Schedule
The fall 2013 meetings have been completed. The spring 2014 meeting schedule will be posted when it becomes available.
Advisory Board Contact Information
For a list of current board members and their contact infomation, please see our district advisory board contact page.
Districts
Click on image to view a larger map.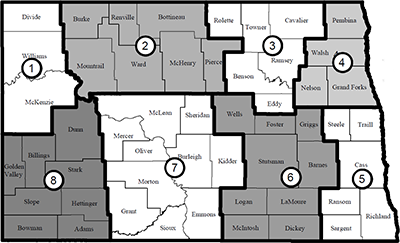 More Information