The 2015 regular paddlefish snagging season will close at 10 p.m. Central Daylight Time, Monday, May 11, to protect the population level of the fish. Snaggers are reminded that Monday is a snag-and-release only day.
The 2014-16 fishing proclamation allows for the Game and Fish director to close the snagging season early if it appears more than 1,000 paddlefish will be harvested. In addition, according to Greg Power, Fisheries chief, a record high proportion of the 2015 paddlefish harvest has consisted of mostly females, further necessitating an early season closure.
An additional four-day snag-and-release season will begin Tuesday, May 12 and run through Friday, May 15. Paddlefish snaggers with an unused paddlefish tag can continue snagging during the additional snag-and-release season, but must release all fish immediately. Snaggers who already used their tag on a harvested paddlefish are not allowed to participate in the additional snag-and-release period. Snag-and-release is legal only in that area of the Missouri River starting on the north shore from the Confluence boat ramp then east (downstream) one-half mile, and that area of the Missouri River starting on the south shore from the Confluence with the Yellowstone River then east (downstream) one-half mile (both areas will have boundary signs). Paddlefish snagging is allowed only from 8 a.m. to 9 p.m. (CDT) during each day of the additional four-day season. The use or possession of a gaff on snag-and-release days is illegal.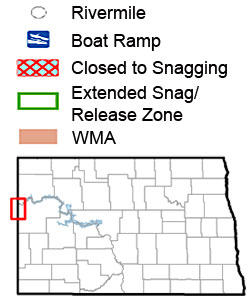 Note: If you are viewing this on a mobile device, click here to learn more about our mobile mapping apps and services.
Printable Map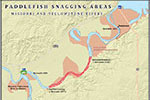 (Format - .jpg)
---
What is a paddlefish?
One of only 2 species of paddlefish in the world, the North American species is found in 22 states. The fossil record of paddlefish species in the Missouri River basin dates back 60 million years. Individual animals can live 60 years or more and reach weights of almost 200 pounds (current North Dakota record – 130 pounds). To learn more about paddlefish, check out our paddlefish question and answer page.
Paddlefish Tag Vendors
Bismarck Game and Fish Office
100 N. Bismarck Expressway
Bismarck, ND 58501
701-328-6300
Williams County Auditor
PO Box 2047
Williston, ND 58802
701-577-4500
Scenic Sports
1201 East Broadway
Williston, ND 58801
701-572-8696
Runnings Farm and Fleet
2003 3rd Avenue West
Dickinson, ND 58601
701-483-1226
Wal-Mart, Inc.
4001 2nd Avenue West
Williston, ND 58801
701-572-8550