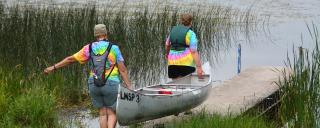 Becoming an Outdoors-Woman
BOW and Beyond BOW Workshops
Game and Fish is currently developing a new schedule of BOW and Beyond BOW events around the state. Events will be posted here as they are finalized. Check back again soon for updates, or sign up for notifications of new events here.
BOW Workshops
The 2017 summer BOW workshop will be held June 23-25 at the North Dakota 4-H Camp near Washburn. Workshop fees are $150 and include sessions, program materials, use of equipment, meals and lodging. The application deadline is May 17th.
2017 Summer BOW Workshop - Information and Registration
Beyond BOW Workshops
No Beyond BOW workshops are scheduled at this time.
---
For more information on Becoming an Outdoors-Woman contact Brian Schaffer, BOW-NDGF, 100 N. Bismarck Expressway, Bismarck, ND 58501-5095, 701-328-6312, or email ndgf@nd.gov.
Partial scholarships may be available for some BOW events. Contact the Department for more information.