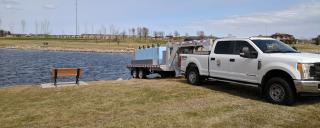 Spring Catchable Trout Stocking Update
Each spring the Department stocks trout of a catchable size in around 40 lakes and ponds throughout the state (many located in towns and cities). These fish range from ½ - 3 pounds, perfect for catching on a lazy spring afternoon. So grab the fishing poles and the family and head out to one of the lakes listed below. Catch them now, because once things warm up in late spring/early summer the trout will stop biting!
Note: We'll add to this list as more lakes are stocked throughout the next month.
Addition as of 5/19/2018:
Little Britches Pond (Stutsman)
Casselton Pond (Cass)
Mooreton Pond (Richland)
Additions as of 05/16/2018:
Additions as of 05/15/2018:
Fish Creek Dam (Morton)
Missouri River (Garrison Dam Tailrace)
Additions as of 05/14/2018:
Baukol-Noonan Dam (Divide)
Baukol-Noonan East Mine (Divide)
Harmon Lake (Morton)
Northgate Dam (Burke)
Sheep Creek Dam (Grant)
Additions as of 05/11/2018:
Stanley Pond (Mountrail)
McGregor Dam (Williams)
Custer Mine (McLean)
Painted Woods Pond (McLean)
Lutz Dam (Bowman)
Krieg's Pond (Morton)
Davis Dam (Slope)
Additions as of 05/10/2018:
Strawberry Lake (Bottineau)
Riverdale City Pond (McLean)
Glenburn Pond (Renville)
Langdon City Pond (Cavalier)
Hooker Lake (Rolette)
North Lemmon (Adams)
Additions as of 05/09/2018:
McDowell Dam (Burleigh)
Blumers Pond (Barnes)
Hatchery Kids (Pond Barnes)
Blumhardt Dam (McIntosh)
Mooringstone (Pond Ransom)
Streeter Lake (Stutsman)
Castle Rock Dam (Hettinger)
Mott Watershed (Dam Hettinger)
Gaebe Pond (Morton)
Little Heart Pond (Morton)
Nygren Dam (Morton)
Additions as of 05/08/2018:
Lightning Lake (McLean)
Velva Sportsmen's Pond (Ward)
Turtle River (Grand Forks)
Dickinson Dike (Stark)
Harmony Lake (Mercer)
Hazen Creek (Mercer)
Oliver County Sportsmen's (Oliver)
Additions as of 05/07/2018:
Watford City Park Pond (McKenzie)
Kettle Lake (Williams)
Kota-Ray Dam (Williams)
West Spring Lake Pond (Williams)
Casselton Pond (Cass)
Mooreton Pond (Richland)
Additions as of 05/03/2018:
Camels Hump Dam (Golden Valley)
Belfield Pond (Stark)
Dickinson Dike (Stark)
Porsborg Dam (Morton)
Owls Pond (Burleigh)
Additions as of 04/27/2018:
Beach City Pond (Golden Valley)
Belfield Pond (Stark)
OWLS Pond (Burleigh)
Wilton City Pond (Burleigh)
Porsborg Dam (Morton)
State Fair Pond (Ward)
Ryan Park Pond (Grand Forks)
Turtle River (Grand Forks)
Brooks Harbor (Cass)
North Woodhaven Pond (Cass)