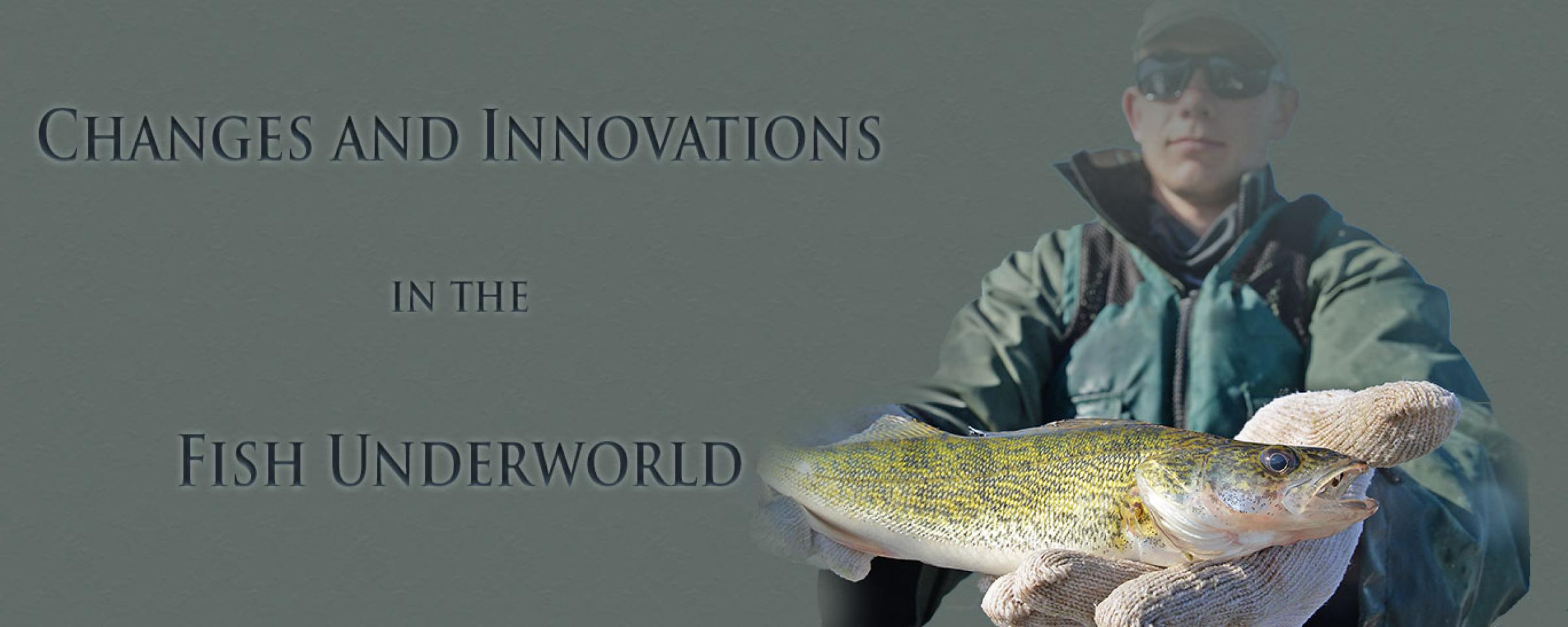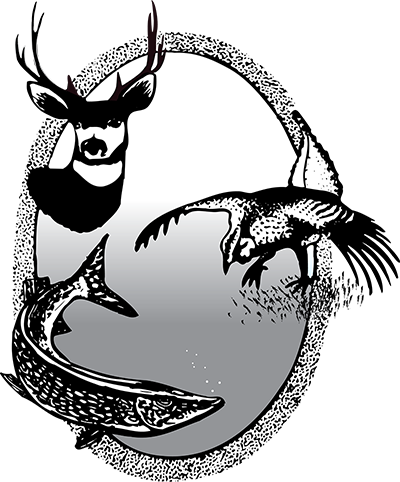 Change and Innovations in the Fish Underworld
While reviewing some North Dakota OUTDOORS articles from the late 1960s, I realized there are a number of parallels between then and now.
Fish and wildlife talk 50 years ago centered on such matters as winter impacts on wildlife, winterkill in state lakes, poaching, land use and the need for more fish hatcheries. Today, these themes haven't changed much and are still part of the fundamentals that dictate fish and wildlife populations on the prairie.
Of course, some things have changed.
Advancements based on innovation are a societal hallmark in the evolution of the United States. Going back to the 1960s, Americans witnessed cutting edge technology at the time. For example, 8-track tape players, handheld calculators and touchtone telephones are relics of this decade.
Today, our consumptive and fast-paced society looks back to the 1960s as an archaic time. Our cell phones have not only replaced touchtone land phones, they also provide the functions of the 8-track tape players, handheld calculators and much, much more.
The same is true for many of the techniques and activities employed by today's fisheries scientists. In the 1960s, North Dakota had 120 water bodies providing fishing opportunities for anglers. Today we have more than 425. To manage this tremendous increase, North Dakota Game and Fish Department biologists have had to stay on top of emerging technologies and develop new approaches to their jobs.
As a result, these efforts have paid off greatly in increased efficiencies, improved productivity and, ultimately, more fish for North Dakota anglers to pursue.
Many of these approaches/techniques are unique, or at least a little unorthodox. The following is a small subset of these modern activities that warrant a quick look.
Production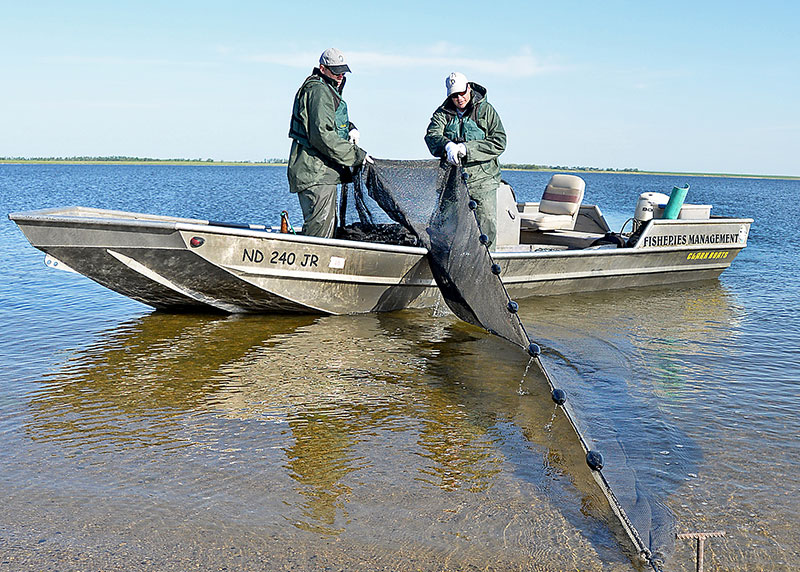 Fisheries biologists sample the adult fish population in summer 2016 on one of North Dakota's many prairie lakes.
Many of the 64 ponds at Garrison Dam National Fish Hatchery are lined in rubber. This eliminates any water from leaking and enhances natural fish food production, which in turn means larger and healthier walleye and northern pike fingerlings.
A computerized hatchery pond management system allows fewer staff to efficiently manage up to 64 separate ponds of fish, by tracking when to fertilize, stock hatchery fry and when to begin draining.
The use of fish pumps to load larger trout into transport trucks, plus other actions, have assisted in maximizing daily loads, thus reducing the miles spent delivering the same total pounds of fish.
The Department uses experienced, dedicated drivers to run the long routes to get fish where they need to go for stocking. This approach is more effective than using inexperienced drivers making short trips.
Modern and highly efficient equipment is used to transport fish. For example, real-time oxygen monitors have improved the quality of fish stocked, as distribution drivers can adjust oxygen levels continuously. In the past, drivers had to stop numerous times, use a hand-held monitor to test the oxygen, and then make manual adjustments. Monitoring equipment has helped increase the number and pounds of fish transported without changing the size of the tanks.
Using GPS technology to easily find all stocking locations has greatly enhanced fish delivery. Today, significantly more lakes can be stocked in less time, and with fewer drivers.
These adaptations and others have reduced the amount of time spent in fish distribution from 2,300 hours 20 years ago to 900 hours in 2016 with 1 million more fingerlings stocked last year compared to 1996.
Management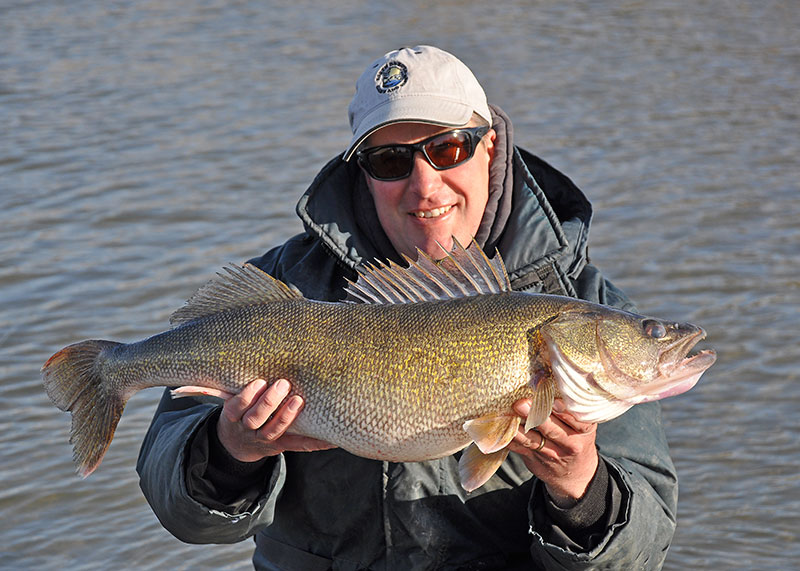 A trophy walleye captured in the Missouri River System for a multi-year tagging study.
In the past 20 years, biologists have stocked and developed 63 new walleye fisheries in lakes 200 acres in size and larger, or more than 60,000 new acres of excellent walleye fishing on North Dakota's prairie. More than 20 of these new walleye lakes have a boat ramp.
Biologists can now determine if young-of-the- year walleye collected in fall reproduction surveys originated from a hatchery or were naturally reproduced. This analytical method helps biologists further refine future stocking rates and locations.
Fisheries biologists for years have stocked some fish species in unique waters to create distinctive fishing opportunities. For instance, Game and Fish has stocked the Turtle River in eastern North Dakota with rainbow trout for the past 20 years, providing a distinctive fishery found nowhere else in the state. In addition, channel catfish (mostly 1- to 2- pound fish) are routinely transported from the Missouri River System, where the species is extremely abundant, and stocked into many small community fisheries scattered around the state.
For fish tagging studies, fisheries staff have improved tagging methods by switching, in many cases, to metal jaw tags. These tags are easier to install and, most importantly, have high retention rates compared to plastic tags attached to a fish's dorsal fin or back.
Staff have experimented with smaller gillnets and are using them more for fish sampling on district lakes. These shorter nets provide better statistical data, with reduced fish mortality.
Dissolved oxygen (and other water quality parameters) monitoring in lakes is now more efficient with newer optic meters and membrane units. Reliable data is now collected instantaneously.
Development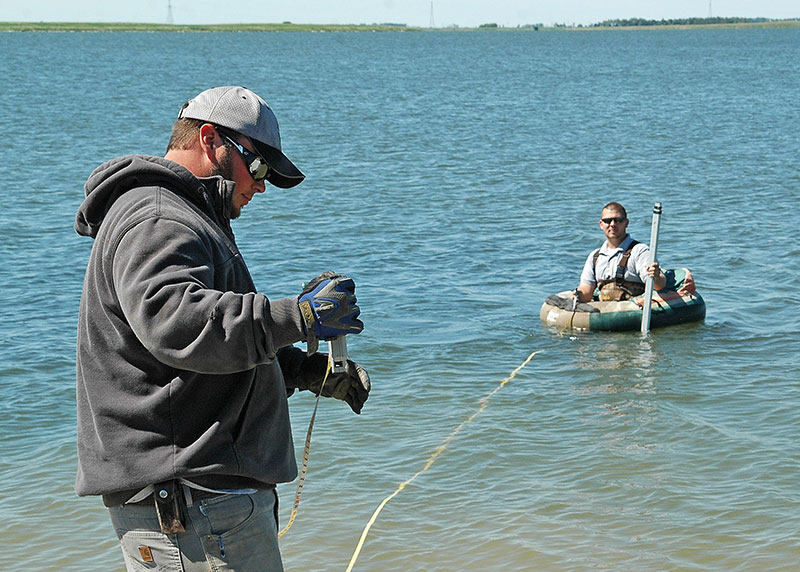 Game and Fish Department fisheries development personnel check the depth and slope during construction of a new boat ramp in Kidder County.
The Game and Fish Department constructs new concrete ramps using a "pour and push" method. This method allows ramp construction with continuous, high quality materials. By pushing the concrete ramps out to whatever distance is needed, we are able to provide water depth on the end of the ramp to maintain usability at various water levels. This method consistently provides a high quality ramp at the lowest possible cost.
Game and Fish has completely assumed construction of courtesy docks and fishing piers for state waters. A portion of the courtesy dock frames are manufactured through a joint effort with the North Dakota State College of Science at Wahpeton. All frames are finished with a "hot-dipped" galvanize, which protects them from rusting and corrosion. All other dock components (wheels, decking, bumpers and adjustable legs) have also been upgraded to make the new docks/piers virtually maintenance free. These modifications have greatly extended the useful life of courtesy docks.
Thanks to a large private donation, the Department was able to purchase and install more than 70 new floating fishing piers across the state since 2006. These new piers provide access for a variety of anglers, including those who do not have boats, families with kids, disabled anglers and others. Fishing piers provide a safe area from which anglers can fish, and in many cases, they allow anglers to cast out beyond cattails and submerged vegetation.
Working with local entities, the Game and Fish Department has redesigned the fish cleaning station table/grinder units. About a dozen or so of these new units have been installed, with no operational issues to date. We expect these new stations will last twice as long than the old stations.
Save Our Lakes
In an effort to provide alternative sites for landowners to water cattle, and to remove animals from river/lake shorelines, this program has helped install solar powered, pumped water sources in the middle of pastures. The solar powered systems are useful alternatives in areas that do not have electricity. The systems, some of which are more than 10 years old, are reliable and maintenance free. They are also powerful enough to keep up with livestock use so that a dependable water supply is always available.
To move poorer quality water through some reservoirs, the
Department has installed passive low-water drawdown systems. These systems are either a prefabricated structure that is tied into the existing dam outlet structure, or a new pipe installed through the dam/berm. The pipe extends out to the deepest area of the lake, allowing water to be released from the bottom of a reservoir that is nutrient rich and low in dissolved oxygen. This activity, combined with best management practices in the watershed, conceptually improves water quality in the reservoir, fishing and other water-based recreational activities.
Collectively, North Dakota has more than 10,000 licensed anglers for every Game and Fish Department fisheries staff member. To be most efficient with available personnel, these forward-thinking biologists will continue to use the best science and innovations available to ensure fishing in North Dakota remains better than ever.