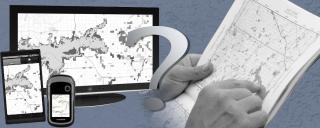 Map Definitions
Definitions     |     Which type will work best for me?
Map Index
Map Index: The North Dakota Game and Fish Department Map Index application provides a tool to search various Department maps, applications, data and map documents. This application uses Esri's ArcGIS Online as a resource catalog for various Department map content. The published content contains numerous tags that are used filter the user search results.
---
Map Service Applications
Interactive Map Service: The North Dakota Game and Fish Department interactive map services provide users with a variety of information available through a web browser. These map services offer a rich user experience with numerous tools and widgets that allow users to interact with the map features and customize the map they desire. These maps services are optimized for desktop and mobile devices using responsive design to format accordingly to the device form (desktop, tablet, handheld).
Web Map: While these maps may be viewed in a standard browser, they are also designed to be used within a native mobile application like the Esri ArcGIS application. These maps tend to be simplistic with limited data layers and tools. Mobile device GPS location services may be used with these maps allowing a user to view their current location on the map.
---
Mobile Apps
Mobile Apps are native applications (applications that are downloaded and installed on a mobile device) like the ArcGIS app or ArcGIS explorer. These applications utilize 'Web Maps' (see definition above) services. The Department currently publishes 'Web Maps' using Esri's ArcGIS Online. For instructions on how to install the ArcGIS app on a mobile device and view Department maps, please see the Mobile App page.
---
Garmin GPS Maps
The North Dakota Game and Fish Department GPS maps were originally designed for staff use and were constructed to work on several varieties of Garmin handheld GPS models. These map files may be downloaded to a Garmin GPS unit for use in the field. The Department recognizes that these maps may not work well for all models and expect end users to proceed at their own discretion.
---
GIS Hub Data Portal
The North Dakota GIS Hub Data Portal is a tool for finding downloadable GIS data, GIS web services, and GIS applications using geographic extents, searching by keywords, browsing or searching within categories, or some combination of all.
---
Web and Data Services
The North Dakota Game and Fish Department provides a simple web interface solution to access the Department's published GIS web services using the ArcGIS Server REST (Representational State Transfer) API. These web services provide the means of streaming GIS data to the computer, avoiding the need to download. These services may provide a better solution when accessing dynamic data, providing the user with the most current information available.
---
Other Notes
Map Index - Documents: Maps available on the Map Index link are formatted for printing and typically in .pdf format. These maps may be viewed and printed using Adobe Reader. This software can be downloaded for free from the Adobe website. (As with any software installed on your device, always keep Adobe Reader up to date.)
Data used to create the North Dakota Game and Fish Department GPS maps are subject to frequent change, and are compiled from a variety of sources, data standards and scales. Users should be aware that the data may contain spatial inaccuracies, does not represent a legal land survey and may not be appropriate at certain scales.
---
Which type will work best for me?
What do you want to do?