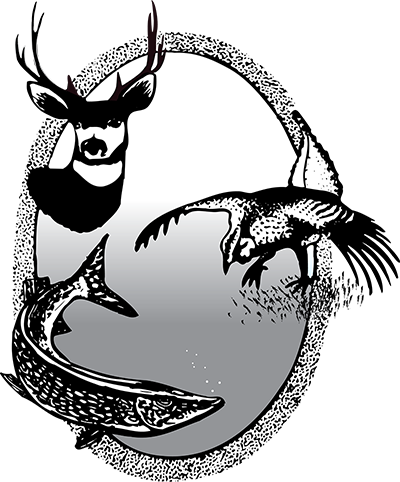 Game and Fish Volunteers Recognized
Volunteer instructors for the North Dakota Game and Fish Department were recently recognized at the annual recognition event in Bismarck.
Shannon Johnson, Fargo, was recognized as hunter education instructor of the year and Steve Goroski, Bismarck, was named archery education instructor of the year.
Honored for 30 years of service were James Boley, Minot; Richard Brewster, Washburn; David Cox, Minot; Douglas Crosby, Williston; Keith Domke, Jamestown; Richard Jorgenson, Devils Lake; Todd Parkman, Hope; Ralph Danuser, Marion; Charles Meikle, Spiritwood; Gary Nilsson, Walhalla.
Recognized for 25 years of service were Kevin Bishop, Kathryn; Patsy Crooke, Mandan; Mike Cruff, Minot; Charles Deremer, Fargo; Darwin Gebhardt, Lake Elmo, Minn.; Garry Hillier, Thompson; Francis Miller, Mandan; Gregory Odden, Rugby; Allen Schirado, Bismarck; Melvin Siverson, Bowman; Curt Beattie, Hannaford; Jay Grover, Cooperstown; Brad Pierce, Hatton; 
Honored for 20 years of service were William Bahm, Almont; Stanley Cox, Jamestown; Mark Engen, Anamoose; Mark Entzi, Watford City; Daryl Heid, Center; Matthew Herman, Ashley; Leon Hiltner, Wales; Michael Hinrichs, Bismarck; Lynn Kieper, Bismarck; Curtis Miller, Tioga; Loran Palmer, Wahpeton; Richard Petersen, Bismarck; Craig Roe, Kindred; Douglas Thingstad, Jamestown; Cindie Van Tassel, Breckenridge, Minn.; David Daeley, Maddock; Darryl Duttenhefner, Menoken; Sean Hagan, Walhalla; Jerry Rekow, Ellendale.
Fifteen-year service awards were presented to Nathan Fitzgerald, Cooperstown; Gregory Gerou, Wahpeton; Judy Haglund, Garrison; Walter Helfrich, Mandan; Terry Kassian, Wilton; Michael Melaas, Minot; Dustin Neva, Hatton; Dale Patrick, Jamestown; Scott Thorson, Towner; Bruce Baer, Belfield; James Dusek, Grafton; Michael Erickson, Edgeley; Bradley Gregoire, Thompson; David Sardelli, Hebron.
Ten-year active instructors recognized were Mark Berg, Bismarck; Leonna Coutts, Bismarck; Jason Heinz, Rolette; Andrew Majeres, Garrison; Frank Odell, Belfield; Matt Webster, Jamestown; Cassie Felber, Towner; Kevin Harris, Watford City; Petrina Krenzel, Harvey; Jerry Lillis, Lincoln; Roger Norton, Kindred; Mike Redmond, Ray; Joe Tuchscherer, Rugby.
Recognized for five years of service were Michael Bahm, Mandan; Damon Finley, Harvey; Jamie Germundson, Stanley; Brandi Hansen, Horace; Beaufort Joe, Mandaree; Alan Klitzke, Powers Lake; Seth Larson, Max; Travis Leier, Velva; Krista Lundgren, Kulm; Gary Peterson, Jamestown; DJ Randolph, Velva; Patti Schaner, Mandan; Al Zimmerman, West Fargo; Darcy Aberle, Williston; Lori Deal, Grace City; Jason Forster, Lidgerwood; David Hammond, Abercrombie; Brian Johnson, Sawyer; Jon Johnson, Jamestown; Melanie Nelson, Harvey; Bruce Nielsen, Valley City; Eric Odegaard, West Fargo; Erin Odell, Belfield; John Perritt, Fargo; Carl Quam Jr., Tolna; Jason Sauer, Glen Ullin; Kori Schantz, Underwood; Kent Schimke, Ellendale; Kristofer Schmidt, Washburn; Daniel Sem, Minot; Than Young, Napoleon; Andrew Zickur, Glenburn. 
Two-year active instructors recognized were James Decker, Bismarck; Steve Geller, Minot; Rod Kuhn, Bismarck; Jason Lura, Carrington; Arlyce Malarkey, Bismarck, Michael Malarkey, Bismarck; Albert Olson, Bismarck; Jacob Renne, Tioga; Frank Rohloff, Grand Forks; Joel Bohm, Mohall; Lynn Burgard, Bismarck; Larry Derr, Glenburn; Donald Dick, Enderlin; Christopher Eng, Underwood; Seth Engelstad, Mooreton; Todd Gallion, Dunn Center; Kresta Hauge, Ray; Katrina Haugen, Minto; Kali Metzger, Bismarck; Chad Olson, Lisbon; Jordan Peterson, Minot; Dan Schmidtke, Devils Lake; Robert Schock, Bismarck; Danielle Siverhus-Dinger, Oakes; Michael Straus, West Fargo; Tim Straus, West Fargo.