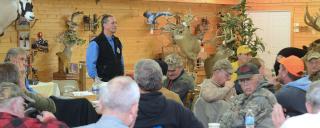 Advisory Board
Created in the 1960s the North Dakota Game and Fish Advisory Board is made up of eight members, four landowners and four hunter/anglers. Board members serve as liaisons between the department and the North Dakota public. Bi-annual meetings are held in each of eight districts giving citizens an opportunity to discuss fish and wildlife related issues.
District Map
Click on image to view a larger map.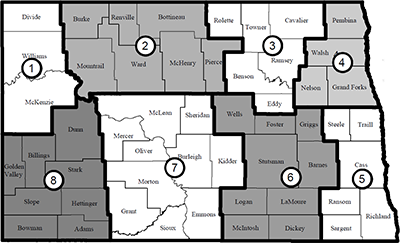 Fall Meeting Schedule - 2017
Tentative - Dates and information will be added as it becomes available.
| District | Date | Time | Host | Location | Contact | Board Member |
| --- | --- | --- | --- | --- | --- | --- |
| 1 | Tuesday, December 5 | 7 p.m. CT | Pheasants Forever, Watford City Chapter | Civic Center Mtg Room (213 2nd St NE, across from P.O.), Watford City | Rick Pokrzywinski 701-770-2736 | Beau Wisness |
| 2 | Monday, November 27 | 7 p.m. CT | Mouse River Loop Pheasants | Lansford Community Center (783 Main St), Lansford | Austin Adams 701-263-1835 | Robert Gjellstad |
| 3 | Tuesday, November 28 | 7 p.m. CT | Lake Region Pheasants Forever | Lake Region State College (1801 College Drive N.), Devils Lake |   | Thomas Rost |
| 4 | Tuesday, November 28 | 7 p.m. CT | Red River Archers | Red River Indoor Archery Range (2001 N 42nd St), Grand Forks | Jason Whitesock 218-791-2996 | Joe Solseng |
| 5 | Wednesday, December 6 (postponed from 12/4 due to weather) | 7 p.m. CT | Cogswell Gun Club | Cogswell Community Center (299 4th Ave), Cogswell | Mike Marquette 701-680-0860 | Duane Hanson |
| 6 | Monday, November 27 | 7 p.m. CT | McIntosh Ducks Unlimited | McIntosh County Bank (204 W Main St – lower level), Ashley | Gus Schlepp 701-426-1683 | Cody Sand |
| 7 | Tuesday, December 5 | 7 p.m. CT | Pheasants Forever, Wilton Chapter | Wilton City Community Hall (105 Dakota Av), Wilton | Jeremy Klausen 701-400-0224 | Dave Nehring |
| 8 | Monday, December 4 | 7 p.m. MT | Pheasants Forever, Dickinson Chapter | Eagles Club (31 1st Ave E), Dickinson | Ike Hecker 701-483-4952 | Dwight Hecker |
More Information