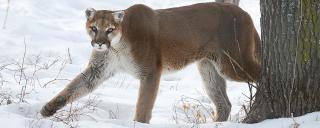 Mountain Lion Hunting and Trapping
Harvest Limits
*Conditional Season/Zone 1 Harvest Limit: 0 of 2 taken
Mountain lion seasons are closed on the closing date or when the harvest limit has been reached, whichever comes first. Below are the zone harvest limits. Please see the hunting guide (link below) for other season rules and additional harvest limitations.
Early Season/Zone 1 Harvest Limit: 8 (season closed 11/26 with 6 of 8 taken)
Late Season/Zone 1 Harvest Limit: 7 mountain lions or 3 female mountain lions, whichever comes first (season closed 12/29 with 3 females taken)
Regular Season/Zone 2 Harvest Limit: None
*Conditional Season/Zone 1 Harvest Limit: A conditional season in Zone 1 will open Jan. 4, 2018 for hunters to pursue the additional two mountain lions that were not taken during the early season. The Zone 1 early season harvest limit was eight cats, and only six were taken. The conditional season will close March 31, 2018, or immediately once the second cat is taken. Early season regulations apply, which means hunters are not allowed to use dogs. In addition, hunters who harvested a lion during the early or late season are not eligible to participate.