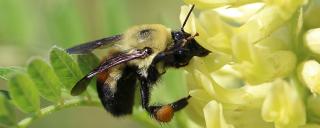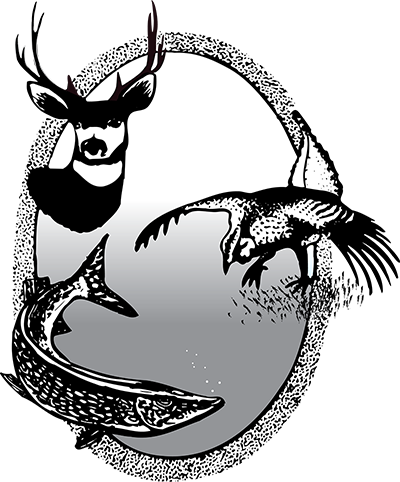 Insects are a crucial food source for wildlife species. Many insects also pollinate the food that humans eat. Unfortunately, recent indications are that some populations of pollinators such as bumble bees may be declining. Several insect species have recently been listed, or are petitioned to be listed, under the Endangered Species Act. Perhaps most notable is the monarch butterfly. Scientists are still trying to understand the cause of their decline and if they are indeed are at risk of extinction. There are actions North Dakotans can take to help conserve insects, which will also benefit other wildlife and wildlife habitat.
What is a pollinator?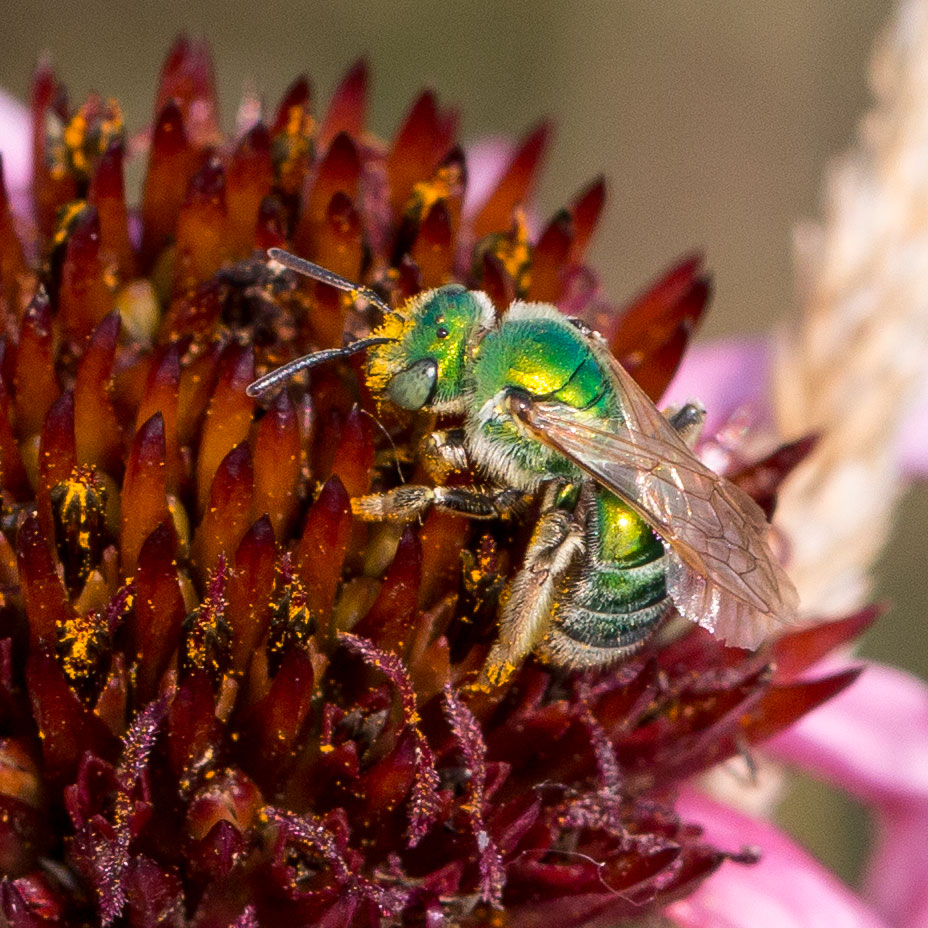 A pollinator is any animal that moves pollen from one part of a flower to another plant. Pollen fertilizes the plant, and only fertilized plants make seeds or fruit. Without pollination, plants cannot reproduce and our food supply and habitat would be reduced.
In North Dakota, the principal pollinators are insects such as native bees, butterflies and some moths. North Dakota has about 150 species of butterflies, more than 1,400 moths, and an unknown number of bee species (probably hundreds). Bats and birds, while important pollinators in other states, are not considered significant pollinators in North Dakota.
Honey bees, although not native to North America, are vital agricultural pollinators and will benefit from pollinator conservation in North Dakota.
Informational Video: Honey Bee/Pollinator Research Study
Monarch Butterfly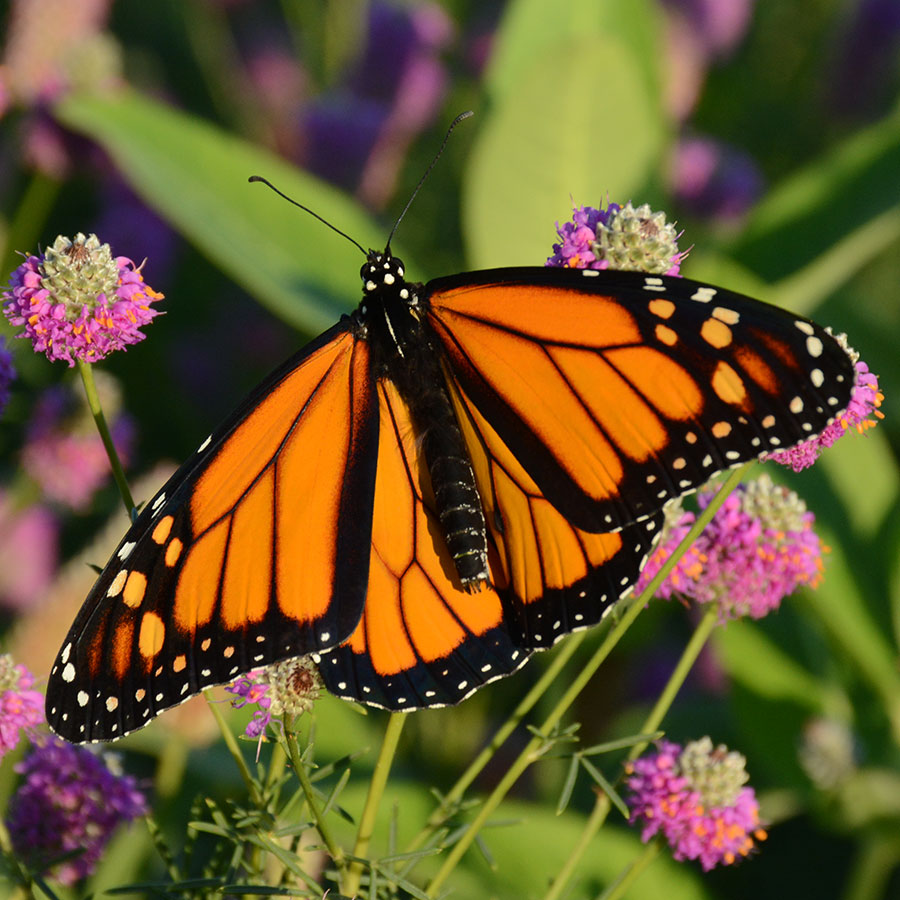 Monarch butterflies are perhaps the most easily recognized butterfly. However, the population has declined from a high of almost 1 billion monarchs in 1996 to a low of 35 million in 2013. It is estimated that at least 225 million monarchs are needed to sustain the population for the long term. In 2014, the monarch was petitioned to be listed under the Endangered Species Act.
There are many ways citizens can help monarchs in North Dakota. Help scientists learn more about the distribution and abundance of breeding monarchs by signing up for the Monarch Larva Monitoring Project.
Citizen Science links:
Informational video: Monarch Larva Monitoring
Informational video/page: Monarch Life Cycle and Annual Migration
North Dakota Monarch Butterfly and Native Pollinator Strategy
The North Dakota Game and Fish Department and numerous other partners developed a North Dakota Monarch Butterfly and Native Pollinator Strategy in 2016. It was revised in spring 2018 and includes partner updates on pollinator conservation progress. This strategy describes the efforts - habitat conservation, education and outreach, and research and monitoring - that have recently been implemented or are proposed to be implemented for monarchs and other native pollinators in North Dakota. The strategy will be a "living document" for the next 5 years, or until 2020, to implement conservation efforts and demonstrate success so that the monarch and other important native pollinators are not listed as threatened or endangered.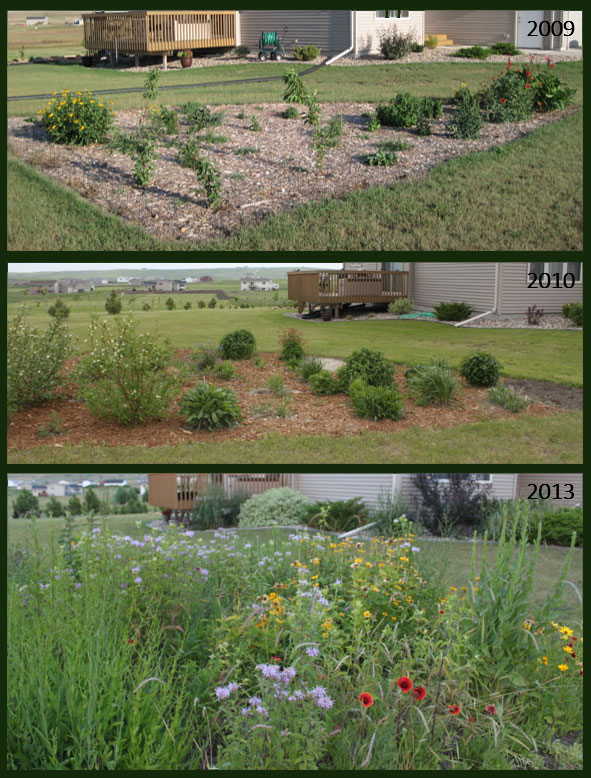 Gardening for Monarchs and Pollinators
You can grow a butterfly garden of any size, from a few square feet to an acre or more. These gardens benefit monarchs and other pollinators while beautifying your yard or landscape.
Informational video: Pollinator Plots
Informational video: Pollinator Plots Education
Informational video: North Dakota Game and Fish Webcast - Pollinators
More Pollinator Information
Mimicry in Insects and other Animals
Other Helpful Links
| Link | Description |
| --- | --- |
| http://www.bumblebeewatch.org/ | Bumble Bee Watch - submit photographs of bumble bees for experts to identify them |
| http://www.butterfliesandmoths.org/get-involved | Butterflies and Moths of North America - collect and share Lepidoptera sightings |
| https://www.nrcs.usda.gov/wps/PA_NRCSConsumption/download?cid=nrcseprd1381423&ext=pdf | Important Plants of the Monarch Butterfly – Northern Great Plains |
| http://millionpollinatorgardens.org/ | Million Pollinator Garden Challenge - a collaboration of national, regional, and local gardening clubs to create more pollinator habitat |
| https://monarchjointventure.org | Monarch Joint Venture - provides numerous free resources such as Gardening for Monarchs, Rearing Monarchs Responsibly, or Schoolyard Butterfly Gardens |
| http://www.nwf.org/Home/How-to-Help/Garden-for-Wildlife.aspx | National Wildlife Federation Garden for Wildlife - community, schoolyard, landscapers and gardening tips |
| http://www.ag.ndsu.edu/extension | North Dakota State University Extension Service - resources include demonstration gardens and publications on designing gardens for butterflies and pollinators |
| http://www.pollinator.org/ | Pollinator Partnership - gardening and planting guides, pollinator learning center |
| https://www.ag.ndsu.edu/publications/environment-natural-resources/prairie-reconstruction-guidebook-for-north-dakota | Prairie Reconstruction Guidebook for North Dakota |
| https://www.fishwildlife.org/application/files/6715/1991/1886/MonarchResourceGuide218.pdf | Teaching about the Magnificent Monarch: Resource Recommendations for Conservation Educators |
| http://www.fs.fed.us/wildflowers/ | U.S. Department of Agriculture Forest Service Celebrating Wildflowers - U.S. Forest Service botanists and other specialists provide information on wildflowers on national forests and grasslands and the values of native plants |
| http://www.nrcs.usda.gov/wps/portal/nrcs/main/national/plantsanimals/pollinate/ | U.S. Department of Agriculture Natural Resources Conservation Service - financial and technical support for pollinators on farms, ranch, or back yards |
| https://www.environment.fhwa.dot.gov/ecosystems/vegmgmt_pollinators.asp | U.S. Department of Transportation Federal Highway Administration Ecosystem and Vegetation Management - guidance for state and local transportation agencies to create or increase pollinator habitat within highway roadsides, and best management practices for pollinator-friendly roadside vegetation management |
| http://www.fws.gov/pollinators/ | U.S. Fish and Wildlife Service Pollinators - podcasts and videos, pollinator gardens and trails, and more |
| https://www.fws.gov/prairiesconservation/index.php | U.S. Fish and Wildlife Service Prairies Conservation Campaign - an initiative to conserve working landscapes in the Prairie Pothole Region |
| http://www.fws.gov/savetheMonarch/ | U.S. Fish and Wildlife Service Save the Monarch Butterfly - funding, monarch projects, and monarch conservation |
| http://www.xerces.org/ | Xerces Society - many resources including books, fact sheets, identification guides, reducing harm to pollinators from pesticides |