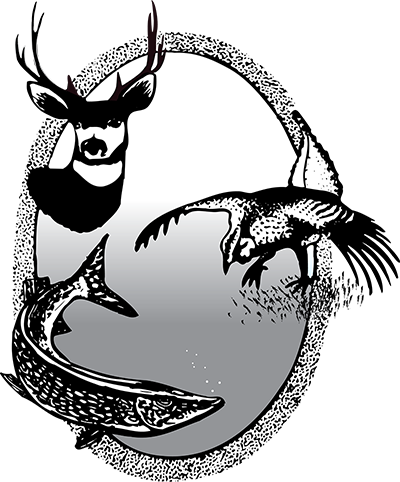 The day was September 28, 2017, when I went out to patrol the Devils Lake area. The conditions were cold and windy so making a plan for the day was quite difficult. This time of year, most of the state's hunting seasons are underway on top of a great bite that Devils lake offers up every fall. I spent the first few hours of light checking waterfowl hunters and by afternoon it was time to switch gears and check anglers. While traveling the Grahams Island Road toward the State Park, I observed a shore angler with his rod doubled over, fighting a fish. I thought to myself, if I've only seen that guy for a few moments and he has a fish on, he must be doing well. I proceeded past the angler as if I was just another car going down the road to search for a good, safe spot to begin an observation detail.
At 3:15 p.m., I was all tucked away and ready to tally fish being caught. Immediately after setting up the angler caught a white bass. I had my tally sheet ready and made a mark. Then he caught another, and another. I noticed that it was nearly every cast that he was making was resulting in a fish being caught. After he would unhook the white bass, the angler would then throw it in a nearby 5-gallon bucket. As my tally sheet neared a daily limit of 20 the angler ran the bucket of white bass up and dumped them in a cooler which was in the back of his Pontiac Aztec.
At this point I was certain the angler was going to pack his gear and leave as he had caught his limit for the day. Instead, the angler returned with his empty bucket and resumed fishing. I decided I better call reinforcements, so I phoned nearby Game Warden James Myhre for assistance. Game Warden Myhre was soon in the area and ready to help. Over the next four hours I observed and documented the angler catch and keep 127 white bass. I noticed that the angler was very cautious about his bucket of fish and would make a run to the cooler when it neared a daily limit.
At 8 p.m. the angler collected all his gear and began loading it in his vehicle. Before leaving, the angler pitched several minnow bags and other trash items into the ditch. I weighed my options of pulling the vehicle over immediately or just follow to see if it goes to one of the many hotels in Devils Lake. I decided to follow with a possibility of additional fish being discovered. I was surprised when the vehicle didn't stop in Devils Lake, but instead left town and began heading south. I decided to scratch my plan and pull the vehicle over at that point.
Game Warden Myhre, Game Warden Jon Peterson and I spoke with the driver of the vehicle and identified him as Vu Nguyen. Nguyen stated that he just started fishing today and was going to sleep in his vehicle at the Spirit Lake Casino. The wardens then counted the white bass that were in the coolers. A total of 208 white bass were counted which meant that Nguyen exceeded the daily limit of white bass by 188. I then completed a seizure receipt for the 208-white bass, two Coleman coolers and two fishing rods. I placed Nguyen under arrest and transported him to the Devils Lake Law Enforcement Center, where he was booked for exceeding daily limit of white bass and exceeding possession limit of white bass. I also issued Nguyen a citation for littering.
Nguyen pled guilty to all charges and paid a total of $1,100 in fines and fees.
I think back on that day often and how the outcome would have been far different had I checked Nguyen right away. There are times where we will be very visible, doing license checks etc. and other times where we'll sit back and watch.
- District Game Warden Drew Johnson