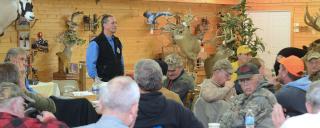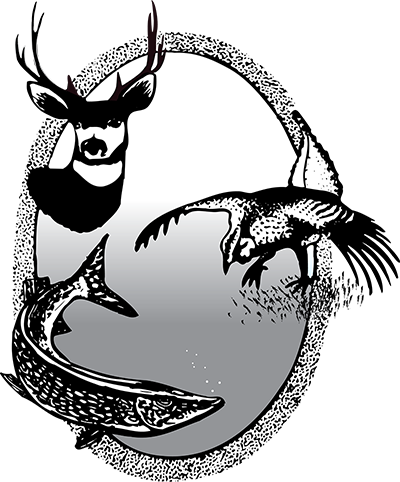 Created in the 1960s the North Dakota Game and Fish Advisory Board is made up of eight members, four landowners and four hunter/anglers. Board members serve as liaisons between the department and the North Dakota public. Bi-annual meetings are held in each of eight districts giving citizens an opportunity to discuss fish and wildlife related issues.
District Map
Click on image to view a larger map.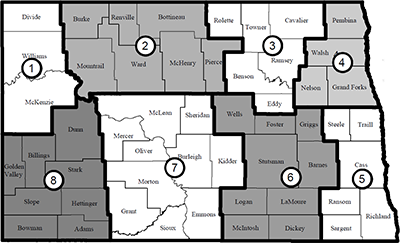 Spring Meeting Schedule - 2020
The schedule below is tentative, and more details will be added as plans are finalized.
| District | Date | Time | Host | Location | Contact | Board Member |
| --- | --- | --- | --- | --- | --- | --- |
| 1 | Tuesday, April 28 | 7 p.m. MT | North Dakota Houndsmen Association | Grassy Butte Community Center (Museum Ave to Main St), Grassy Butte | Cody Hilliard (TBA) | Beau Wisness |
| 2 | Monday, April 20 | 7 p.m. CT | Berthold Sportsman's Club | Berthold Sportsman's Club (214 Main St), Berthold | Charlie Monson (701-226-6546) | Travis Leier |
| 3 | Tuesday, April 28 | 7 p.m. CT | Lake Region Sportsman Club | Lake Region State College – Chautauqua Room, Devils Lake | Tom Rost (701-662-8620) | Thomas Rost |
| 4 | Tuesday, April 21 | 7 p.m. CT | Pekin Rod and Gun Club | Pekin Community Center (204 Main St), Pekin | David Morten (701-296-4484) | Bruce Ellertson |
| 5 | Tuesday, April 21 | 7 p.m. CT | Cass County Wildlife Club | TBD, Casselton | TBD | Duane Hanson |
| 6 | Monday, April 27 | 7 p.m. CT | Kulm Rod and Gun Club | Kulm Community Center (10 1st St SW), Kulm | Zeb Mahin (701-830-0533) | Cody Sand |
| 7 | Monday, April 20 | 7 p.m. CT | TBD | Game and Fish Auditorium (100 N Bismarck Expy), Bismarck | TBD | Dave Nehring |
| 8 | Monday, April 27 | 7 p.m. MT | Slope County Commission | Slope County Fairgrounds, Amidon | Scott Ouradnik (701-879-5608) | Dwight Hecker |
More Information