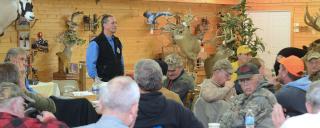 Created in the 1960s the North Dakota Game and Fish Advisory Board is made up of eight members, four landowners and four hunter/anglers. Board members serve as liaisons between the department and the North Dakota public. Bi-annual meetings are held in each of eight districts giving citizens an opportunity to discuss fish and wildlife related issues.
The spring 2017 meeting schedule will be posted here when it becomes available.
District Map
Click on image to view a larger map.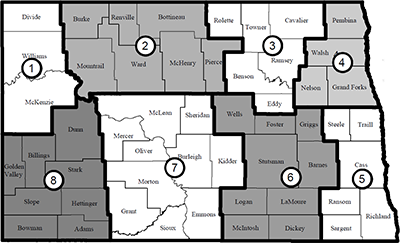 Spring Meeting Schedule - 2017
| District | Date | Time | Host | Location | Contact | Board Member |
| --- | --- | --- | --- | --- | --- | --- |
| 1 | Monday, March 27 | 7 p.m. CT | Missouri Basin Bowmen | Williston Fairgrounds Archery Range, Williston | Steve Rehak 701-770-3643 | Jason Leiseth |
| 2 | Monday, March 27 | 7 p.m. CT | Barton Sportsman's Club | Rugby Memorial Building, 224 2nd Ave SE, Rugby | Kent Christensen 701-208-0756 | Robert Gjellstad |
| 3 | Monday, April 3 | TBD | TBD | TBD | TBD | Thomas Rost |
| 4 | Tuesday, April 4 | 7 p.m. CT | Rainbow Lodge | Michigan Community Center, 113 Broadway N, Michigan | Chris Anderson 701-304-0040 | Joe Solseng |
| 5 | Tuesday, April 4 | 7 p.m. CT | Four Corners Wildlife Club | Embden Community Center (207 Lincoln St), Embden | Kent Jensen 701-793-4446 | Duane Hanson |
| 6 | Tuesday, March 28 | 7 p.m. CT | Loren Schulz – Cafe owner | Hakuna Matata Cafe and Convention Center, Edgeley | Rodney Zahn 701-357-8441 | Joel Christoferson |
| 7 | Tuesday, March 28 | TBD | TBD | TBD | TBD | Dave Nehring |
| 8 | Monday, April 3 | 7 p.m. MT | Cedar Creek Pheasants Forever | Borderline Bar and Grill (207 S Main – back room), Reeder | Tod Donner 701-928-0330 | Dwight Heckler |
More Information