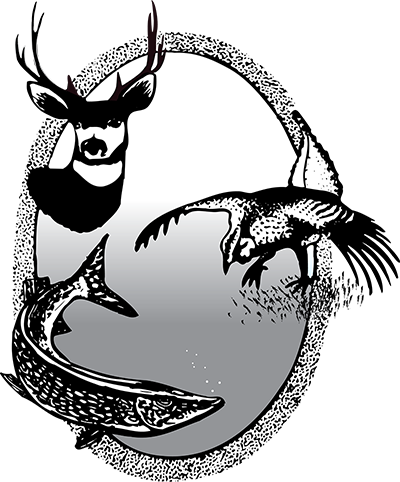 Research/Management Publication Search
Other Publication Links
Department publications offered online may be found using the search below.
This search excludes the following:
Magazines: The following search excludes North Dakota Outdoors magazines. To view the magazine online go to the North Dakota Outdoors archive.
Maps: Printable maps can be found on the map index page
Legislation: Bills related to wildlife and conservation from the last and/or current legislative session are listed on our legislation page.
Regulations: Regulations such as hunting guides may be found in the regulations section of the website.
Printable Applications: Printable applications and other forms may be found throughout the website organized by topic.
Note: Posters and brochures for which the Department has an electronic copy may be found below. Many of these posters and brochures may also be ordered online via the specialty publications page.
Filter by:
Available Publications

| Title | Authors and Contributors | Target Species | Type |
| --- | --- | --- | --- |
| CWD Transmission Risks with Baiting | NDGF | Cervids | Educational materials |
| North Dakota Game and Fish Department Overview Fact Sheet (2022) | North Dakota Game and Fish Department | n/a | Other |
| Chronic Wasting Disease Test Sampling Kit - Printable Instructions | NDGF | Cervids | Educational materials |
| Chronic Wasting Disease Management Plan (2023-27) | North Dakota Game and Fish Department | Cervids | Management reports and plans |
| North Dakota 2022-24 Fishing Guide | North Dakota Game and Fish Department | Fish | Other |
| 2022 R3 Strategic Plan | Cayla Bendel | n/a | Management reports and plans |
| Survival and Cause-Specific Mortality of Pronghorn in Southwestern North Dakota | JESSE L. KOLAR, JOSHUA J. MILLSPAUGH, TONY W. MONG and BRUCE A. STILLINGS | Pronghorn | Research papers |
| 2022 Bald Eagle Nest Summary | North Dakota Game and Fish Department | Bald Eagles | Research papers |
| Earth Day Activity Guide | Sherry | | Educational materials |
| Learn to Hunt Event Planning Guide | R3 Coordinator Cayla Bendel | n/a | Educational materials |
| Wind Energy Development in North Dakota Best Management Practices | North Dakota Game and Fish Department | Various | Other |
| A DESKTOP APPROACH TO AVOID AND MINIMIZE DEVELOPMENT IMPACTS TO GRASSLAND HABITAT AND WILDLIFE IN NORTH DAKOTA | North Dakota Game and Fish Department | Grassland | Other |
| North Dakota State Bat Management Plan | Erin Gillam, J.J. Nelson, Paul Barnhart (NDSU, DSU) | | Management reports and plans |
| Removing Y Bones from Northern Pike | Department Staff | Northern Pike | Educational materials |
| Common Fish of North Dakota | North Dakota Game and Fish Department | Fish | Educational materials |
| Migration Patterns of Pronghorn in Southwestern North Dakota | JESSE L. KOLAR, JOSHUA J. MILLSPAUGH and BRUCE A. STILLINGS | Pronghorn | Research papers |
| Potential Effects of Oil and Gas Development on Mule Deer in Western North Dakota - Study Presentation | Jesse Kolar (Univ of MO), Dr. Joshua Millspaugh (Univ. of MT), Bruce Stillings (NDGNF), Brett Skelly (West VA Univ.), Chris Hansen (Univ. of MT), Dr. Christopher Rota (West VA Univ.) | Mule deer | Research papers |
| North Dakota Greater Sage-Grouse Recovery Project: Using Translocation to Prevent State-Wide Extirpation and Develop Rangewide Protocols | Kade D. Lazenby | Greater Sage-Grouse (Centrocercus urophasianus) | Research papers |
| Ecology of Mountain Lions (Puma concolor) in the North Dakota Badlands: Population Dynamics and Prey Use | David Wilckens | Mountain Lion | Research papers |
| Mountain Lion (Puma concolor) Population Characteristics and Resource Selection in the North Dakota Badlands | Randy D. Johnson | Mountain Lion | Research papers |
| Species Distribution Modelling of Rare Insect Species in North Dakota (SWG T-47-R) | Dr. Brett Goodwin, University of North Dakota | Insects | Research papers |
| Full Annual Cycle Demographic Monitoring of Grassland Birds Nesting in the Northern Great Plains (SWG T-46-R) | Nancy Drilling, Bird Conservancy of the Rockies | Grassland birds | Research papers |
| Amphibian and Reptile Surveys of Southeastern North Dakota (SWG T-44-R) | Dr. Matthew Smith, North Dakota State University | Amphibians and Reptiles | Research papers |
| Cottonwood Restoration in North Dakota Riparian Forests (SWG T-42-R) | Dr. Jared LeBoldus, North Dakota State University | Cottonwoods | Research papers |
| Grassland Bird and Invertebrate Distribution and Response to Fire Management within the Grand Forks County Saline Prairie Focus Area (SWG T-41-R) | Dr. Kathryn Yurkonis and Dr. Brett Goodwin, University of North Dakota | grassland birds, invertebrates | Research papers |
| Survey of 'Fringe' Mammals in Western North Dakota (SWG T-39-R) | Dr. Michael Shaughnessy and Dr. Craig Whippo Dickinson State University | mammals | Research papers |
| Hibernating Bats in North Dakota: Species Diversity, Habitat Use, and Potential Impacts of White-Nose Syndrome (SWG T-35-R) | Dr. Erin Gillam, Dr. JJ Nelson, Dr. Paul Barnhart, ND State University | Bats | Research papers |
| Boat and Water Safety Guide 2023-2025 | North Dakota Game and Fish Department | n/a | Educational materials |
| Resident and Nonresident Hunter and Angler Expenditures, Characteristics, and Economic Effects, North Dakota, 2017-2018 | NDSU - Elvis Ndembe, Dean A. Bangsund, Nancy M. Hodur | n/a | Research papers |
| Aquatic Nuisance Species Management Plan - 2018 | Jessica Howell | ANS | Management reports and plans |
| Lonetree WMA Driving Tour Brochure | Game and Fish Department | Various | Other |
| Reproductive Parameters of Moose During Population Expansion in North Dakota | William F. Jensen, James J. Maskey, Jr., Jason R. Smith, and Eric S. Michel | Moose | Research papers |
| Aging Pronghorn | Bill Jensen | Pronghorn (antelope) | Educational materials |
| Aging Deer | Bill Jensen | Deer | Educational materials |
| Aging Elk | Bill Jensen | Elk | Educational materials |
| Aging Moose | Bill Jensen | Moose | Educational materials |
| Mountain Lion Track Identification | North Dakota Game and Fish Department | Mountain Lion | Educational materials |
| Population Ecology of White-tailed Deer in the Drift Prairie-coteau of North Dakota | Jason R. Smith | White-tailed deer | Research papers |
| An Evaluation of Life History Parameters and Management of White-tailed Deer in North Dakota | Brian A. Schaffer | White-tailed deer | Research papers |
| An Evaluation of Life History Parameters and Management of White-tailed Deer in the Red River Valley of NE ND. | Kristin M Sternhagen | white-tailed deer | Research papers |
| An evaluation of historical mule deer fawn recruitment in North Dakota | Simone Ciuti, William F. Jensen, Scott E. Nielsen, Mark S. Boyce | Mule deer | Research papers |
| Pronghorn abundance and habitat selection in North Dakota | Katie Christie, Bill Jensen, Mark Boyce | Pronghorn | Research papers |
| Effect of Oil and Gass Development on Survival and Health of White-tailed Deer in the Western Dakotas | Katherine L. Moratz | White-tail deer | Research papers |
| Boat and Water Safety Guide 2017-2019 | North Dakota Game and Fish Department | n/a | Educational materials |
| An ARM Approach at Understanding the Interactions between Landscape, Vegetation Type, Grassland Bird Productivity, Alternative Prey, and Predator Density (SWG T-43-R) | Mike Eichholz, Southern Illinois University Carbondale | Grassland Birds | Research papers |
| Tallgrass Prairie Reconstruction (SWG T-37-R) | Kristine Askerooth, U.S. Fish and Wildlife Service | Various | Research papers |
| Muskrat Trapping in North Dakota - Avoiding Nontarget Water Birds Using Muskrat Float Sets | North Dakota Game and Fish Department | Muskrats Water Birds | Educational materials |
| Checklist of North Dakota Birds | North Dakota Game and Fish Department - Sandra Johnson | Birds | Educational materials |
| North Dakota Sage-grouse Management Plan 2014 | North Dakota Game and Fish Department - Aaron C. Robinson | Greater Sage-grouse | Management reports and plans |
| State Wildlife Action Plan Synopsis | North Dakota Game and Fish Department Dyke, Steve R., Sandra K. Johnson, and Patrick T. Isakson | Various | Management reports and plans |