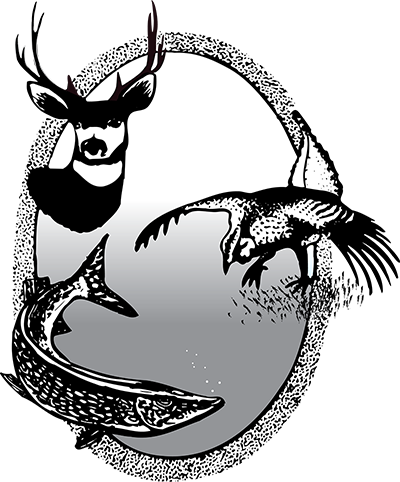 Tall Tales - Ice Fishing Edition
Growing up as a kid some of my fondest memories are ice fishing with my dad. We spent many days on the ice or inside the fish house during the winter. It took a while for me to realize but dad used to do something unusual every now and then. When we weren't getting any bites he would sometimes rig up another rod besides the two he had in the water and start jigging with it. He would only do this when no one else was close by. I noticed that he would reel in the extra line when he saw a vehicle driving toward us. It wasn't till I was older that I realized that this had been illegal. It wasn't until I started asking him about it that he quit doing it.
Fast forward to when I became a game warden. I would many times catch people fishing with an extra line who would say "I was just jigging with that one." I would think back to when my dad would have been jigging with his extra line. Over the years I have come across numerous times when people went to great lengths to get away with fishing with extra lines. On one occasion I watched a three-wheeler (I have been at this job for a long time) drive to several locations on Lake Sakakawea and appear to be checking something. Upon checking him and the location I found he had numerous extra lines spread out over a wide area. The extra lines consisted of a piece of wood painted white with line wrapped around it to camouflage it.
On another occasion there was a group that I had cited several times. As I was approaching them, they appeared to be running around the area and doing something, but it did not appear that they were pulling the lines out of the water. As I arrived at their location, I asked them if they had gotten the extra lines out and they stated they did not have any extra lines in. As I walked around the area I observed several lines near holes but none of them appeared to be in the water. As I walked by one hole I observed a line the had been cut but was still in the water. I was able to find one more like that, as I looked at the end you could see a slight burn mark on the end of the line. I then figured out that they had been burning the lines with a lighter and just letting the line fall down the hole. As my luck would have it two of the lines had not dropped to the bottom of the lake but got hung up on the edge of the ice with a fresh live minnow attached and they were cited.
In another instance I was at White Earth Bay and I was watching the south side of the lake. I observed an ATV drive about a half-mile and catch a fairly large northern. They then checked several other tip ups and took the northern back to the other spot they were fishing. It took me a fair amount of time to drive my vehicle to the south side of the lake. When I arrived, I found the group to be fishing with their legal number of lines. I then asked the group about their extra lines and they stated they did not have any. I then stated that they did and that they had caught the large northern where they had the extra lines. A look came over their faces and they knew that they had been caught. I drove the half-mile and found four extra tip ups.
Another time in late spring when ice conditions were getting poor, I was at White Earth and observed an individual fishing on the east side of the bay. I could tell that he had extra lines but was unable to accurately count them. I decided to make my way back around the east side of the bay as I knew of some trails through a pasture that would get right next to the bay. I rode my ATV and got up on a big hill to observe the individual. I was able to count 11 lines in the water (at that time you could only use two). I also observed that every time when a new vehicle would come down on the west side of the bay the individual would get out his binoculars and watch the vehicle to make sure it was not the warden. I drove down toward the ice, at first the individual did not know where the sound was coming from as he grabbed his binoculars and looked to the west. By the time he realized I was coming from the east I was already on the ice and he had no time to pull any of his lines and knew he had been caught.
Over the years there have been many instances of fishing with extra lines. They ranged from jigging with an extra line to more elaborate attempts to use extra lines. The funny thing about it is almost every time I cite someone for it I think back to my dad jigging with his extra line. So when you tell me that this was the first time you have ever fished with an extra line I know better.
- District Game Warden Mike Raasakka