Small Investment, Ice Fishing Rewards
North Dakota's weather is anything but predictable. From drought to flood, the state has seen its share of weather changes in the last decade.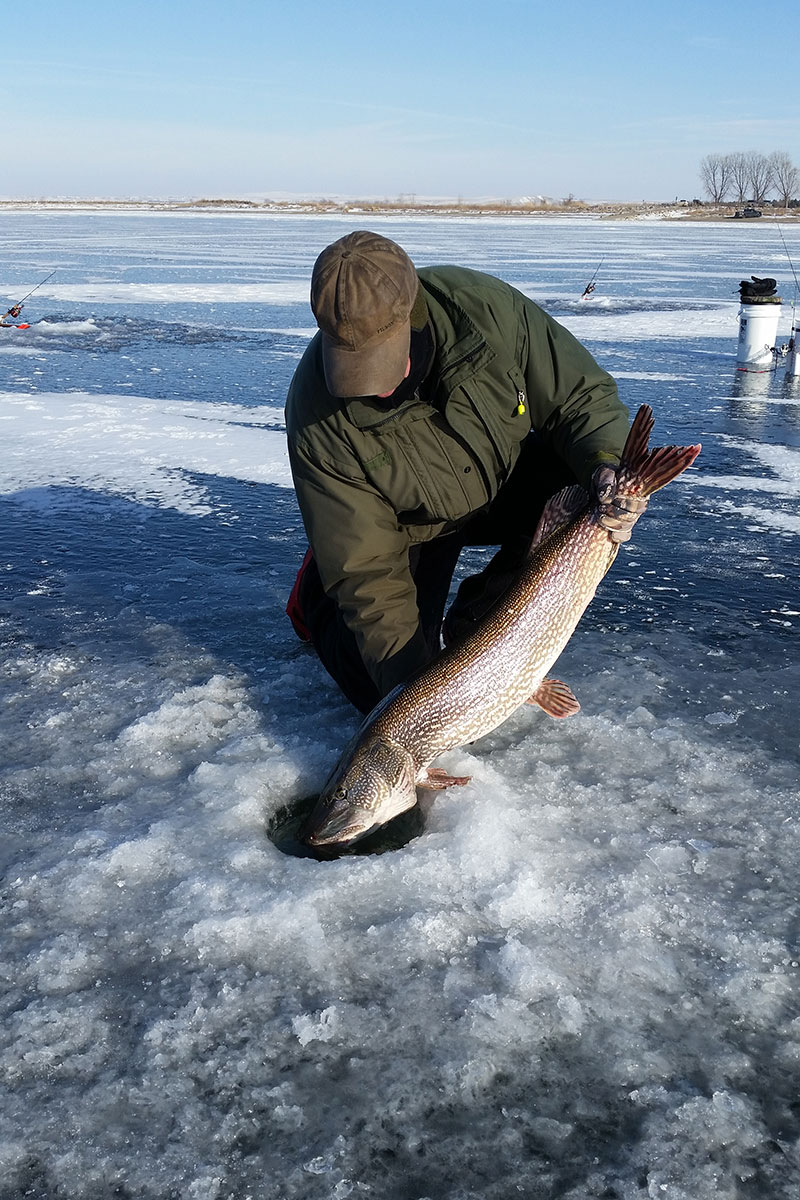 Since about 2009, the trend has been for wetter conditions and rising lake levels, particularly in the central and eastern parts of the state. Known as the Prairie Pothole Region, many waterbodies in this region typically don't flow out, but rather collect runoff, transforming former duck sloughs into deep prairie lakes capable of supporting fish.
Always looking to expand fishing opportunities for anglers, Game and Fish Department fisheries biologists immediately took advantage of these "new" lakes. Many were stocked with yellow perch at first, and then with walleye later on. Most of these stockings were successful for one species or the other, and often established fishable populations of both.
As a result, the number of North Dakota fishing waters (excluding the Missouri River System) increased from about 293 in 2009 to 425 in 2016. But long-term weather patterns will dictate how long these "new" lakes will stay around. Many will begin to lose water and dry out when the next drought begins.
With little snow last winter and variable rainfall over summer, some lakes lost water this year and may be at risk of winterkill this winter. When lakes freeze, the water cannot absorb atmospheric oxygen, and when snow covers the ice, it blocks sunlight from reaching underwater plants where it's needed for photosynthesis to create oxygen. If these conditions occur, the oxygen in the water is depleted until there is not enough for fish to survive, and a winterkill occurs.
Shallow lakes are naturally more susceptible to winterkill because they have less overall water volume, and their oxygen is depleted more rapidly.
Readers may wonder why the Game and Fish Department would stock fish into shallow lakes that might winterkill in the first place. These lakes contain productive habitat, and fish can grow much faster than fish in a more established lake.
Although some of these lakes may eventually winterkill, the only investment is the fish stocked. If the lake winterkills, the losses are relatively low. But if conditions allow fish to survive and grow to catchable sizes, this small investment can provide some great rewards in opportunity and fishing.
Game and Fish would much rather see fish caught and harvested by anglers than lost to winterkill. Fisheries biologists compiled the following list of lakes across the state that currently have strong fish populations and may be at risk of winterkill in the coming months. If conditions deteriorate, fish may become lethargic and inactive as oxygen levels drop, so anglers are advised to target these waters early in the season, once ice conditions are safe for fishing.
Ice Safety

Northeast Fisheries District
Silver Lake WMA (Wells County) - 3 miles south of Chaseley. Harvestable size walleye population, ranging from 13-16 inches. Yellow perch also available in good numbers, with most in the 9- to 10-inch range.
Island Lake (Rolette County) - 3 miles west, 2 miles south of Mylo. Thriving northern pike population. Most pike around 24 inches, but range up to 28 inches.
Armourdale Dam (Towner County) - 9 miles east, 1.5 miles north of Rolla. Good numbers of northern pike and walleye. Pike primarily about 20-24 inches, but range up to 36 inches. Walleye available, with most 16-18 inches.
North Central Fisheries District
Coal Lake (McLean County) - 3 miles south, 1.5 miles east, .75 miles north of Underwood. Walleye ranging from 8-15 inches, with many fish 13-14 inches.
Southwest Fisheries District
Davis Dam (Slope County) - 16 miles west, 4 miles north of Amidon. Bluegill up to three-quarters of a pound, largemouth bass up to 2 pounds and rainbow trout up to about 1 pound.
South Central Fisheries District
Geier Lake (Kidder County) - 12 miles east, 9.5 miles north of Robinson. Walleye abundant. Yellow perch present.
Trautmann Lake (Kidder County) - 1 mile west, 2 miles north, 1 mile west, 1 mile north of Robinson. Small yellow perch and walleye abundant.
Wentz WPA (Logan County) - 12 miles east of Napoleon. Walleye abundant.
Baumgartner Lake (Emmons County) - 6 miles south of Linton. Northern pike abundant.
Jake's Lake (Emmons County) - 13 miles south, 1 mile east of Strasburg. Northern pike abundant.
Leno Lake (Kidder County) - 1 mile east, 7 miles north of Tuttle. Northern pike abundant.
Southeast Fisheries District
Island Lake (Barnes County) - 3 miles south, .5 miles east of Urbana. Medium-sized walleye abundant and should cooperate better than ever.
Bisek Slough (Richland County) - 2 miles north, .5 miles west of Lidgerwood. Good numbers of yellow perch and northern pike.
Vislisel Lake (Richland County) - 1 mile north, 2 miles east, 1 mile north, 1 mile west of Lidgerwood. Good walleye numbers, with average size about 20 inches.
Meadow Lake (Barnes County) - 6 miles west, 6 miles north of Litchville. Not sampled in 2016, but data from previous years indicate good numbers of relatively large yellow perch and a growing walleye population.
Lindeman Lake (Cass County) - 2 miles north, 1 mile east, .5 miles north of Enderlin. Not sampled in 2016, but data from previous years indicate good yellow perch numbers and the remnants of three years of walleye stocking prior to a drain project.
Alfred Lake (LaMoure County) - 7 miles east, 1.5 miles south of Gackle. Decent northern pike numbers.
Free Ice Fishing Weekend
North Dakota's free ice fishing weekend is December 31, 2016-Janurary 1, 2017.
Resident anglers may fish that weekend without a license. All other ice fishing regulations apply.
Those interested in darkhouse spearfishing that weekend must register with the North Dakota Game and Fish Department prior to participating. Registration is available on the Department's website, gf.nd.gov, or through any Game and Fish office. Legal fish are northern pike and nongame species.