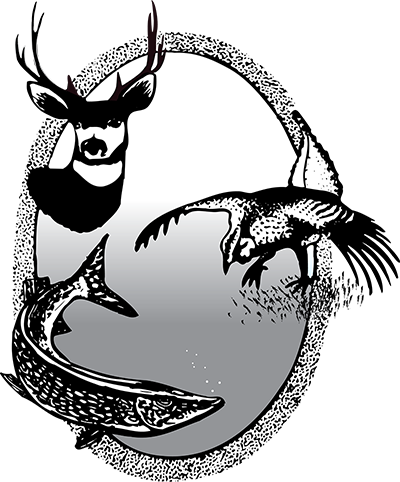 2016 Enforcement Division Review
Authors and Contributors
Game and Fish violations handled by state game wardens are many and varied, from hunting and fishing without a license, to boating under the influence.
The number of violations handled by North Dakota Game and Fish Department wardens were down in 2016 (2,286 violations) compared to 2015 (2,428 violations).
Under the circumstances, this doesn't surprise me.
At full force, the Game and Fish Department's enforcement division has 29 district game wardens stationed across the state. In 2016, the division was short three wardens for much of the year.
When a warden is hired by the Game and Fish Department, successful applicants aren't just assigned to a station and turned loose. New wardens must first complete 12 weeks at the Law Enforcement Training Academy in Bismarck, followed by a minimum of 12 weeks of internal field training. Basically, from the day a warden is hired, it takes roughly six months before that warden is working his or her assigned district on their own.
So, over an extended period of time in 2016, essentially three enforcement districts in the state were not fully staffed.
Also in 2016, the Game and Fish Department dedicated three game wardens, working on a rotating basis, to the Dakota Access Pipeline protest response in Morton County. This assignment, which takes wardens from their districts for five days or so at a time, began in October and continues yet today.
Through the end of January, state game wardens had contributed more than 3,900 regular and overtime hours to the protest response, with salary and operational costs of more than $300,000 that will be reimbursed by the state.
While enforcement of game and fish related laws is the primary duty of the Department's game wardens, these men and women provide assistance to other law enforcement efforts within the state, especially when assistance is related to public safety.
This has always been the way, with officers helping each other when summoned, regardless of agency or department, especially in areas away from major population centers where law enforcement resources are limited.
No matter the circumstances, Game and Fish Department enforcement division will continue to do the best it can with the resources provided for the state's hunters, anglers and general public.
This year, lawmakers are gathered in Bismarck at the 65th Legislative Assembly. As I write this in late January, there are 28 hunting and fishing related bills that, depending on their outcome, determine how the Game and Fish Department does business for the next two years.
While the legislative process can seem intimidating to some people, it is designed to allow public input.
Understanding this, it is important for hunters, anglers and other recreationists to make their views known. OUTDOORS readers have a vested interested in the process, and a responsibility to monitor legislation bills and provide informed input to local legislators.
2016 Summary of Violations
BIG GAME
Hunting in closed season
2
Failure to wear fluorescent orange
4
Tagging violations
18
Exceeding limit
6
Killing wrong species or sex
4
Other big game violations
11
Total
47
SMALL GAME
Using gun able to hold more than 3 shells
60
Hunting in closed season
4
Illegal possession/taking
2
Exceeding limit
24
Failure to leave identification or sex of game
38
Killing wrong sex or species
2
Nontoxic shot violation
4
Failure to carry federal waterfowl stamp
13
Hunting in unharvested fields
10
Other small game violations
38
Total
195
BOATING
Use of unlicensed or unnumbered boat
41
Failure to display boat registration
63
Operating without lights at night
45
Inadequate number of PFDs
228
Water skiing violations
57
Reckless or negligent operation
4
Operating vessel under influence/intoxicated
21
Other boating violations
80
Total
539
FISHING
Fishing with excessive lines
57
Exceeding limit
119
Fishing in closed/restricted area
7
Failure to attend lines
16
No identification on fish house
5
ANS violation
115
Paddlefish violations
2
Other fishing violations
55
Total
376
FURBEARER
Shining (using artificial light)
11
Illegal possession/taking
3
Harassing furbearers with motor vehicle
4
Other furbearer violations
15
Total
33
GENERAL
Use of motor vehicle off established trail
10
Use of motor vehicle in restricted area
45
Harassing wildlife with motor vehicle
1
Hunting on posted land without permission
41
Hunting before/after legal hours
5
Wanton waste
4
Aid in concealment of unlawful game
1
Hunting in wrong unit/closed area
3
Loaded firearm in motor vehicle
50
Discharge of firearm within/on motor vehicle
2
440 yard violation
4
Littering
48
Other general violations
19
Total
240
LICENSING
Failure to sign/affix stamp
19
Hunting/fishing/trapping without proper license
226
Failure to carry license on person
317
Misrepresentation on license or application
41
Other licensing violations
19
Total
240
WILDLIFE MANAGEMENT AREAS/REFUGE
Failure to obey posted regulations
59
Camping
11
Tree stand violations
13
Baiting on WMA
1
Prohibited uses of motor vehicles
16
Unlawful use of firearms
6
Other WMA/refuge violations
4
Total
142
MISCELLANEOUS
Possession of controlled substance
8
Possession of drug paraphernalia
6
Open container
14
Minor in possession
34
Criminal trespass
14
Other miscellaneous
15
Total
91
COMMERCIAL
Other commercial
5
Total
5
Incidents 2016 – Top 10 Counties
(An incident is defined as any situation that requires a response from a game warden. It does not have to be a crime, the situation could be, for example, a lost hunter.)
Burleigh – 315
McLean – 225
Morton – 216
Cass – 199
Richland – 199
Ward – 191
McKenzie – 176
Ramsey – 175
Williams – 153
Mountrail – 127
Citations 2016 – Top 10 Counties
Ramsey – 199
McKenzie – 184
Williams – 159
Burleigh – 138
McLean – 106
Benson – 89
Mountrail – 80
Morton – 73
Ward – 64
Sargent – 62