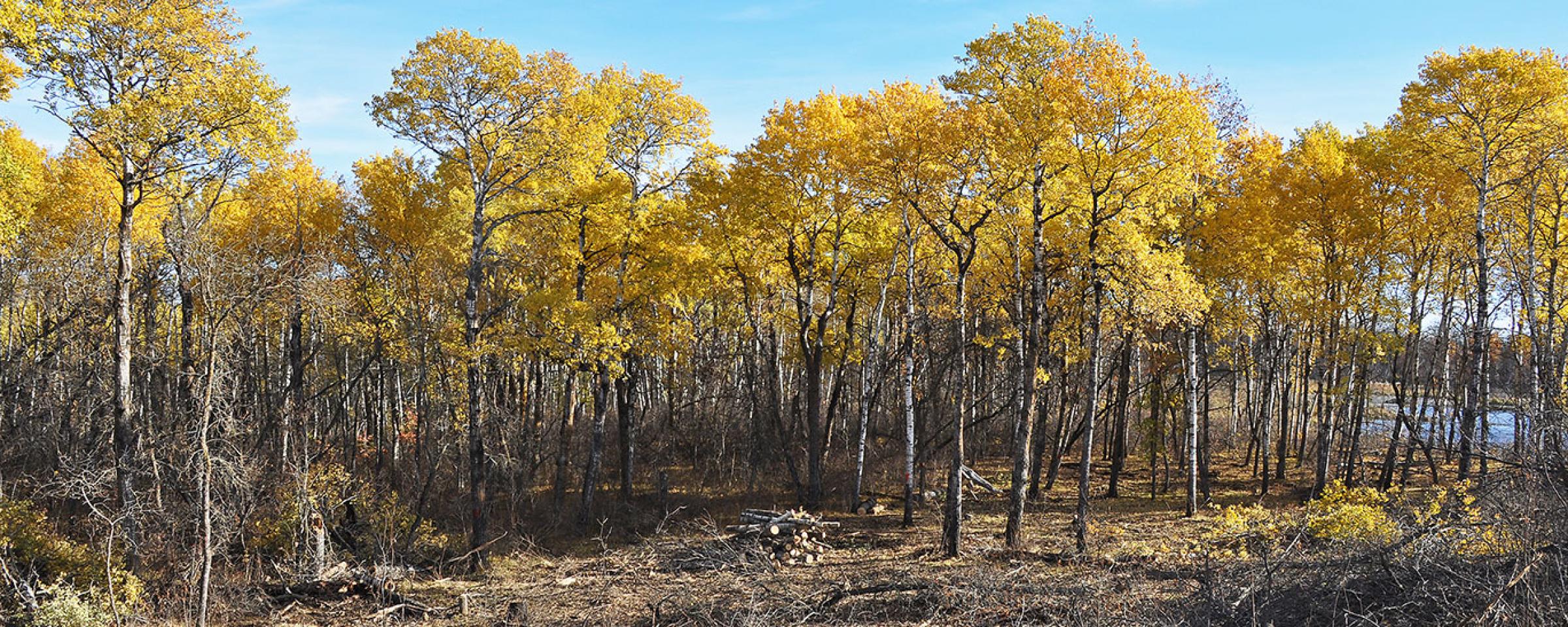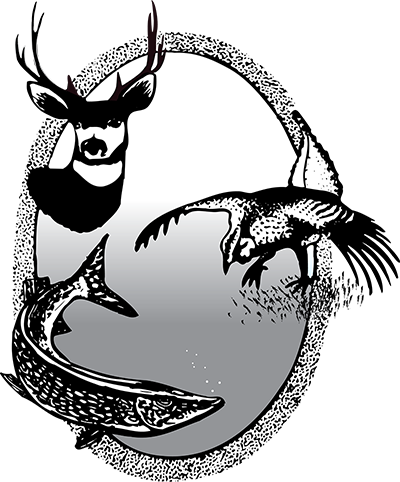 Partnership to Benefit Ruffed Grouse, Other Wildlife
Hunting ruffed grouse in North Dakota's Turtle Mountains is as much about the gorgeous forested country that shoulders up against Canada as it is about the native birds.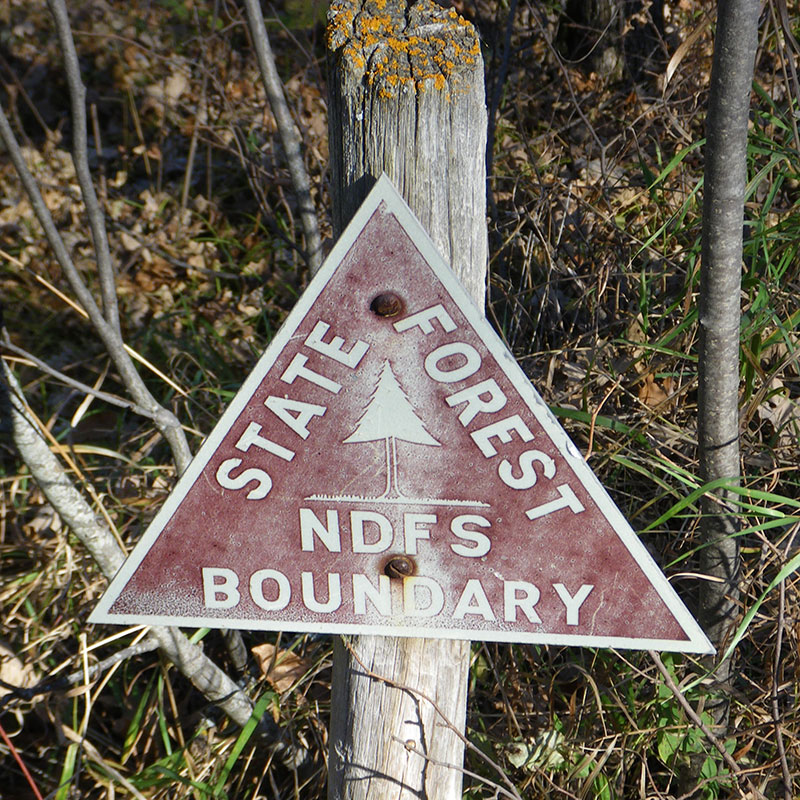 The plan is to manipulate 15 acres of state forest land over the next two years.
In fall, when the grouse are in season and have long since moved on from an entertaining spring courtship initiated by drumming males, the woodlands transform from greens to head-turning reds and yellows. A hike in the woods, with or without a grouse in the game bag, is a treat as temperatures cool and the days shorten.
It was during this natural autumn alteration in early October that work was being done on a small chunk of woods to improve the health of the forest, while creating an environment that will one day benefit ruffed grouse and other woodland animals.
As part of a cooperative agreement between the state Game and Fish Department and the North Dakota Forest Service, the agencies plan to treat 15 acres of state forest land and 15 acres on two Department wildlife management areas in the Turtle Mountains over the next two years.
The agencies also intend to continue to apply regeneration treatments in the form of 5- to 10-acre patch-cuttings over the next 10 years on high priority Forest Service and Game and Fish lands.
While hard hats and chainsaws are employed at times, much of the work to clear blocks of forest and stack logs falls on a forestry brush cutter and a heavy duty skid steer. The equipment was purchased by the agencies through federal Wildlife Restoration Act funds.
"By sharing this equipment, we will be able to initiate some stand treatments that are going to have a long-term, beneficial impact on a variety of wildlife species in the Turtle Mountains," said Mike Kangas, North Dakota Forest Service nursery and state forest team leader.
Kangas said that about 17 percent of the state's forestland is classified as aspen/birch forest type, the majority of which is found in the Turtle Mountains. Unfortunately, much of it is in a state of decline.
"Lack of fire disturbance and/or harvesting has resulted in older stands, with minimal natural regeneration," Kangas said. "The current condition of many stands are characterized by extensive stem decay and large stem mortality caused by canker fungi. In addition, these stands are prone to periodic outbreaks of defoliating insects that reduce growth, predispose trees to other damaging agents, and exacerbate the senescence of aging aspen stands."
The forestry brush cutter, sort of a lawnmower/weed whacker on steroids, chews up most everything in its path, thereby allowing vigorous regrowth of aspen suckers. The bigger trees, those bigger around than 12 inches, are cut by chainsaw and stacked with the skid steer.
The forest stands being manipulated by the machines are roughly in the shape of a square.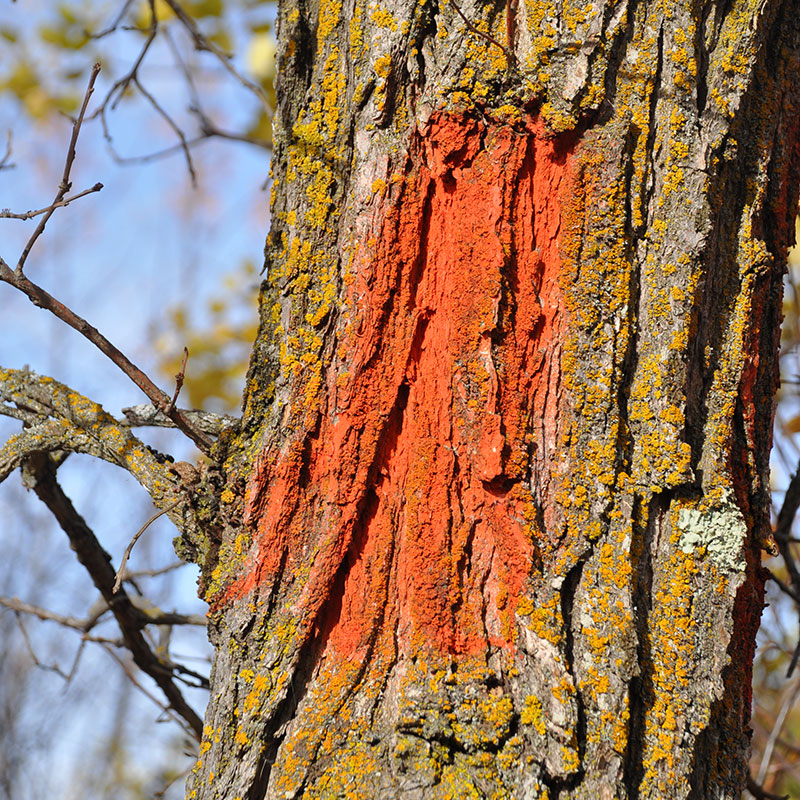 Bark painted a reddish color marks the boundary of a block of woods that will one day, hopefully, provide improved habitat for ruffed grouse and other woodland animals.
"When it's all said and done, it will look like a clear cut," Kangas said. "What some people don't understand is that a clear cut is not necessarily a bad thing … what we are doing is mimicking a natural disturbance, such as fire."
Considering the predominance of aspen in the Turtle Mountains, Kangas said it is evident that disturbance was an important factor historically in these stands.
"Mimicking those disturbances will create a mosaic of different age classes of aspen, benefiting numerous wildlife species in the Turtle Mountains," he said.
Brian Prince, Department wildlife resource management section leader in Devils Lake, said Game and Fish has had its hand in aspen management in the Turtle Mountains, mainly for ruffed grouse, dating back to 1963. Much of that management effort stalled for a number of years because contractors were not available to do the work.
"But this project now has given us some renewed hope that we can continue managing aspen primarily for our ruffed grouse, but also for big game species," Prince said. "Basically, most of the wildlife species in the Turtle Mountains are going to benefit from this in some way."
Prince said aspen management through the partnered project will take place on 7.5 acres at Willow Lake Wildlife Management Area, followed by 7.5 acres at Wakopa Wildlife Management Area, the Department's largest WMA in the Turtle Mountains.
Biologists have long understood the specialized habitat needs of ruffed grouse and how proper forest management influences the woodland species.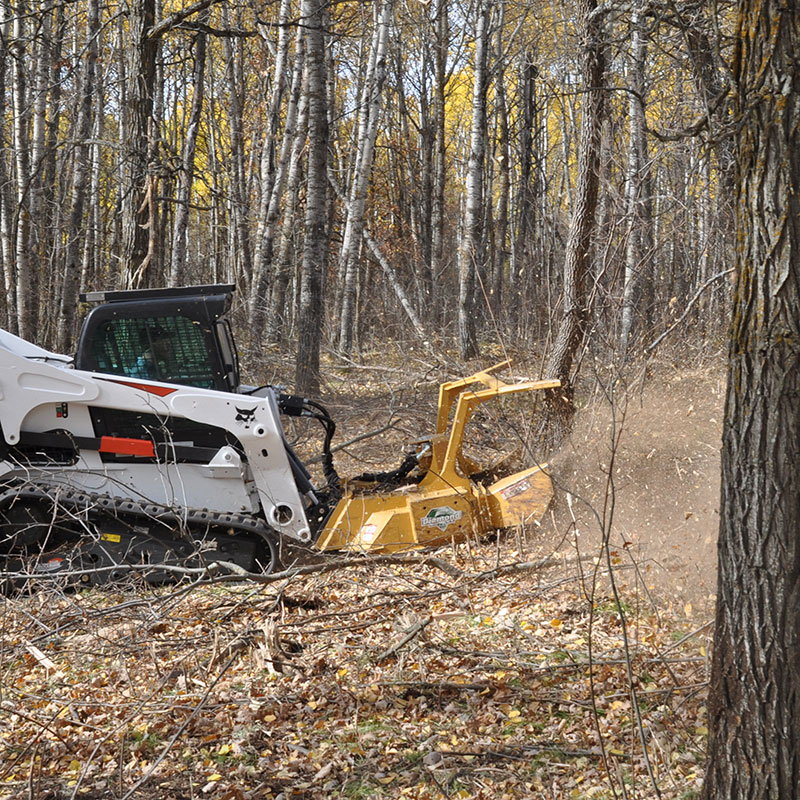 A forestry brush cutter is able to make quick work of most all vegetation in its path. The bigger trees are harvested by chainsaw.
"While ruffed grouse are very dependent on aspen, it's not enough just to have aspen on the landscape," Prince said. "They need to have certain aspen age classes available to provide those habitat needs that are required throughout the year.
"If you look at the literature, for instance, there is a strong correlation between drumming sites for male ruffed grouse in spring … there is a strong correlation and need for hen ruffed grouse and their broods to have that sapling stage, where they can move into those areas that provide vertical cover from avian or terrestrial predators," Prince added. "Also, what they find in those sapling-aged stands is a flush of insects as a food source to boost development for young birds and get a good jump-start on becoming adult grouse."
Prince said Department biologists have seen, through male ruffed grouse drumming counts in spring, the connection between aspen management and an increase in bird numbers.
"Looking back at spring drumming survey routes that go through Wakopa where there has been a lot of aspen management in the past, there are some correlations that lead us to believe that what we are doing on our WMAs is assisting the grouse population," Prince said. "Unfortunately, we have a situation in the Turtle Mountains where this type of aspen management is not happening everywhere, and the older, decadent stands aren't helping grouse."
Kangas said that while the partnered program to manipulate aspen stands has just begun, he envisions the work to continue in the Turtle Mountains for some time.
"We want to continue to use the equipment indefinitely, as long as it lasts," he said. "We are hoping, over a 10- to 12-year period that we're able to treat up to 100 acres, and I think that will have a significant impact on creating some edge and browse habitat for wildlife in the Turtle Mountains."
Note:
Mike Kangas, North Dakota Forest Service nursery and state forest team leader, said the larger felled trees that cannot be ground up by the equipment will be stacked, set aside and made available for firewood cutting.
"In those areas where it is logistically feasible, we'll make the wood available to the public for harvest," he said. "We just ask that they first apply for a firewood permit."