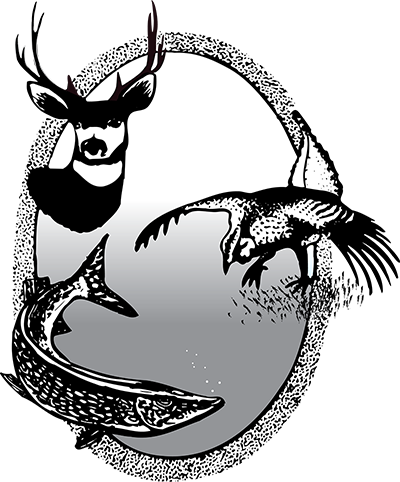 Governor Proclaims Hunting and Fishing Day
Governor Doug Burgum signed a proclamation establishing September 22 as Hunting and Fishing Day in North Dakota.
Governor Burgum's proclamation highlights the rich and storied tradition of hunting and angling in North Dakota, and that hunters and anglers, through their license fees, have helped fund state efforts to provide for healthy and sustainable natural resources.
The proclamation highlights a "user pays – public benefits" approach – widely recognized as the most successful model of fish and wildlife management in the world – which shows that last year in North Dakota hunters and anglers generated more than $30 million to support the conservation efforts of the Game and Fish Department.
The Hunting and Fishing Day Proclamation is published on the Game and Fish website.
North Dakota's Hunting and Fishing Day coincides with National Hunting and Fishing Day, an event held for more than 40 years to highlight the role hunters and anglers play in supporting conservation and scientific wildlife management.
2017 Upland Game Seasons Summarized
Drought conditions, and not as many hunters in the field last fall meant fewer pheasants, sharp-tailed grouse and Hungarian partridge in the bag, according to statistics compiled by the North Dakota Game and Fish Department.
Last year, more than 58,300 pheasant hunters (down 24 percent) harvested 309,400 roosters (down 38 percent), compared to 76,600 hunters and 501,100 roosters in 2016.
Counties with the highest percentage of pheasants taken by resident hunters in 2017 were McLean, 6.7; Burleigh, 6.6; Williams, 5.9; Sargent, 5.6; and Divide, 5.5.
Top counties for nonresident hunters were Hettinger, 18.2 percent; Bowman, 10.2; Divide, 7.1; Emmons, 5.6; and Dickey, 5.5.
In 2017, 13,600 grouse hunters (down 28 percent) harvested 46,900 sharp-tailed grouse (down 28 percent). In 2016, nearly 18,900 hunters took 65,500 sharptails.
Counties with the highest percentage of sharptails taken by resident hunters in 2017 were Slope, 8.6; Walsh, 6.6; Mountrail, 6.4; Kidder, 6.3; and Benson, 4.8. Top counties for nonresident hunters were Bowman, 11.3; Hettinger, 7.4; Divide, 7; Mountrail, 6.8; and Ward, 6.4.
Last year, nearly 13,800 hunters (down 18 percent) harvested 32,800 Hungarian partridge (down 40 percent). In 2016, 16,900 hunters harvested 54,200 Huns.
Counties with the highest percentage of Huns taken by resident hunters in 2017 were Mountrail, 10.8; Ward, 8.3; Stark, 5.8; Williams, 5.4; and Adams, 4.4. Top counties for nonresident hunters were Divide, 15; McLean, 12.3; Golden Valley, 7.3; Stutsman, 7.3; and Grant, 6.3.
Federal Duck Stamp Required
Waterfowl hunters age 16 and older are reminded a federal duck stamp is required beginning September 1. Waterfowl includes ducks, geese, swans, mergansers and coots.
This year's 2018-19 federal duck stamp is available for electronic purchase through the North Dakota Game and Fish Department's website, instant licensing telephone number, 800-406-6409, or at license vendors registered with the Department's licensing system.
Physical stamps are not available at North Dakota license vendors, but they can still be purchased at many U.S. Postal Service offices.
The electronic stamp is a purchase item like any other hunting or fishing license. When the purchase is completed the electronic stamp is valid immediately. The words "Federal Duck Stamp" will be printed on the license certificate, along with an expiration date 45 days from the date of purchase. The actual physical stamp will be sent by postal mail.
The physical stamp is processed and sent by the official duck stamp vendor in Texas, and should arrive to the individual buyer well before the expiration date printed on the electronic license. The physical stamp must remain in possession of the hunter after the 45-day electronic stamp has expired. Individuals who have questions regarding the status of their physical stamp can contact the federal duck stamp vendor customer service number at 800-852-4897.
The federal duck stamp has a fee of $25. An additional $1.50 fee is added to cover shipping and handling costs of the actual physical stamp.
Wings Need for Agency Survey
Hunters can help in the effort to manage upland game birds in the state, by collecting feathers from harvested birds and sending in wing envelopes.
Birds included in the North Dakota Game and Fish Department's upland game wing survey, which has been in practice for decades, are ring-necked pheasants, sharp-tailed grouse, Hungarian partridge, turkeys and ruffed grouse.
Collecting enough pheasant samples is typically never a problem, but securing enough sharptail and partridge feathers can be.
In recent years, the Game and Fish Department sought the help from upland hunters via the Department's website and elsewhere, and the response was much improved.
Game and Fish biologists will take as many sharptail and partridge feathers as they can get because the more collected, the better the data.
Biologists can determine sex and age ratios from wings and tail feathers, survival, nesting success, hatch dates and overall production.
What biologists learn from the samples is vital to helping manage North Dakota's upland game birds.
Hunters interested in receiving wing envelopes should visit the Game and Fish website, or contact the Department's main office in Bismarck by phone (701-328-6300) or email (ndgf@nd.gov).
Hunters can also get wing envelopes at Game and Fish District offices in Devils Lake, Jamestown, Riverdale, Dickinson, Williston and Lonetree Wildlife Management Area near Harvey.
Agencies Prohibit Hunting over Bait
Hunters are reminded that hunting big game over bait is prohibited on all state owned or managed wildlife management areas, all U.S. Fish and Wildlife Service national wildlife refuges and waterfowl production areas, U.S. Forest Service national grasslands, and all North Dakota state school, state park and state forest service lands.
The governor's proclamation relating to chronic wasting disease also includes a provision that prohibits hunting big game over bait on both public and private land, including PLOTS tracts, in deer unit 3C west of the Missouri River, and all of units 3E1, 3E2, 3F1 and 3F2.
Hunting over bait is defined as the placement and/or use of baits for attracting big game and other wildlife to a specific location for hunting. Bait, in this case, includes grain, seed, minerals, salt, fruit, vegetables nuts, hay, any naturally derived scent or lure, or any other natural or manufactured food placed by an individual.
Bait does not include agricultural practices, gardens, wildlife food plots, agricultural crops, livestock feeds, fruit or vegetables in their natural location such as apples on or under an apple tree, or unharvested food or vegetables in a garden.
HIP Registration Required
Migratory bird hunters of all ages are reminded to register with the Harvest Information Program prior to hunting ducks, geese, swans, mergansers, coots, cranes, snipe, doves and woodcock. Hunters must register in each state in which they are licensed to hunt.
Hunters can HIP certify when purchasing a license – or by clicking the Migratory Bird HIP link – at the North Dakota Game and Fish Department website. In addition, hunters can call 888-634-4798 and record the HIP number on their printed license.
Those who registered to hunt the spring light goose season in North Dakota do not have to register with HIP again, as it is required only once per year.
HIP registration is a cooperative program designed to determine a sample of hunters from which to measure the harvest of migratory birds for management purposes.
Report Banded Migratory Birds
Hunters are reminded to check harvested migratory birds for bands this fall and report federal bands at reportband.gov.
In addition, the bird banding lab has a mobile friendly reporting site that will aid hunters to report bands via mobile devices.
The band number, date and location of each recovery are needed. After the band information is processed, hunters can request a certificate of appreciation, and information about the bird will be returned in an email. Hunters can keep all bands they recover.
Information received from hunters is critical for management of migratory game birds.
Big Game Transport Rules
Big game hunters are reminded of requirements for transporting deer, elk and moose carcasses and carcass parts into and within North Dakota as a precaution against the possible spread of chronic wasting disease.
Hunters are prohibited from transporting into or within North Dakota the whole carcass of deer, elk, moose or other members of the cervid family from areas within states and provinces with documented occurrences of CWD in wild populations, or in captive cervids.
In addition, hunters harvesting a big game animal in unit 3F2 in North Dakota cannot transport the whole carcass, including the head and spinal column, outside of the unit.
Only the following portions of the carcass can be transported:
Meat that has been boned out.
Quarters or other portions of meat with no part of the spinal column or head attached.
Hides with no heads attached.
Meat that is cut and wrapped either commercially or privately.
Clean (no meat or tissue attached) skull plates with antlers attached.
Antlers with no meat or tissue attached.
Upper canine teeth, also known as buglers, whistlers or ivories.
Finished taxidermy heads.
Hunters should also note that hunting big game over bait, or placing bait to attract big game for the purpose of hunting, is prohibited in deer units 3C west of the Missouri River, 3E1, 3E2, 3F1 and 3F2.
Hunters should refer to the 2018-19 CWD proclamation on the Game and Fish Department's website, for other states that have had deer, moose or elk diagnosed with CWD. Importation of harvested elk, white-tailed deer, mule deer, moose or other cervids from listed areas is restricted.
Sandhill Crane Permits
North Dakota's sandhill crane season opens September 15 and continues through November 11.
In addition to other licenses required, resident hunters need a $10 crane permit, while nonresidents need a $30 permit. Hunters can apply online. Harvest Information Program certification is required.
Hunters can also send the permit fee, along with personal information, including height, weight, social security number, date of birth, color of hair and eyes, and hunter education number and state issued, to Crane Permit, NDGF, 100 N. Bismarck Expressway, Bismarck, ND 58501.
Equipment on Wildlife Management Areas
The North Dakota Game and Fish Department reminds hunters that an equipment registration number, or the owner's name, address and telephone number, must be displayed on all equipment requiring identification that is placed on state wildlife management areas.
Some of the equipment that falls under this requirement includes tree stands, ground blinds and game cameras.
Owners can generate an equipment registration number by visiting My Account at the Game and Fish website. One registration number will be issued that can be used on all equipment that requires identification.
Equipment set out prior to August. 20, or left on a WMA after January 31, is considered abandoned property and is subject to removal.
Practice Caution on Rural Roads
North Dakota hunters are reminded to be cautious of farm, ranch and other traffic when traveling on rural roads.
Fall is a busy time in the state as farmers and ranchers are harvesting crops, moving cattle, hauling bales and moving heavy machinery. Knowing this, hunters driving around on country roads should slow down when meeting another vehicle and pull well to the right when topping a hill.
To maintain positive landowner/hunter relations, Game and Fish Department officials said hunters should move to the right side of the road to allow wide farm vehicles to pass, park vehicles in a place that will not block a roadway, field approach or gate, pick up trash and empty shells, and not clean game in the road ditch or approach.
Hunting and Trapping Guide
The state's waterfowl, small game and furbearer regulations has a new look this fall.
No longer printed as separate documents, North Dakota's 2018-19 Hunting and Trapping Guide includes three main sections – upland game, migratory game birds and furbearers/trapping.
The 52-page document offers much of the same information hunters and trappers rely on, but in a much more user-friendly format. In addition, the guide also features a four-page colored duck identification guide, aquatic nuisance species information, boating safety for hunters and Tom Roster's Nontoxic Shot Lethality Table.
Hunters and trappers can find the guide on the Department's website, Game and Fish district offices and at the usual license vendor locations.
Watchable Wildlife Photo Contest Deadline
The North Dakota Game and Fish Department's annual Watchable Wildlife Photo Contest is now open, and the deadline for submissions is October 1.
The contest has categories for nongame and game species, as well as plants/insects. An overall winning photograph will be chosen, with the number of place winners in each category determined by the number of qualified entries.
Contest entries are limited to digital files submitted via email only. Contestants are limited to no more than five entries. Photos must have been taken in North Dakota.
By submitting an entry, photographers grant permission to Game and Fish to publish winning photographs in North Dakota OUTDOORS, and on the Department's website, gf.nd.gov.
Photographers can send emailed digital photos to photocontest@nd.gov, with individual photo file sizes limited to 5 MB or less. Game and Fish may contact photographers for original full resolution images if needed for publication.
All entries must be accompanied by the photographer's name, address, phone number and email address. Other information such as photo site location and month taken are also useful.
For more information contact contest coordinator Pat Isakson at 701-328-6300, or email Pat at ndgf@nd.gov.