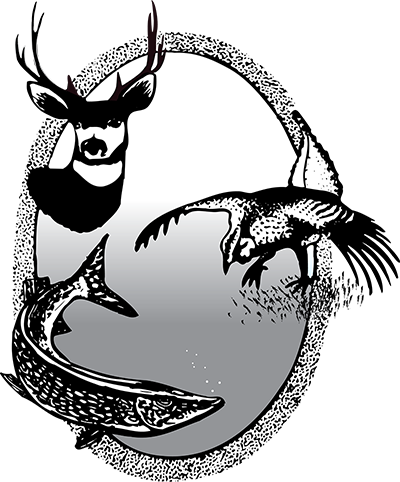 In late summer 1931, the first issue of North Dakota OUTDOORS was published and made available to the public.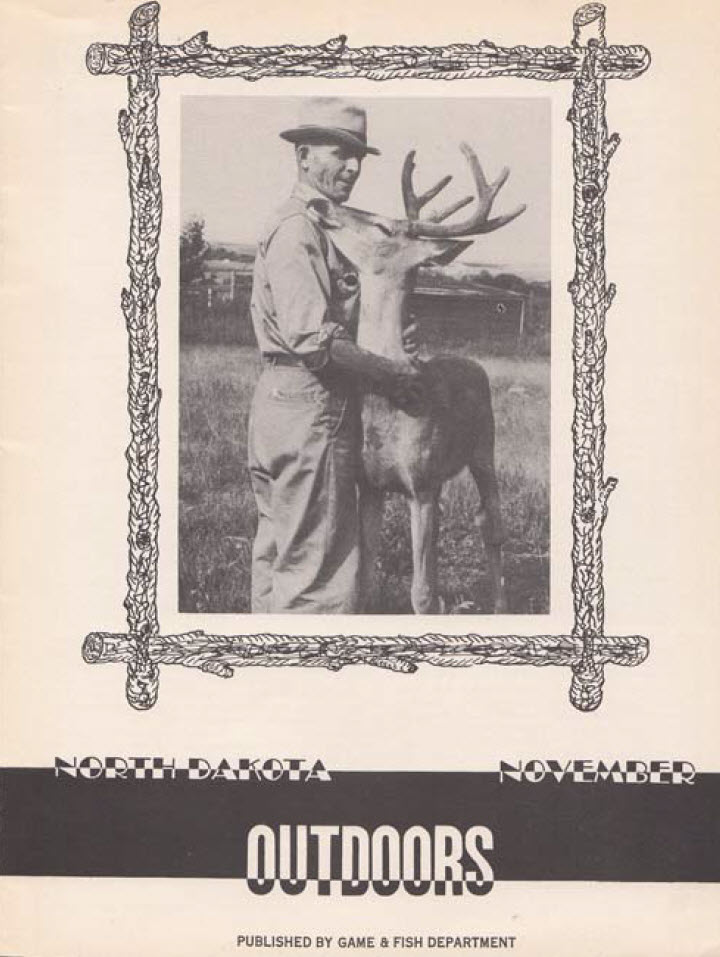 J.E. Reck with a whitetail buck raised at the Game and Fish Department's game farm at Spiritwood Lake. This photo ran on the cover of the November 1942 issue of North Dakota OUTDOORS. Reck was a caretaker at the game farm and a photo caption at the time said the buck was at ease around Reck, but would "scurry away" around strangers.
If you do the math, that means the magazine turned 87 this year. Not a milestone, certainly. Just a point of interest.
If you thumb through the thousands of pages and years of articles, as we have, you'll notice great change in North Dakota's natural resources and the way the Game and Fish Department conducts business.
On the flip side, it's interesting how some things haven't changed, as wildlife managers today are dealing with many of the same issues their predecessors wrestled with, such as safeguarding wildlife habitat, increasing and decreasing animal numbers, hunter and angler expectations, fallout of drought and difficult North Dakota winters, and so on.
There is no cutoff of, say, 10 years, to qualify as a subject for A Look Back. Technically, we could write about something from the February 2012 issue of OUTDOORS and it would qualify because, well, that would be taking A Look Back.
Yet, for whatever reason, the tendency is to knock off the dust from some of the older issues to see what's between the front and back covers.
Which brings us to the following nuggets published in a feature called Strands of Sport, which appeared in a number of issues in 1942:
We are constantly urging hunters to use retrievers this fall. Do you have yours? It is not permissible to use setters, pointers and droppers.
If the sportsmen's organizations in North Dakota have anything to say about it, the axis powers are in for a hot time. Many of the clubs are appropriating a portion of their funds for the purchase of War Bonds. This is really making their money do double duty.
A rumor is out that a hunter from Fargo bagged a black-tail buck in the Badlands with a 30-inch horn spread. Quite some rack we think.
Many farmers are short of shells, and it would be a nice gesture on the part of the hunters if they leave a little ammunition with him after the hunt.
The Frosted Food Locker in Bismarck reports that one cock pheasant brought in for dressing weighed five pounds. If there were any heavier birds killed last fall, sportsmen are urged to notify the department.
The open winter has been a boon to trappers in the state, and it is anticipated that the take of furbearers is the largest in many seasons.
When you see ducks and geese winging their way north this spring in V formations think of Victory – Buy defense savings stamps and bonds.
A friend of mine found a gold band ring lying beside the entrails of a deer. It appeared that the man cleaning the deer had it slip from his finger. The ring is engraved on the inside, which will make it easy for the owner to identify.