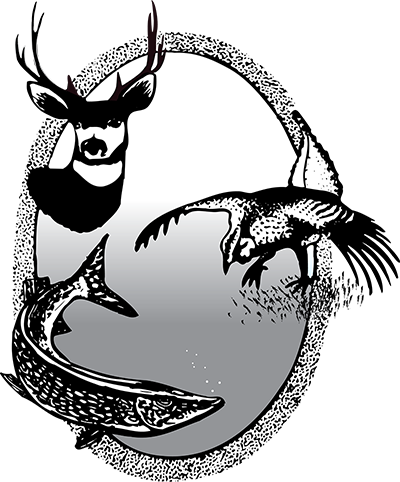 Lottery Applications Now Online – Only
Editor's Note: Applying online for lottery licenses for North Dakota game species, such as deer and wild turkeys, is nothing new to many people. Yet, as Game and Fish Department officials embrace a long-range plan to phase out paper applications, there will likely be some questions. What follows are a number of questions and answers to help people with possible uncertainties about the process.
Q: What is the background behind the Game and Fish Department's initiative to require that all lottery applications be submitted online?
A: In 2015, the North Dakota Legislature passed a law that required the Game and Fish Department to develop an all-electronic licensing system and phase out the old paper license books. That went into effect April 1, 2016, so for nearly two full years now all license buyers have had to purchase their hunting and fishing licenses through the Game and Fish website, at license vendors who are linked into the Game and Fish electronic licensing system, or by calling the Game and Fish toll-free instant licensing system at 800-406-6409 any time day or night.
Another part of that plan was that paper applications for lottery licenses, which includes spring and fall turkey, deer gun, swan, pronghorn and moose, elk and sheep, would eventually be phased out within a few years as well.
Q: Why now?
A: In 2017, more than 90 percent of regular lottery applications, and nearly 75 percent of gratis applications, were already submitted online/electronically. In addition, starting last year, Game and Fish moved the nonresident deer, swan and fall turkey applications to online-only with few associated problems.
With a significant majority of hunters already comfortable with online applications, and relative success with the other seasons last year, Game and Fish administration felt it was the right time to take the next step and go to online-only for the high volume deer and moose, elk and sheep lotteries.
In addition, Game and Fish will realize significant cost savings from not having to print and distribute paper applications, and not having to hire as many temporary employees to key in all the data contained in paper applications. Another major benefit is that the time lapse between the application deadline and when the lotteries are run should be reduced considerably.
Q: Will this new initiative also include gratis applications?
A: Yes, all gratis applications will now have to be submitted online using the Game and Fish website, gf.nd.gov. The deadline for gratis applications is the same as for regular lottery applications.
Q: Will the deer application deadline change for hunters?
A: No, the established deer deadline will remain the same for both lottery and gratis applicants, which is June 6 in 2018, but Game and Fish will start taking gratis deer applications earlier than lottery applications for deer, approximately April 1.
Q: Applying as a gratis applicant, do I have to submit my legal land description if I've applied on paper before?
A: Whether previously submitted online or on paper, gratis land descriptions are electronically entered into the Game and Fish system. Gratis applicants will be able to copy the land description from the previous year into this year's application by clicking a button. However, previous gratis applicants will still have to bring up their land descriptions and add the number of acres for each tract. In addition, any changes to land included on a gratis application from the previous year will have to be made online.
Q: How many people will this effect?
A: Approximately 3,000 of 13,000 gratis deer license applications last year came in via paper, as did about 7,000 of nearly 80,000 regular deer gun applications, so it's a small percentage of prospective hunters who have not previously used the online system. About two-thirds of the gratis applicants who submitted paper forms last year have used the online system before to purchase other licenses.
Q: Is it still possible to use the toll-free instant licensing number to submit lottery applications?
A: Regular lottery applications are still accepted through the toll-free number, but gratis applications are not.
Q: What if I don't have a credit card?
A: The best option is to purchase a prepaid credit from a retail merchant. Anyone who does that should keep the card even if there isn't a remaining balance, as unsuccessful applications would receive an electronic refund that would go back on that card. You can also use a debit card.
Q: Is this being implemented for the first time for all lotteries?
A: No, as mentioned earlier, last year the entire swan and fall turkey license applications were online-only, as were nonresident deer applications.
Q: If I don't have a computer, what are my other options?
A: Among the options are using the toll-free instant licensing phone number (nongratis lottery applications only), having a friend or relative submit the application for you, go to a public service location such as a public library, or stop at any Game and Fish district office for assistance. Payment accepted at Game and Fish district offices will be credit or debit card only.
Q: Can I go to a vendor to apply in a lottery?
A: No, the electronic system that vendors use is not set up to handle lottery applications. However, vendors on their own may choose to provide a computer that would allow customers to go to the Game and Fish website to complete the application process.
Q: Will I still be able to apply on a party application?
A: Yes, the online system is set up to handle party applications, as is the toll-free instant phone licensing system.