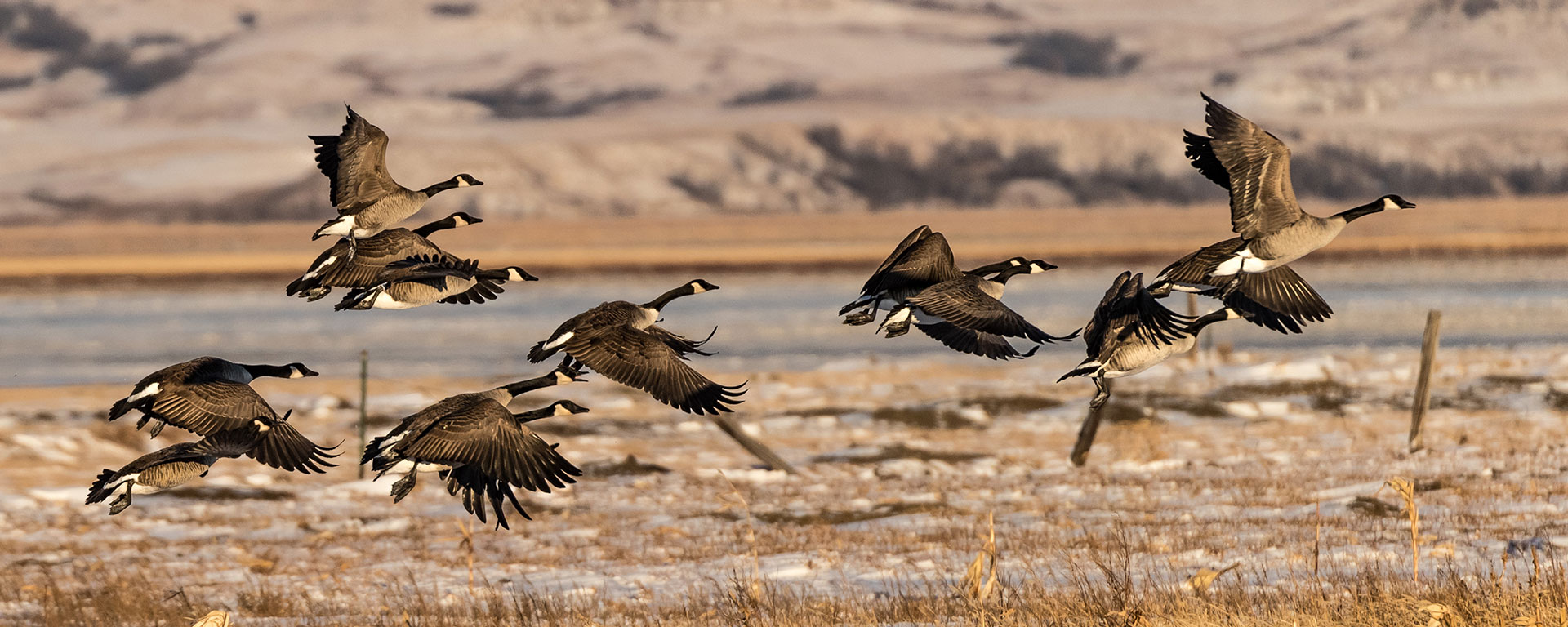 Year 2017 in Review
Last year at this time, following multiple winter storms, North Dakota was knee-deep in snow, and concerns about resident wildlife dominated our thoughts. Fortunately, the weather moderated a bit moving into January and February, but the brutal start to winter certainly had a negative impact on wildlife populations across the state.
Life in the Northern Plains is one of extremes. It's always been that way. This point was driven home again as we transitioned from a fairly wet winter, to a spring and summer that received little precipitation and reached extreme drought conditions in much of western North Dakota.
While we felt that we had dodged a bullet moving into late winter, that lack of moisture going into the upland game bird nesting season soon tempered our optimism about a good hatch. As of mid-summer, it was becoming increasingly clear that these weather extremes did indeed have a significant negative influence on certain species, particularly pheasants and grouse.
Reports from farmers and ranchers were concerning and eventually validated when Game and Fish Department biologists initiated the agency's annual upland game brood surveys. Further validating those early concerns were stories from hunters. While some – the minority – found pockets of birds with decent numbers, other hunters – the majority – found pheasant and sharp-tailed grouse numbers to be down considerably.
So what does all of this mean moving into winter 2018? Without a crystal ball, it's only a guess. However, even with a mild winter and favorable moisture next spring, habitat conditions going into the nesting season will likely be less than ideal. There is a noticeable lack of available habitat on North Dakota's landscape, and the habitat that is available is of a lesser quality due in part to drought conditions that are hopefully behind us.
With that said, for those of us who cherish our time spent outdoors, opportunities to hunt upland birds, deer, waterfowl and other animals remain. And for those of us who also like to fish, opportunities to wet a line in a record 450 managed waters across the state are as good as they've ever been.
While we may have to change our tactics, adjust our priorities, and maybe even realign our expectations outdoors, we are continually blessed to live in a state with such diverse fish and wildlife resources. That's one of the reasons we are proud to call North Dakota home.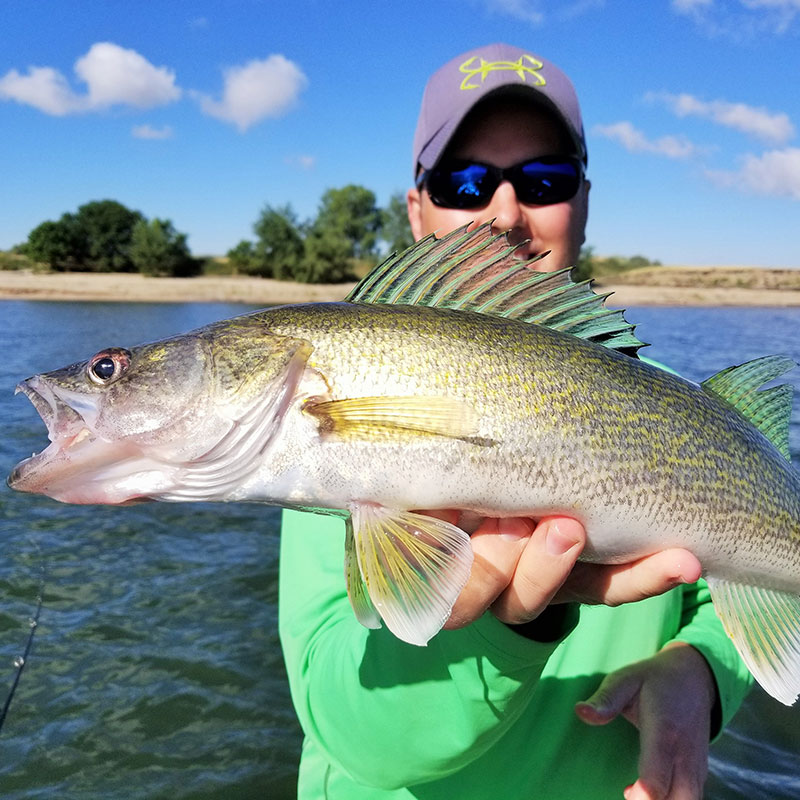 More Wet Than Dry
As drought arrived on the heels of five or six years of rising water levels and increasing fish populations, Game and Fish Department personnel entered 2017 managing more than 425 fisheries.
Not surprising, many North Dakota fisheries lost water last year, but fisheries managers say not all lakes were affected the same.
In summer, Department fisheries personnel stocked more than 12 million walleye fingerlings – topping the previous high by more than 1 million fish – into 130-plus waters around North Dakota.
Considering not many of the fingerlings went into Lake Sakakawea, the effort included an unprecedented stocking of nearly 7 million fingerlings into smaller waters across the state.
With more than 50 new prairie walleye lakes in North Dakota, demands at the fish hatcheries to stock these waters increased. Valley City National Fish Hatchery produced more walleyes in 2017 than in any other year, while Garrison Dam National Fish Hatchery produced a record number again.
Fall reproduction surveys, which evaluate natural reproduction, stocking success and forage abundance, revealed good numbers of walleye and sauger in Sakakawea, a robust walleye population in Devils Lake, and an indication of gizzard shad reproduction in Lake Oahe.
Department fisheries managers said that fall fish surveys showed that many of the state's smaller lakes have high adult fish populations, plus the young fish that were stocked in summer.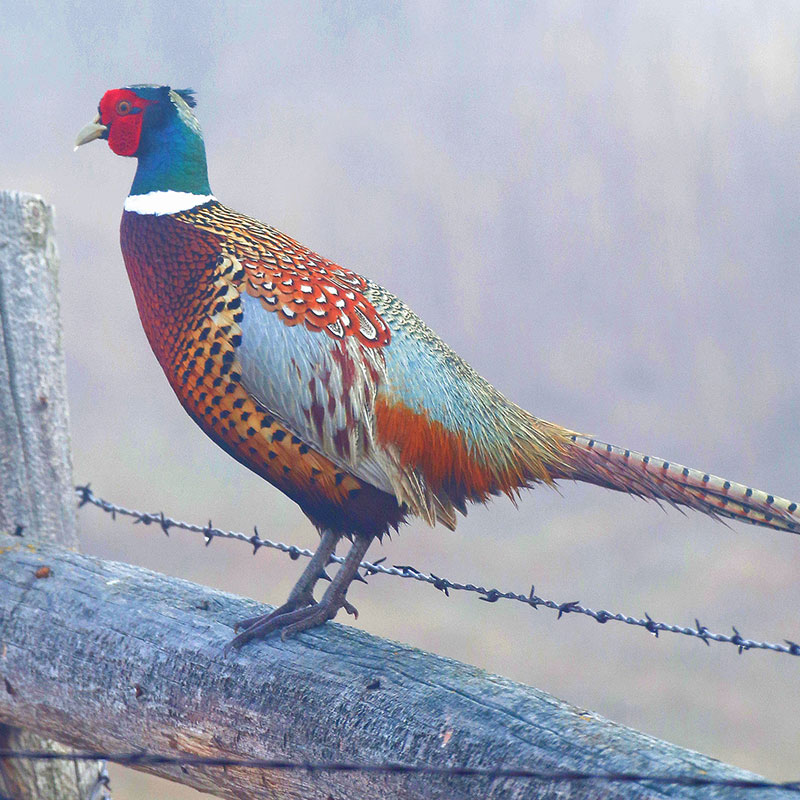 Upland Birds and Waterfowl
North Dakota's roadside pheasant survey indicated total birds and number of broods were down considerably statewide from 2016.
The majority of the state was in extreme drought conditions during critical times for pheasant chicks, resulting in poor nesting/brood habitat and more than likely a less than ideal insect hatch.
The survey showed total pheasants were down 61 percent from last year. In addition, brood observations were down 63 percent, while the average brood size was down 19 percent.
Roadside counts for sharp-tailed grouse were down 29 percent from 2016, while partridge were down 62 percent.
Good wetland conditions and high waterfowl numbers were again found during the Game and Fish Department's 70th annual spring breeding duck survey.
The number of duck broods observed during the Department's July brood survey was down 5 percent from 2016, and 30 percent above the 1965-2017 average. The average brood size was up 8 percent.
Numbers of resident Canada geese, Western Prairie Canada geese and arctic nesting Tallgrass Prairie Canada geese, snow geese and Ross's geese all remained high.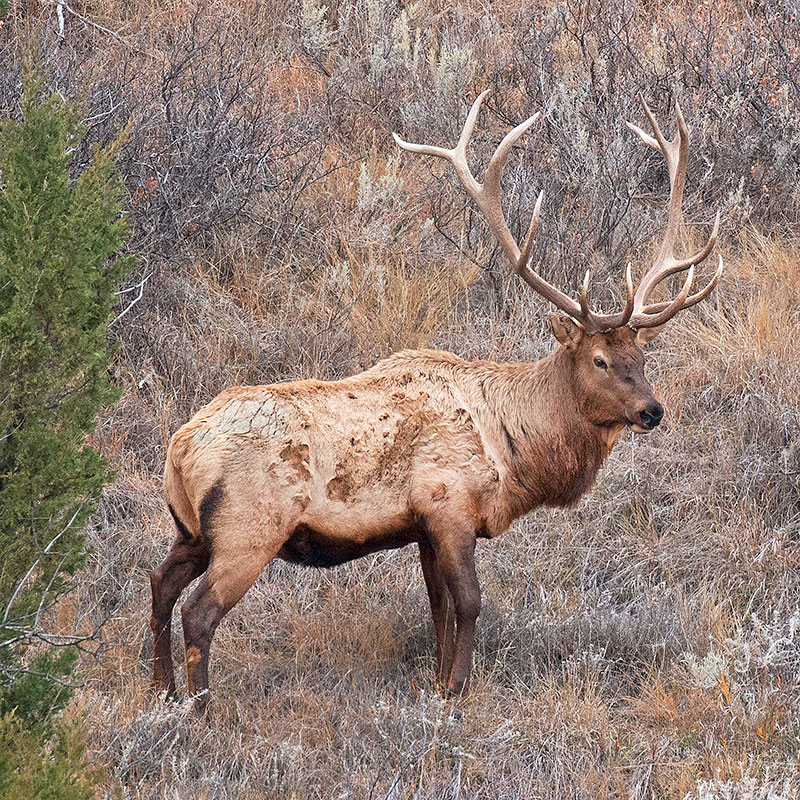 Elk Season Collaboration
Governor Doug Burgum and Standing Rock Sioux Chairman Dave Archambault II signed a Memorandum of Understanding in 2017 that directed state and tribal authorities on regulating an elk hunting season within the Standing Rock Reservation.
The MOU established elk hunting unit E6 and emphasized the coordination between Standing Rock Game, Fish and Wildlife Department, private landowners and the North Dakota Game and Fish Department.
Through coordination, the goals were to responsibly manage elk within the area, maximize recreational opportunities for all licensed hunters, and reduce impacts to crops and feed supplies on private lands.
Terry Steinwand, North Dakota Game and Fish Department director, said the MOU was the first official collaborative management of the wildlife resource in North Dakota between the state and Standing Rock Tribe.
Deer Licenses
The Game and Fish Department made available 54,500 licenses to deer gun hunters in 2017.
The license total is much lower when compared to 2001 through 2011 when, thanks to plentiful wildlife habitat on the landscape and a string of mild winters, license totals stretched well beyond 100,000.
Yet, considering the number of deer gun licenses allocated to hunters the three seasons prior – 48,000 in 2014; 43,275 in 2015; and 49,000 in 2016 – the increase in 2017 continued a trend in the right direction.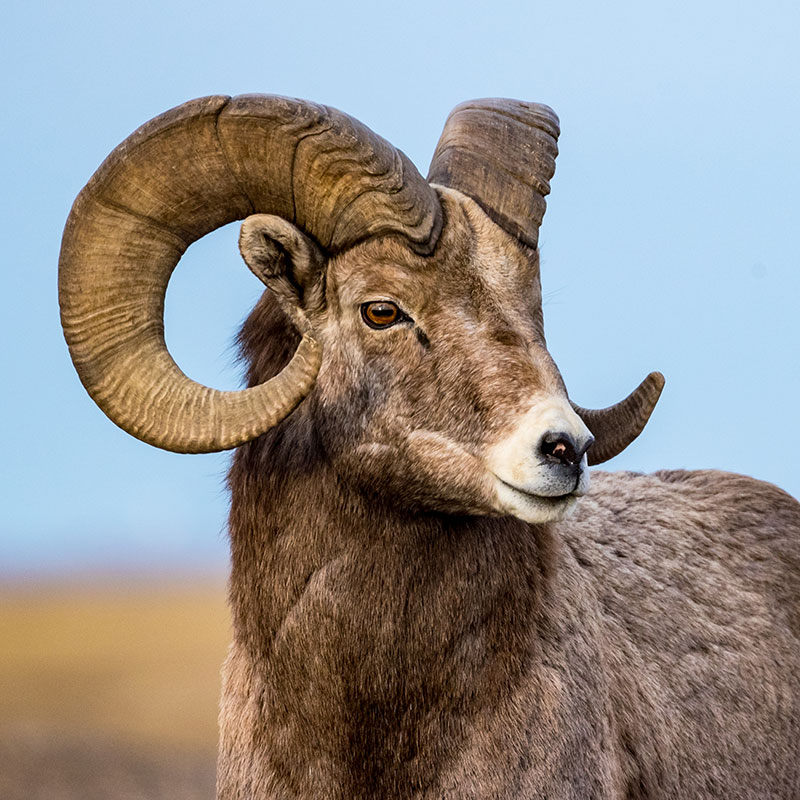 Bighorn Sheep
The Game and Fish Department allocated five bighorn sheep licenses to hunters in 2017, after closing the season altogether in 2015 to assess the severity of a bacterial pneumonia outbreak in the population in western North Dakota.
The pneumonia outbreak was first detected in 2014.
The number of once-in-a-lifetime licenses made available to hunters last fall was based on data collected from the Department's summer population survey. The survey showed a total of 83 rams, or 21 fewer than 2016 when agency officials allocated eight licenses.
Big game biologists said the 20 percent decline in ram numbers was the result of the ongoing pneumonia outbreak. Biologists said it was encouraging to note that no adult animals within the herds exposed to disease in 2014 showed clinical signs of pneumonia during the summer survey, and the lamb count in those herds improved.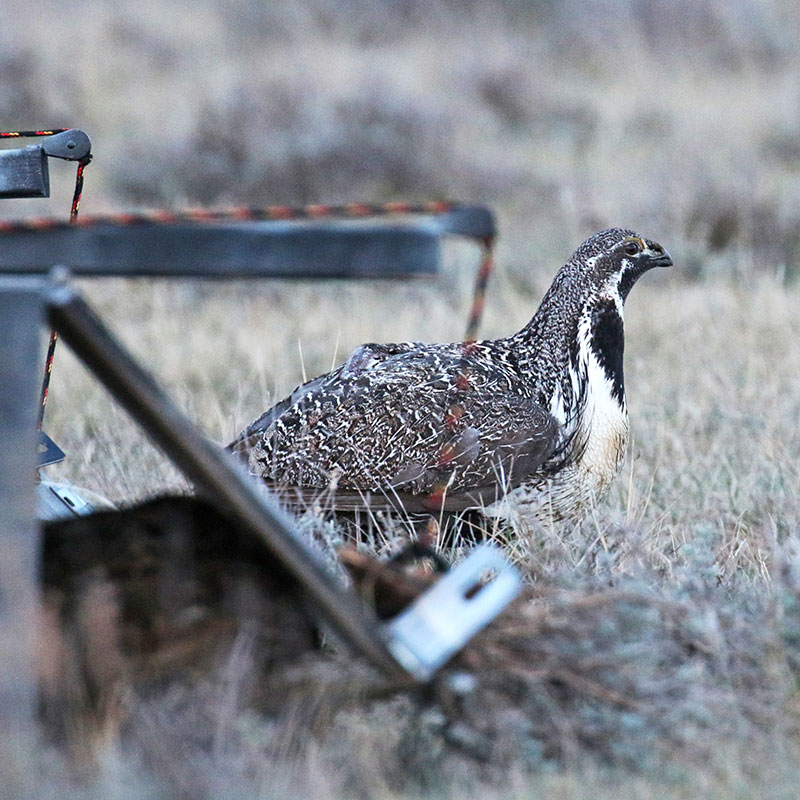 Sage Grouse Translocation
Sage grouse in southwestern North Dakota are on the eastern edge of their range, where habitat and weather limit their success and expansion.
Understanding this, and the fact that native grouse numbers have been declining for years without any sign of rebounding, Game and Fish Department personnel in spring moved 60 sage grouse – 40 females and 20 males – from southern Wyoming to Bowman County.
Before their release, a sample of the translocated females were artificially inseminated, with the hope that they'd nest in southwestern North Dakota. Getting some of the females to initiate a nest, it was believed, would likely anchor them to North Dakota. And, in turn, do the same to hatched young.
All the adult birds moved from Wyoming were marked with GPS and VHF radio devices so wildlife biologists could track their whereabouts.
In mid-June, Department biologists reported that two hens had successfully hatched young and were brooding chicks. There was hope that other adult birds would have the same success.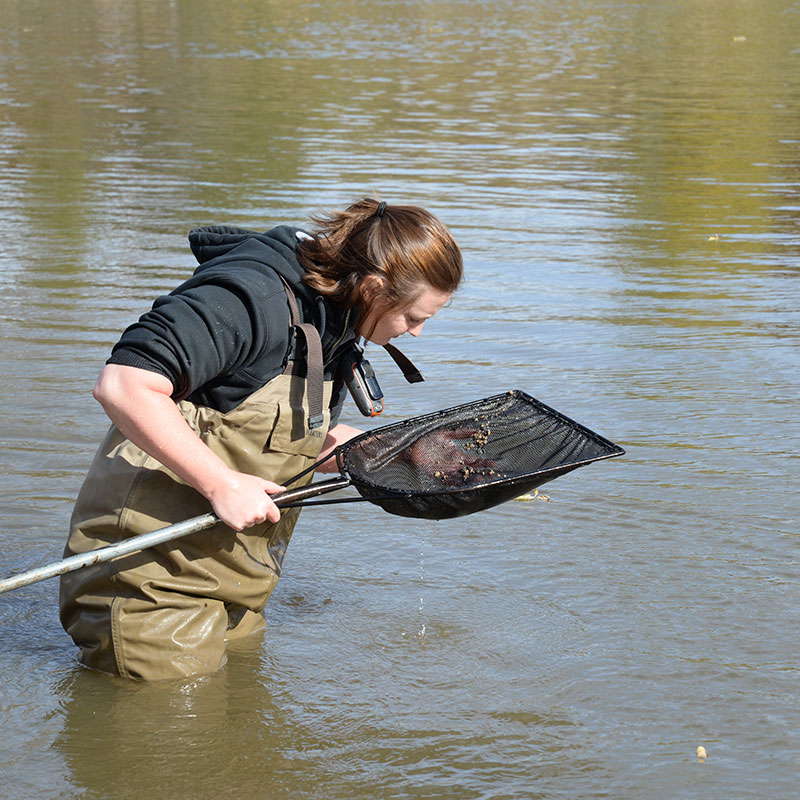 Moving Mussels
While high water and strong flows made searching for zebra mussels in the Red River difficult, Game and Fish Department fisheries personnel did find just a few attached to a dock pulled from the river in Wahpeton.
Zebra mussels were first discovered in the Red River in 2015. Although it's uncertain how well established the mussel population is in the river, fisheries biologists know that the invasive species still exists and poses a threat to other waters around the state.
On a statewide perspective, Game and Fish personnel did not find any new populations of aquatic nuisance species during open water surveillance efforts in 2017.
Lawmakers Meet
Game and Fish Department officials tracked 28 bills, 11 of which passed both chambers and were signed into law, during the 65th Legislative Assembly.
One change was a law that allows residents who do not want to receive a hunting license issued by lottery to purchase a bonus point for a fee that is the same as the respective license.
The fee is allocated to the Game and Fish Department's Private Land Open Tportsmen program. While this option pertains to hunters applying in the Department's license lottery for deer, pronghorn and spring and fall turkey, only the latter was in play in 2017.
2017 by the Numbers
0 – The number of new aquatic nuisance species populations found by Game and Fish Department personnel in 2017.
16 – The percentage rise in the mule deer population in western North Dakota compared to 2016 seen during Game and Fish Department's annual spring mule deer survey.
20 – The milestone reached by the Game and Fish Department's Private Land Open To Sportsmen program after lawmakers called on the agency in 1997 to create programs for landowner assistance that encouraged public access to private lands for hunting.
31 pounds, 9 ounces – The record weight of a common carp Derek Barnick of Tappen shot with bow and arrow at Lake Etta-Alkaline Complex on April 21.
57 pounds, 8 ounces – The record weight of a buffalo Derek Larson of Mandan shot with bow and arrow at Heart Butte Reservoir on May 5.
70 – The number of years Game and Fish Department personnel have conducted the annual spring breeding duck survey.
255 – The number of acres added to Painted Woods Wildlife Management Area by the Game and Fish Department.
450 – The approximate number of fishing waters managed by the Game and Fish Department.
600-plus – The number of student athletes who participated in the North Dakota State High School Clay Target League state tournament in June in Horace.
614 – The record number of archers who competed in the North Dakota Archery in the Schools Program state tournament in March in Minot.
26,360 – The number of Canada geese counted during the Game and Fish Department's annual midwinter waterfowl survey in January, down from a record 222,890 in 2016. Due to the difficult wintering conditions, only 3,160 mallards (15,000 in 2016) were also counted statewide.
737,000 – The approximate number of acres made available to hunters through the Game and Fish Department's Private Land Open To Sportsmen program.
2.5 million – The number of chinook salmon eggs collected by Game and Fish Department personnel during the fall salmon spawn.
2016-17 Licenses and Permits Issued
 
Resident
Nonresident
Individual Fishing
54,534
18,731
Husband/Wife Fishing
13,904
5,099
Senior Citizen Fishing
12,064
 
Disabled Fishing
308
 
Short-Term Fishing
 
 
   10-Day
 
7,267
   3-Day
 
24,796
Paddlefish Tags
2,700
651
Commercial Tags
17
 
Retail Bait Vendor
291
 
Wholesale Bait Vendor
32
7
Fish Hatchery
4
 
2016 Boat Registrations
7,812
 
(Third year of 3-year decal)
 
 
General Hunting
38,749
45,866
Small Game Hunting
20,121
28,464
Combination License
57,262
 
Waterfowl Hunting
 
23,024
Furbearer Hunting/Trapping
10,654
3,375
Fur Buyer
34
4
Deer Gun Hunting
34,970
175
Deer Gun Hunting (Gratis)
13,466
246
Deer Bowhunting
24,350
2,223
Moose Hunting
172
 
Moose Hunting
28
 
(Preferential Landowner)
 
 
Elk Hunting
287
 
Elk Hunting
61
 
(Preferential Landowner)
 
 
Turkey Hunting (Spring)
5,584
 
Turkey Hunting (Fall)
3,244
 
Turkey Hunting (Gratis Spring)
314
 
Turkey Hunting (Gratis Fall)
249
 
Habitat Stamp
84,635
 
Shooting Preserve
10
 
Fishing/Hunting Guide
270
28
Taxidermist
219
 
Falconry
4
 
Scientific Collector
36
16
Swan
1,302
897
Sandhill Crane
2,049
1,923
2017 Special Big Game Licenses
 
Licenses Available
Applications Received
Moose
245
18,432
Elk
399
15,902
Bighorn Sheep
5
13,215
Financial Statement July 1, 2016 to June 30, 2017
Income
$36,879,178
Expenses
$37,383,887
Fund Balances, Fixed Assets and Long-term Debt
Game and Fish General Fund
$34,314,100
Habitat and Depredation Fund
$877,055
Nongame Wildlife Fund
$129,092
Total All Funds
$35,320,247
Fixed Assets
$49,292,801
Department Net Worth
$84,613,048