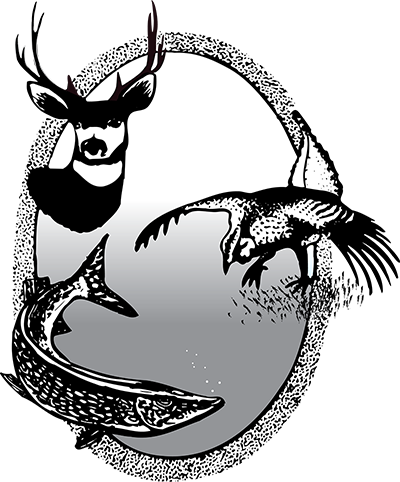 Fishing Stories, Measuring Angler Success
Authors and Contributors
Erica Sevigny has heard her share of fishing stories this winter.
As a winter creel clerk for the North Dakota Game and Fish Department on Lake Audubon, Sevigny knocks on ice house doors to ask ice anglers a few simple questions about their fishing trip.
"I haven't run into anyone who wouldn't answer my questions," said Sevigny, a North Dakota State University graduate who has worked with the Department's wildlife division in summers past. "Some of them, especially if they catch a fish when I'm there, don't want me to leave because they think I'm good luck."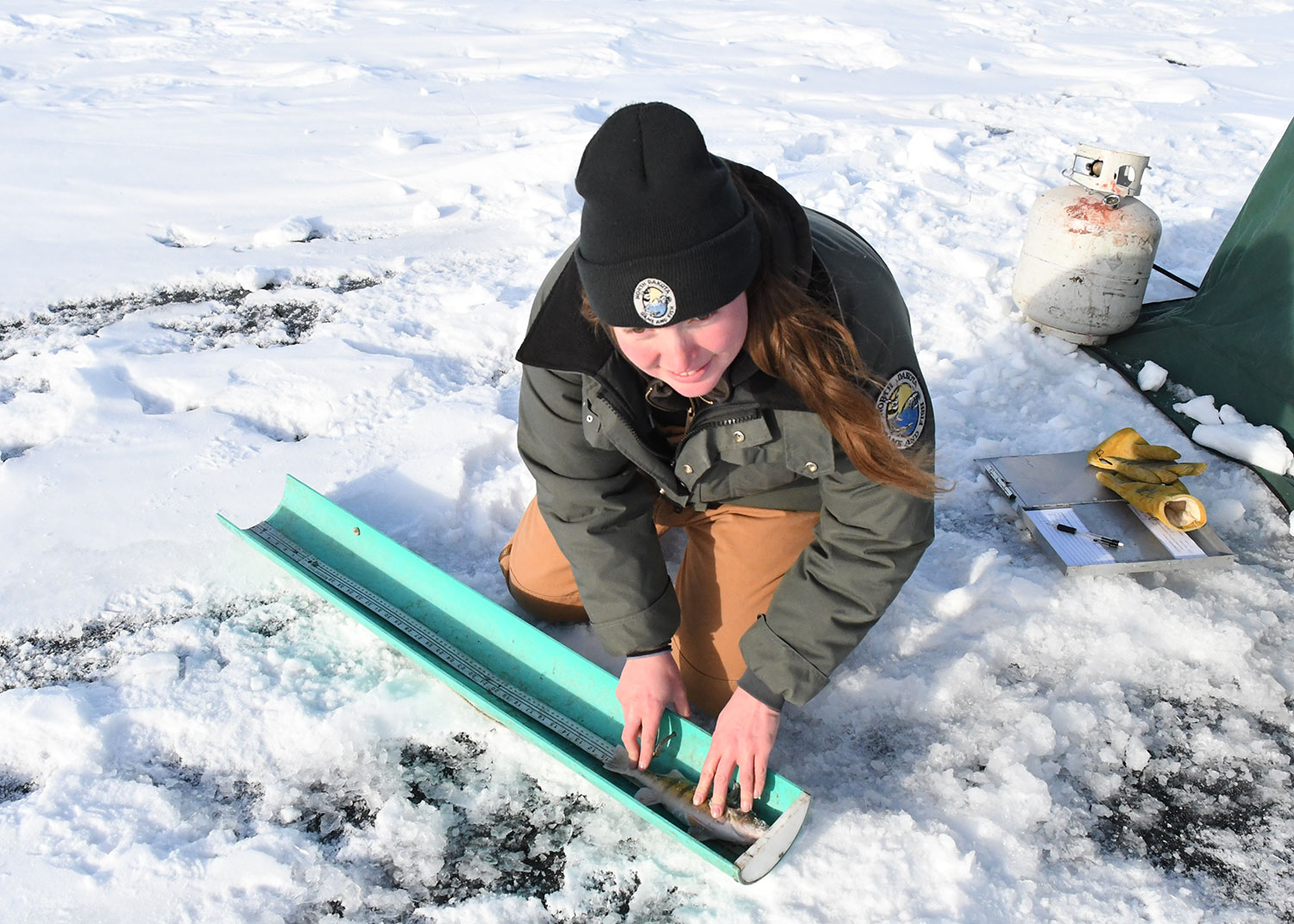 As luck would have it, at least for those anglers who consider Sevigny a lucky charm, Game and Fish will continue its winter creel survey on the popular fishery in central North Dakota until the end of March, or whenever anglers can no longer venture onto the ice safely to fish.
The Game and Fish Department conducts a creel survey in summer and winter on Lake Audubon every three years. During the open water months, creel clerks interview anglers at the boat ramps as they are leaving after a day of fishing.
When the lake is iced-over, creel clerks take a different approach.
"In winter, the creel clerks travel out on the ice to talk to anglers because there are just so many places to fish on the lake, including Lake Audubon refuge, which is closed to open water fishing," said Jason Lee, Department district fisheries supervisor in Riverdale. "They'll work a certain area on a certain day, or a couple areas on a certain day. What they're trying to get is complete trip information, rather than just interviewing someone who has been fishing for 15 minutes or a half-hour."
Scott Gangl, Department fisheries management section leader, said there are three components – fish, habitat and anglers – to a North Dakota fishery, Lake Audubon included.
"As anglers are one of the main components of a fisheries management plan, we on occasion want to sample these people to gather information on fishing pressure, the number of fish caught, released and total harvest," Gangl said. "Creel surveys are another monitoring tool that allows us to gather information that helps in the management of a fishery."
The angler interviews are short, simple and to the point. Sevigny asks anglers what species they are primarily fishing for, how long they've been fishing, zip code and what they've caught.
"If those anglers interviewed have fish that they've caught, the creel clerks ask if they can measure them, which is information that we'll compile at the end of the year," Lee said. "This information tells us, for example, the biggest fish they catch and keep, or the smallest fish they catch and keep.
"During the open water creel survey on Audubon, for example, we learned that 88 percent of the northern pike and smallmouth bass caught were released," Lee added. "And with walleye, 50 percent were released, I suspect because they were smaller fish they didn't want to keep. This kind of information is interesting to fisheries biologists managing the fishery."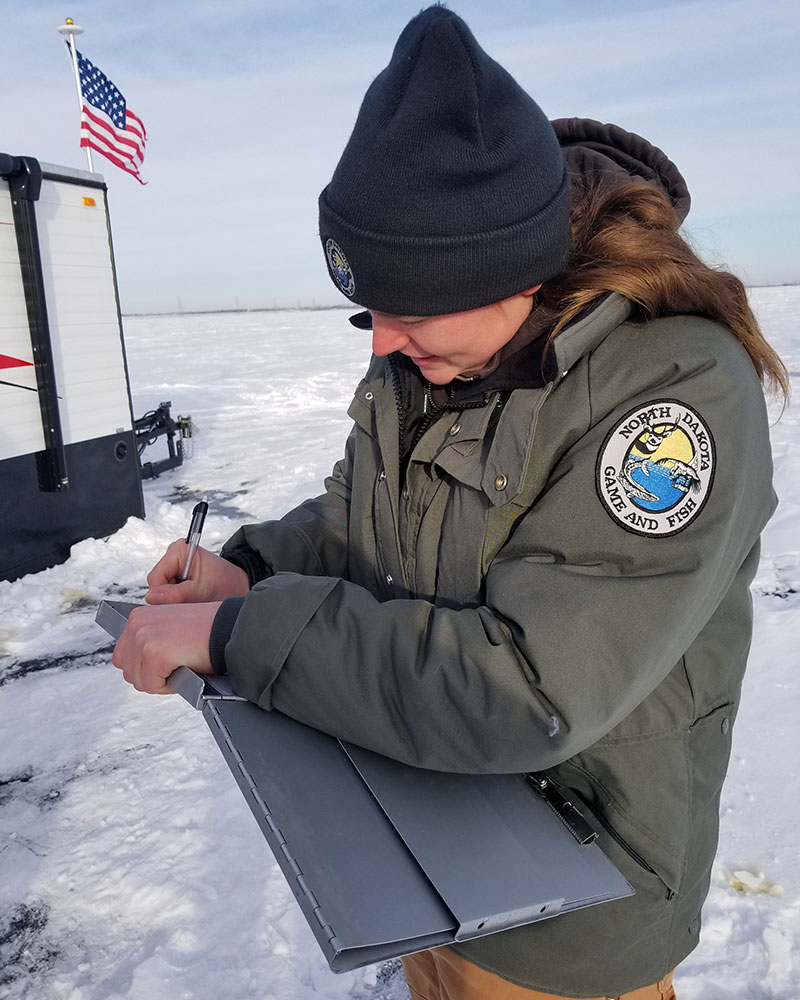 With the promise of several more weeks of winter and little idea how things will unfold weatherwise, Lee said Mother Nature has so far made it easy for anglers and creel clerks to access Lake Audubon.
"The more interviews the creel clerks can conduct, the better our catch-rate information," Lee said. "We try to randomize to some degree when we're out checking on anglers to get a look at the entire fishing day, rather than just focusing on the sundown walleye bite."
Anglers, no matter the time of day their ice fishing outing started, are also asked to rank the quality of their trip.
"This gives us an overall idea of how well they're enjoying their fishing experience," Lee said. "Without their help in the creel survey, we wouldn't have any of this valuable information. In general, anglers have been great about taking a few minutes out of their trip, or at the end of their trip, to talk to creel clerks about what they caught, their experiences and if they harvested any fish."
While North Dakota's more popular waters, such as the Missouri River System, Lake Audubon and Devils Lake, are surveyed routinely, but not every year, Gangl said the Game and Fish Department will survey other smaller waters when questions need to be answered.
In 2015, for example, a winter creel survey was initiated in the south central part of the state to learn, among other things, who was fishing, where they were from, and what they were catching.
Instead of a lake specific survey, the survey was based in a region where biologists could travel from lake to lake, depending on where the hot bite was happening, to interview anglers.
At the time of the survey, Gangl said: "What we're after is the size, catch rates, species and the quality of the fishing experience. Are anglers keeping medium-sized fish, small fish, only big fish, and what is their preference?"
No matter the location of the creel survey, or time of year, Gangl said the opportunity to simply talk with anglers, to put a face with the agency managing the fisheries, is important.
"A big benefit is that we, as an agency, get to interact with the angling population on things other than biology," he said. "We learn how far anglers are traveling to fish certain waters and we get to gauge their satisfaction. We don't have a lot of control over what makes people happy, but they are generally happy when they are catching fish."