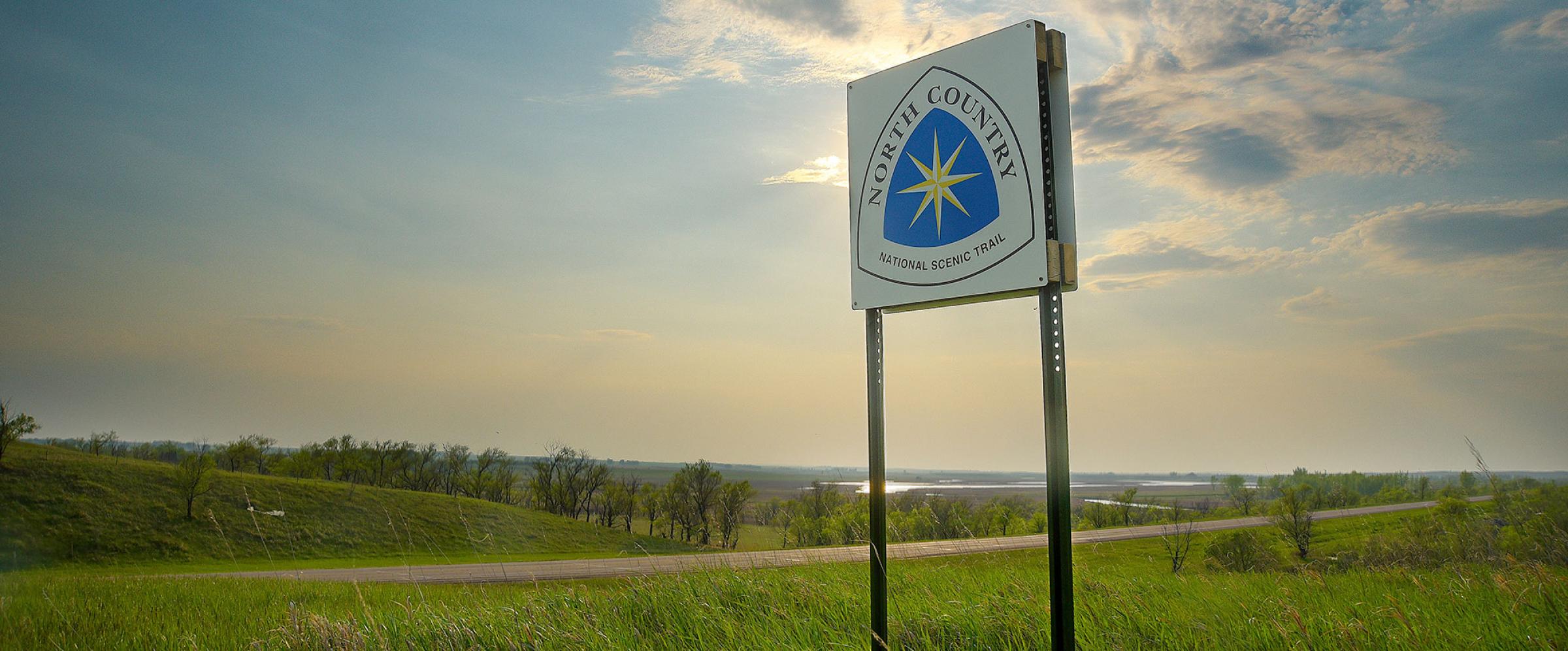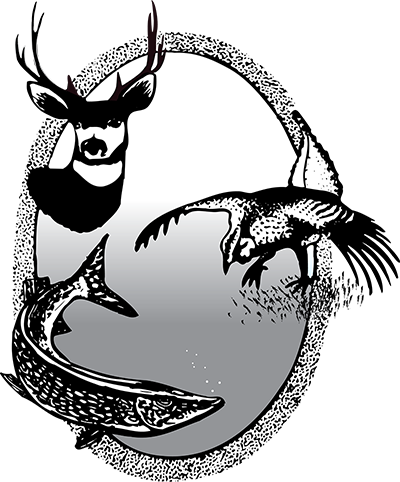 North Country Trail - North Dakota's Open Secret
One of the longest trails in the nation starts in North Dakota. When completed, the North Country National Scenic Trail will span more than 4,600 miles (more than twice the length of the Appalachian Trail) between Lake Sakakawea State Park and Crown Point, New York on the western shore of Lake Champlain.
But most North Dakota residents have no idea that such a storied path passes right under their noses, attracting outdoor lovers across the country in all seasons. The nonmotorized byway for hikers, cyclists, cross-country skiers, snowshoers and equestrians is hiding in plain sight, but that may soon change. Just as the North Country Trail is closing in on accomplishing its original 4,600-mile goal, another has appeared on the horizon. In February 2019, federal lawmakers passed legislation to extend the NCT across the border into Vermont, where it will connect with its more famous cousin, the Appalachian Trail. The NCT is already linked with the Lewis and Clark Trail, which begins in Seaside, Oregon. When all three trails are completed, it will be possible to walk across the country, from Oregon to Maine, then all the way down to Georgia.
The high-profile Appalachian Trail connection may prompt more people to start their own NCT journey. The trek eastward begins just steps from the ranger station in Lake Sakakawea State Park, where a family wearing daypacks rests on a park bench. A large sign emblazoned with the NCT's blue triangle and eight-pointed star crest proudly marks the western terminus. It's the first of thousands of markers and royal blue blazes on signposts and trees that thru-hikers will follow on their journey across seven states.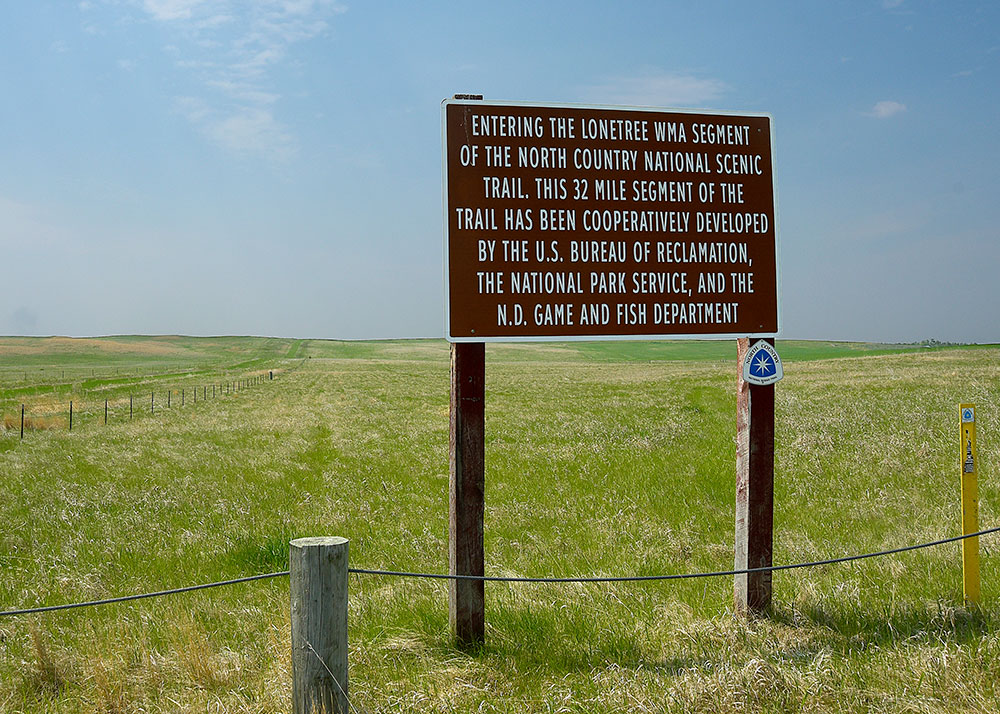 Miles of the NCT courses through prairie habitat at Lonetree WMA.
From its western terminus, the NCT snakes across the central part of North Dakota, following the New Rockford and McClusky canals, passes by farm fields, vast stretches of prairie like Lonetree Wildlife Management Area and the watchful eyes of water birds in the marshes and wetlands, before descending into the lush, green Sheyenne River Valley in the southeast.
Laughter is often audible just around the bend at Fort Ransom State Park, where a popular trailhead welcomes campers and day-hikers. As the NCT meanders east through the Sheyenne National Grassland, the only sounds are the whipping prairie wind, soft lowing of gentle-eyed cows that keep watch from vast stretches of grazing land, the sharp metal clang of gates designed to keep the livestock contained, and the flute-like call of Western meadowlarks.
The trail crosses the Minnesota border just east of the Fort Abercrombie State Historic Site, passing the headwaters of the Mississippi River in the Minnesota northwoods before ambling on past Wisconsin's forests and waterfalls. It skirts the shores of Lake Superior and Lake Michigan, and the sandstone cliffs of Pictured Rocks National Lakeshore in Michigan. It traverses rolling hills and quiet farmland in Ohio and winds through state game lands and the Allegheny National Forest in Pennsylvania and the Adirondacks in New York.
In some places, the NCT is a footpath. In others, it's a gravel road, a stretch of asphalt, a wide, mowed path through a sleepy state park campground or a neatly maintained walking path through a forest.
Scott Peterson, North Dakota Game and Fish Department deputy director, was the Garrison Diversion habitat biologist at Lonetree Wildlife Management Area near Harvey back when the NCT was in its infancy. He helped coordinate efforts to mark the trail through the Lonetree prairie.
"When I started attending meetings with the National Park Service and the North Country Trail Association, there were sections of the trail that were certified by the National Park Service, but at that time it was basically a vision or a concept," he said. "The U.S. Bureau of Reclamation partners with those two."
The National Park Service and NCT Association oversee maintenance and development of the trail and help facilitate the complex web of partnerships between homeowners, businesses and state and national wildlife organizations. But much of the actual, physical work of clearing, marking and maintaining the trail has fallen to a cheerful crew of volunteer members of local NCT Association chapters around the country. They are among the trail's fiercest advocates.
The vision for the NCT was drafted in the 1980s. But segments cleared by the NCT Association chapters in North Dakota – Sheyenne River Valley and Dakota Prairie Association – are much newer.
"North Dakota was one of the last ones that started building the trail," said Rennae Gruchalla, a charter member of the Dakota Prairie chapter. "That started in the Sheyenne River Valley group, which is out of Valley City. That was back in 2003. The Dakota Prairie Chapter was actually established in about 2010."
Like other NCT chapters across the country, the North Dakota groups have a three-pronged mission – to build, mark and connect new segments of the trail in their state, maintain existing segments and promote awareness about the trail to local hikers. Although the local chapters serve as contacts and "trail angels" who provide advice, water and transportation to the handful of thru-hikers who tackle the entire trail, most trail traffic is from local and regional users. It's a volunteer opportunity that has forged a tight-knit community.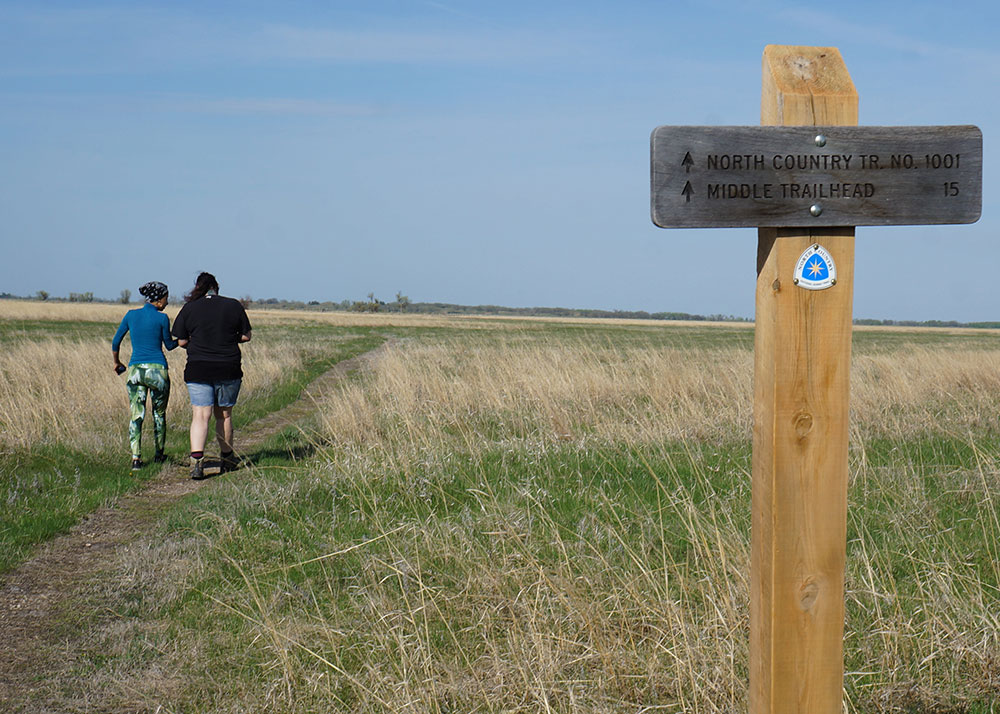 Segments of the trail, this one through the Sheyenne National Grassland in southeastern North Dakota, are nicely signed and easy to find in North Dakota.
"I am very involved with the Sheyenne River Valley chapter that maintains about 70 miles of NCT hiking trail from the Sheyenne State Forest near Fort Ransom to the Griggs County line north of Lake Ashtabula," said Deb Koepplin, who has served as chapter president, membership director and treasurer and attended 14 national NCT conferences since the chapter's inception. "I plan fun hiking events as well as build, mow and maintain the actual trail."
Both North Dakota chapters offer a steady stream of hikes and networking opportunities on Facebook and MeetUp.com to reach individuals interested in the outdoors. The Dakota Prairie chapter (which maintains just over 90 miles of trail that stretches from the eastern North Dakota border, through the grasslands to the Fort Ransom State Park boundary), hosts lively pizza and hiking information meetings at the Fargo Public Library, an educational camping and hiking expo at local Boy Scouts headquarters, and offers photography and family hikes. Many first-time attendees had no idea the NCT existed.
"I wish more people knew about it," said Jerry Warner of Fort Ransom. "I wish they knew that the NCT is no more than a few hours drive from anywhere in the state and much closer for most."
Warner is an avid hiker, member and volunteer with the Sheyenne River Valley chapter since 2007. He has helped build and maintain the oldest portion of the NCT in North Dakota, a 4.4-mile stretch that ushers hikers to the state's only registered natural waterfall.
"My baby is in the Sheyenne River State Forest," he said, exhibiting parental pride that seems to fuel North Dakota volunteers of all ages. "There are forested areas as you walk down into the draws along the Sheyenne River, then up onto hilltop tallgrass prairie areas, with beautiful views of the Sheyenne River Valley."
Warner has hiked his favorite corner of North Dakota since the mid-1990s. But he fell into his work with the NCT – quite literally – on a hike to that same waterfall trail.
"There were no boardwalks on the stream crossings yet, and one stream in particular was quite wide with the spring snowmelt in progress," he said. "I opted to hop across the stream on some boulders, but I slipped and fell. That slip prompted me to contact the NCTA folks and tell them that I was OK with doing what it takes to get across the stream, but if they want others to use this trail that a bridge would be needed. Their reply was an invite to join them and that's what I did."
And he hasn't looked back. Warner leads a volunteer program through his employer, Bobcat, that has resulted in over 110 volunteers donating more than 900 volunteer hours to the NCT since 2014.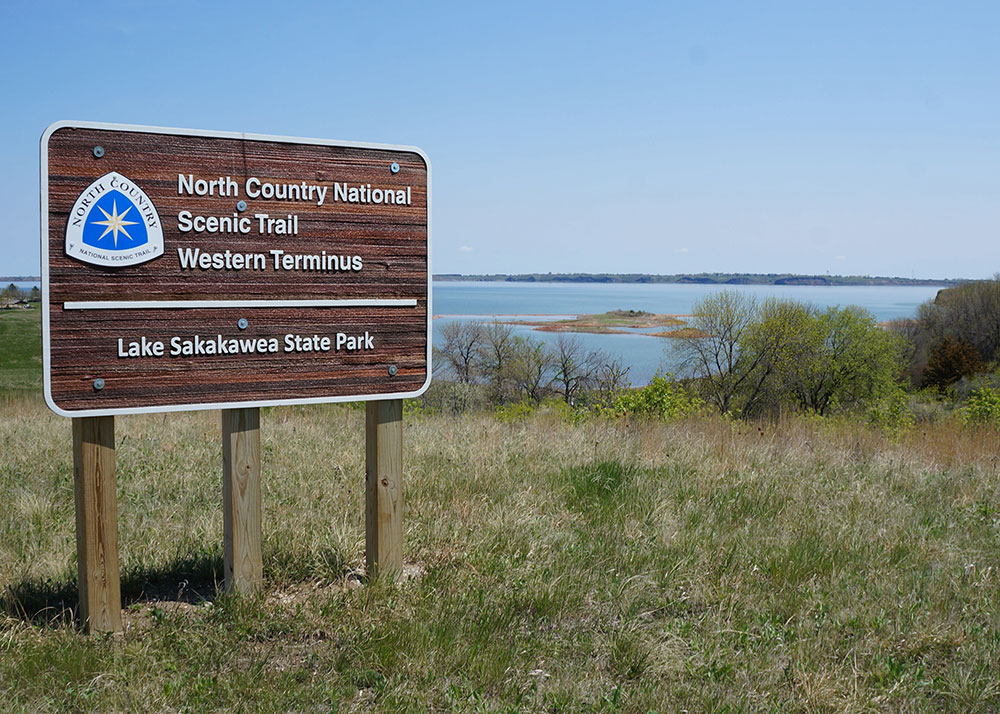 When completed, this scenic trail will span thousands of miles from Lake Sakakawea State Park to the western shore of Lake Champlain in New York.
Most chapter members have stories like this, but they won't say a word about them. To passersby, the Sheyenne River Valley chapter's annual National Trails Day event at Fort Ransom State Park looked like any other summer gathering. Participants, ranging in age from 10 to "don't ask," joined campers for a ranger-led hike up into the hills, welcomed new hikers to a complimentary picnic, like the ones they serve volunteers after work days, and paddled down the Sheyenne River in canoes and kayaks. But if you know what to look for, you can read their accomplishments at a glance.
"A lot of the shirts people are wearing detail their volunteer hours," Koepplin said.
On a cooler day, they'd be the wearing vests and jackets awarded for volunteering as well.
"They're brandishing their accomplishments," added Valley City resident Stephanie Hoffarth with a grin.
Hoffarth has logged 200 hours of volunteer time – an impressive total for anyone, but especially for a 14-year-old. Her sister, Marisa, 10, has volunteered 100 hours. Their father, Chris Hoffarth, wears a long-sleeved NCT shirt he received for 400 hours of volunteering.
He slows his pace slightly as he tries to remember exactly how many hours he's volunteered. "At least 1,000," he said as a final guess. Then he shrugs and turns his attention back to the trail ahead of him.
Outdoor enthusiasts earn recognition for time spent hiking the trail as well. Hikers are awarded patches for completing the trail in each state, finishing the entire trail and logging a certain number of miles on the trail.
"The Hike 100 is a patch that most members try for – that is hiking 100 miles on the NCT within a given year," said Gruchalla. "This was started in 2016 by NCTA, and it was so successful that they've had it every year since."
Many North Dakota members will finish the Dakota Challenge this year. The accomplishment honors individuals who also complete all 430 miles of trail in North Dakota within four years.
But just because many of the core members have hundreds of miles on their hiking boots doesn't mean that such a commitment is necessary. Chapter members go out of their way to welcome even the most casual hikers. You don't even need to wait for a formal invitation.
"Come to one of our monthly hikes to experience it with a group so you can see where it is more easily and learn more about it," said Gail Rogne, a charter member of the Dakota Prairie chapter (and former chapter president) from Kindred. "They can come and experience it for themselves, too. There are brochures and if they come to our meetings or come to our hikes, they can get those. Also, just looking on MeetUp or Facebook to find our activities. And you can leave messages. Sometimes if you say, 'I want to go hiking with somebody next Tuesday,' maybe somebody will have that Tuesday available and want to go hiking with you."
The trails are relatively flat and appropriate for all ages. No special skills or equipment, other than good walking shoes or hiking boots, are needed. Group hikes are an especially gentle introduction.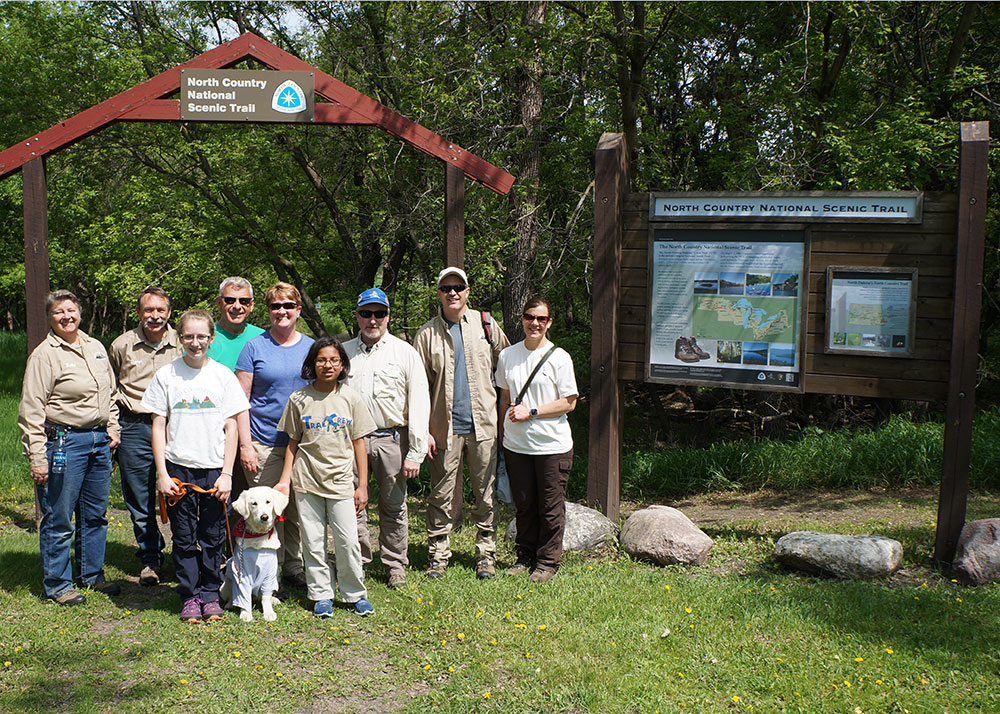 The volunteer effort, which includes working hands of all ages, to maintain portions of the NCT is North Dakota should be applauded.
"The hikes are usually no longer than 5-6 miles on moderate trails, so it gives you a start to have fun, meet people and learn how to find our maps online on the northcountrytrail.org website," Koepplin said. "You do not need to be super fit or a fast hiker, as we do it for fun mostly on weekends on our local trail."
The North Country National Scenic Trail's most frequent users and staunchest advocates hike and volunteer for different reasons. But they all share a fierce devotion to what they proudly consider "their" trail. They'll continue the painstaking work of clearing and maintaining the NCT, mile by mile. They do it because they love it. But they also do it for the ones who will follow in their footsteps.
"It's not only getting people to know the trail, which is important for future generations, but it's also about getting people out into nature," Gruchalla said. "We always say it's a 4-foot wide and 4,600-mile long national park."
"It also has the potential to benefit all," Warner added. "Who needs a treadmill when you can go for a real walk or run or cross-country ski or snowshoe? Hiking is not for everyone. But our trail is."
ALICIA UNDERLEE NELSON, West Fargo, is a freelance writer who also blogs about outdoor recreation, travel and food in North Dakota and beyond at prairiestylefile.com.
What Bring on a Day Hike
The 10 essentials recommended by the American Hiking Society: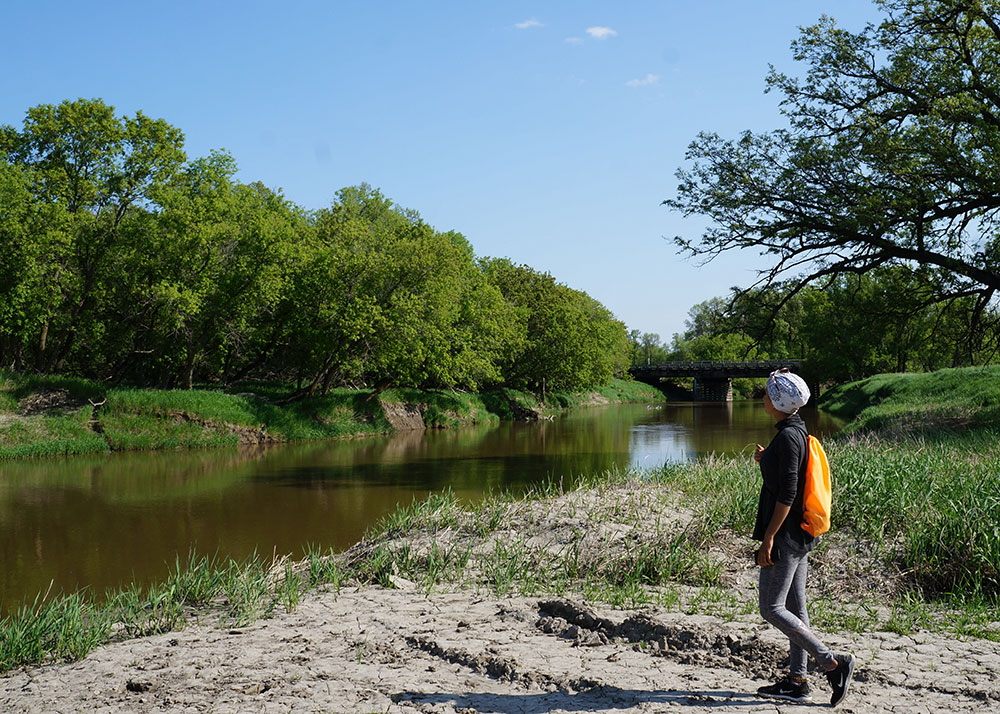 A hiker on the NCT in North Dakota pauses to take in a scenic view.
Appropriate footwear – Sturdy, comfortable hiking boots or sneakers are a must. Spray footwear with bug spray to guard against ticks before you head out.
Daypack/Backpack – This doesn't have to be high-tech, just sturdy enough to carry what you need and comfortable enough for a few hours on the trail.
Maps and compass or GPS – Make sure phones and GPS devices are charged and bring a portable phone charger. Carry a trail map so you'll always have a backup on hand.
Plenty of water – Always bring more water than you think you'll need and research spots where water is available along your route.
Extra food – Light, high-energy food sources like granola bars, dried fruit, nuts, trail mix and jerky are smart options. Pack more than you anticipate you'll need in case you're out longer than intended.
Rain Gear – Pack a lightweight hoodie or shirt to layer under a rain jacket. Wearing gaiters, a hat or hood, carrying a trekking umbrella and covering your daypack with a waterproof cover (or a trash bag, in a pinch) will keep you dry. Make sure the layer closest to your skin is a moisture wicking-fabric (not cotton).
Safety Items – Cover all your bases with a headlamp or flashlight in case you're delayed on the trail, a whistle to signal your location if you become separated from your group and a source of fire so you can keep warm.
First Aid Kit – Pack antibiotic cream, bandages, gauze, medical tape and antibacterial wipes, as well as pain relievers and anti-diarrhea medicines.
Knife or multi-tool – Use a knife to cut cords, wood, bandages and tape or strike the knife to start a fire if needed. A multi-tool will contain tweezers, a bottle opener and other useful items to remove splinters, prepare food, drinks and repair gear.
Sun protection – Apply sweat-proof sunscreen before you set out on the trail and bring plenty to reapply as you go. Wear sun protective clothing and bring a hat and sunglasses for extra protection.
Learn More
Membership or volunteering are not required to join a group hike. Anyone is welcome.