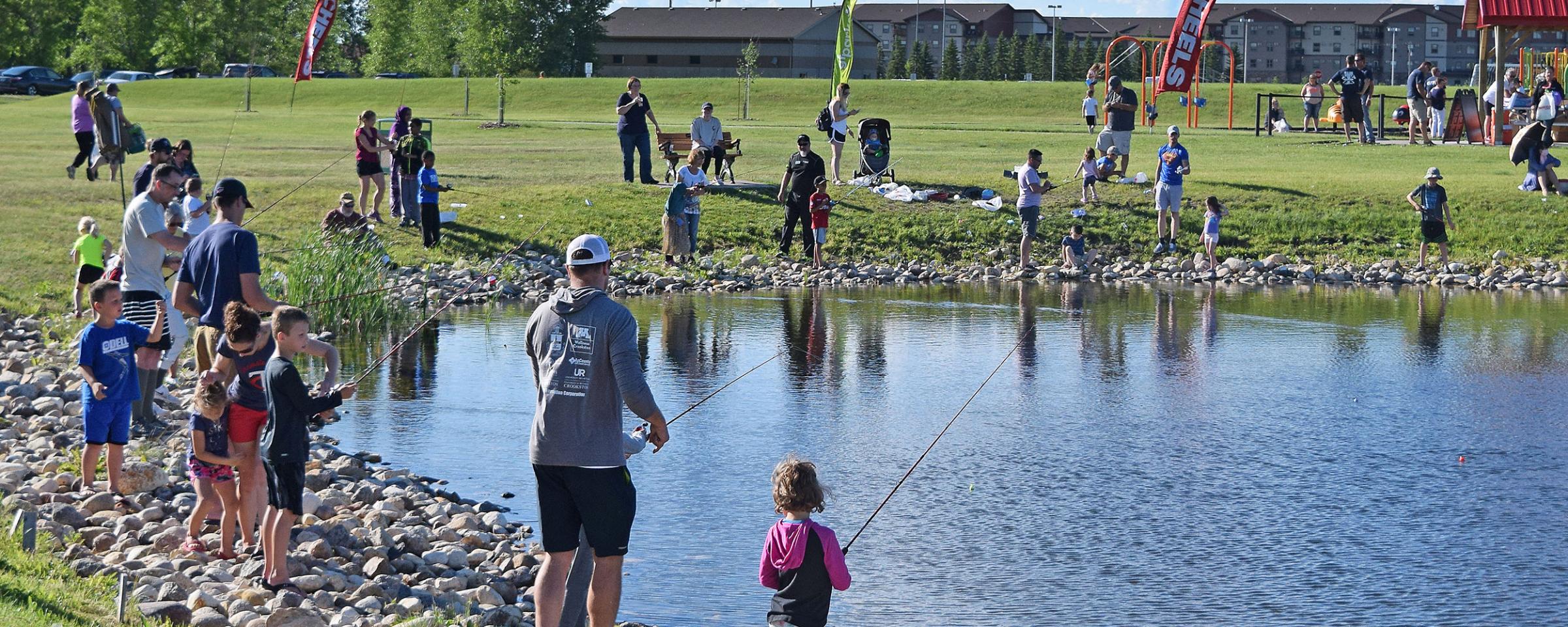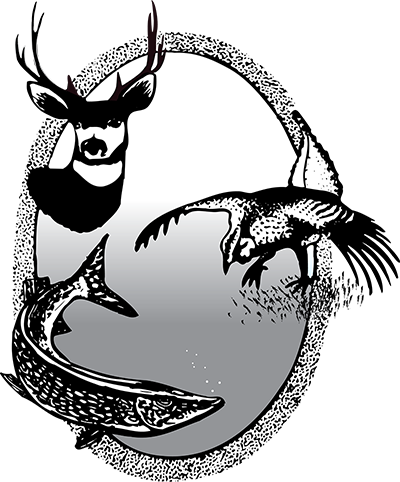 A Line to the Past, a Bridge to the Future
Authors and Contributors
Connecting Through Community Fisheries
The image of a lone figure standing on shore as a bobber bobs peacefully in the water is instantly iconic. It's almost impossible not to smile at a pair of teenagers loping off with fishing rods slung over their shoulders, experiencing that first taste of independence. The patter of little feet on a fishing pier and the squeal of delight at that first wiggly fish is a perfect snapshot of the sweetness of childhood.
Whiling away the hours at a local fishing hole is a slice of classic Americana, the kind of pure, simple, gloriously slow-paced recreation that today's high-speed world seems determined to leave in the dust. But North Dakota anglers are a stubborn bunch. From Williston to Wahpeton, they still carve out time to fish in the state's lakes, ponds and rivers. The North Dakota Game and Fish Department maintains more than 400 waters with some form of public access. Of these waters, community fisheries offer some of the most cherished – and often overlooked – fishing spots in the state.
A community fishery is a pond, lake or creek that's designed to provide easy access for anglers of all ages and abilities. They're stocked annually, almost always with rainbow trout, but often with other species as well, to provide plenty of chances to catch a fish. They're often located in urban, suburban or near well-traveled roads in rural areas to allow people who live far from larger lakes to go fishing without a lot of extra effort, gear or travel time.
"One of the biggest things is accessibility," said Jerry Weigel, Game and Fish Department fisheries production/development section supervisor, who coordinates the stocking of these ponds each year. "Typically, a community fishery is going to be within biking distance. It's in town. The kids can just literally bike to those little fishing ponds and go fishing."
While the next generation of anglers and their parents or caretakers are typically enthusiastic users of these fishing ponds, they're certainly not the only ones baiting their hooks. New Americans from around the world are some of the newest and most enthusiastic urban anglers in Fargo and West Fargo, pleased to find easy access to nature close to home and happy to continue a cherished pastime in their new cities. Teachers regularly schedule fishing events for elementary school kids at ponds across the state. Folks who put a line in the water at Triangle Y Pond near Garrison might share the pier with kids at summer camp, some of whom are fishing for the very first time.
Community fisheries like the OWLS Pond in Bismarck make it simple and convenient for individuals of all physical abilities to go fishing. Anglers can simply pull into the Game and Fish Department main office parking lot and take the wheelchair accessible ramp right to the fishing pier to fish for bluegill, perch, catfish, white bass and rainbow trout.
"It makes it easier for the elderly or the handicapped to have easy access to fishing, versus the big challenge to gear all up and go to Brewer Lake or Devils Lake or the bigger lakes," Weigel said. He adds that care centers and group homes can apply for free fishing event permits, which waives the fishing license requirement for participants and introduces (or reintroduces) residents to fishing in a safe and supportive environment with little to no investment required.
Williston's Spring Lake ponds are in a popular city park, making them accessible to groups and individuals from many walks of life. The ponds' many fishing piers and promises of trout, northern pike and catfish are just some of the amenities that entice residents and visitors to take a quick break outside or dedicate an entire day to outdoor recreation.
"It is a perfect spot to catch a sunset or sunrise over the water, but also convenient enough to go out and walk the main path over your lunch break for some fresh air," said Sabrina Ramey, Visit Williston event and communications coordinator. "There are picnic shelters, playgrounds, swimming beach, bathrooms and a lot of shade trees, so it is easy to plan a whole afternoon there. There are several youth organizations that use Spring Lake Park to fulfill learning requirements like water safety and fishing, too, and church groups that use the park."
Rick Ziegelmann, Grand Forks Parks park operations manager, said that Ryan Park Pond's location, which features plenty of vehicle parking and bicycle access, regularly attracts both anglers and curious passersby.
"It's off of the city bike path, too, so you'll get people biking and walking and stopping by," Ziegelmann said. "It attracts all ages, all abilities … it reaches out to just about everybody."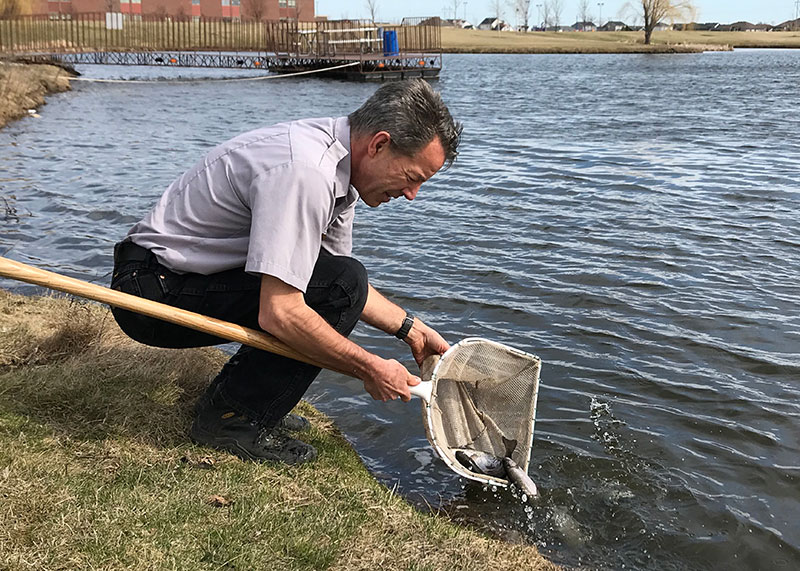 Jerry Weigel, Game and Fish Department production/development supervisor, stocks trout in April in Woodhaven Pond in Cass County.
Obviously, placing a fishing pond in a high traffic area like a park or along a popular road or trail makes it easy for anglers to reach. But increased visibility also means that people with no interest or experience with fishing can see anglers in action, up close and personal, which is quite a different experience than peering at people in a fishing boat across the lake.
This proximity to fishing access and a basic familiarity with the process can help increase confidence in new and potential anglers who don't have a friend or family member to learn from. And when fishing seems less mysterious, less like a secret club and more like something ordinary folks do on a summer afternoon, it's probable that a few more people might give it a try.
That's basically how it worked for Andy Kasel of Oriska. He regularly fishes community waters, often with his kids, who are 18, 11 and 6.
"I'm originally from Minneapolis-St. Paul, land of 10,000 lakes, and had no idea you could go walleye fishing from standing on the shore of a river until I moved here," he said. "(It's a) little more of a challenge, river fishing … with the current, logs, rocks and such. But with little equipment and the ease of standing on a riverbank, it's a lot easier to want to go. You grab your rod, tacklebox and a quick stop for minnows, and 15 minutes later you are fishing."
Getting out on the water quickly matters to Horace resident Josh Lewis and his family, too. He's spent many happy hours catching trout with KeerieAnne Bruce and their kids, Rhiannon Lewis, 3 and Easton Lewis, 2, on North and South Woodhaven ponds in Fargo.
"Normally, I wouldn't take the kids out to a bigger lake. They would stay at home. At that point, it's a hassle," he said. "It's a lot easier to have these ponds in Fargo, West Fargo and around the area than to have to drive an hour or an hour and a half with the kids and to keep them occupied. On these little ponds, you have to walk maybe 500 yards, tops. It's a lot easier and a lot more family friendly."
Even while keeping two toddlers occupied, which is often a challenge, even at home, Lewis and Bruce have still managed to catch dozens of trout over several trips. He hopes that these family fishing trips will make his kids more curious about and comfortable in nature.
"I don't want my kids sitting inside being on phones and tablets and turning into a stereotypical kid," said Lewis. "I want my kids outside."
Community fisheries are excellent places to learn to love the outdoors. Ponds are small, shallow and aesthetically pleasing, which can also minimize the fears of parents and guardians who may not be entirely comfortable with nature.
"There's no big weeds or drop offs, so they're not scary," Weigel said. "Here in Bismarck (at the OWLS Pond) you can walk and get on the fishing pier and never step on dirt or grass, so if you have really little kids, it's very safe. And if the kids get bored, you can just pack up and leave. You have very little invested."
The Game and Fish Department hosts regular fishing education events to introduce kids to fishing, with no financial investment required. Department staff and volunteers show little anglers how to catch trout and panfish at the State Fair Pond in Minot every year when the fair is in session. (The fish remain even after the gates close.) And OWLS Pond outreach events in Bismarck encourage families to try fishing for free.
That was enough to entice Bismarck's Laura Taylor. She brought her daughters, ages 8, 6 and 3, to an event at the pond.
"We were looking for a free, family activity to do that everyone would enjoy," Taylor said. "It's very low-key and comes equipped with a fishing pole and bait on family days, so you can literally show up with just your kids in tow. It's a great way to connect with nature and show your kids different activities that we wouldn't normally have access to."
For families who just want to test the waters, a community fishery is a convenient, affordable, low-risk option. There's just one caveat.
Weigel said it's important that young anglers catch fish before their interests turn elsewhere.
The ponds are stocked with many fish each season, so bites are plentiful. But reeling one in requires the little ones to be patient and forces experienced anglers to rethink their old habits.
"In North Dakota, we're so used to putting on a big old bait, no matter what we're fishing for," Weigel said. "These little trout are really dialed in on little bugs in the water, so the simple thing to use is corn, which takes a really small hook. Just use a little piece of worm and tiny hooks, tiny pieces of bait and you're gonna get action for sure. Keep it simple."
Kids and teens under the age of 16 can fish without a fishing license, which helps foster independence, and encourages time outdoors, away from screens. Younger kids can fish with a licensed parent or guardian.
"If your kids are too young to fish by themselves, get a license," Weigel said. "You can get a license right on the Internet (gf.nd.gov/licensing) and it's good for 365 days."
The fishing is good at North Dakota's community fisheries 365 days a year, too. You just have to know where to look. Weigel stocks the fish in spring, as soon as the ice melts, which is often sooner than anglers think. Anglers in the know head to the smallest ponds first.
"These are the first waters in the state to get fish," Weigel said. "Their urban setting warms them up a little more quickly. If the parks have everything ready to go, we target those in April."
The trout are most active in spring, with other species biting all the way through the end of the open water season. And once the ice freezes, some of the larger ponds become convenient spots for ice fishing.
Joshua Lewis swears by North Woodhaven Pond for scoring trout. (It was there that his little ones popped their heads out of the portable icehouse to say hello on a bright February day.) Over on the south pond, dozens of young anglers were competing in the annual Woodhaven Pond Youth Fishing Derby, sipping hot chocolate and waiting for a bite.
Fargo resident Akira Olp sat calmly in a chair next to her fishing hole, her boots in the slush, patient as a sage. She's already a veteran angler at the ripe old age of 12.
"It's her day, so I'll let her use my best pole," said Akira's mom, Kat Olp, with a smile. The family fishes together often and she's gratified to see her daughter confidently take the lead on this particular outing.
"It's important to include them in passions that we love, so they can develop their own love for the sport and appreciate nature," Olp said. "We use these community fishing ponds quite a few times a year. There are many areas of town that we enjoy stopping at after work and school to just get our lines in for a little bit and relax."
Not much was biting for Akira on that February day, but she took it in stride. Like passionate anglers of any age, for her the catch is only part of the fun.
"I love fishing for the element of surprise – you never know what you'll catch," she said. "I think it's important to keep a millennia-old tradition alive."
If even a few of Akira Olp's peers share her sentiments, the future of fishing in North Dakota looks bright.
ALICIA UNDERLEE NELSON, West Fargo, is a freelance writer who also blogs about outdoor recreation, travel and food in North Dakota and beyond at prairiestylefile.com.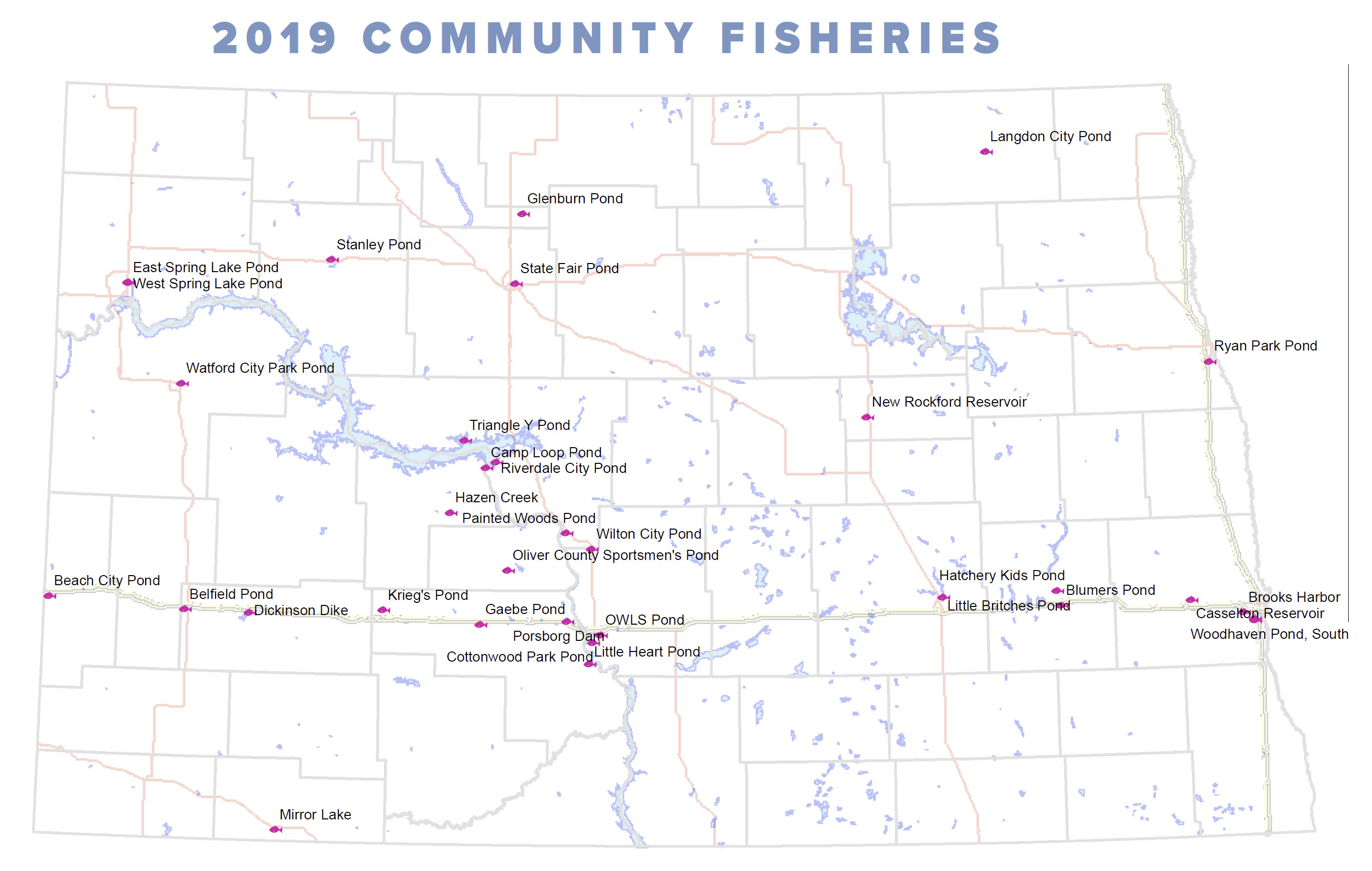 (Click on map for a larger version)
Spring Lake Park Ponds – This pair of ponds offers scenic fishing on the northern edge of Williston. Find abundant rainbow trout and adult catfish on the west pond or fish for northern pike from numerous fishing piers on the east pond.
Stanley Pond – Look for adult channel catfish and catchable-sized rainbow trout (stocked each spring) on the northeast side of Stanley. There's a boat ramp and fishing pier as well.
Watford City Park Pond – With picnic tables and a long fishing pier, this southeast Watford City spot is a great place to spend the afternoon. Adult channel catfish and catchable-sized rainbow trout are stocked in spring.
Beach City Pond – The fishing pier offers easy access to annually stocked rainbow trout on the southwest side of the city of Beach.
Belfield Pond – This quiet little pond is full of bluegill, adult catfish, perch and annually stocked rainbow trout. Find it, and a fishing pier, in southwest Belfield.
Dickinson Dike – The waters near Dickinson's Turtle Park are stocked with rainbow trout annually and adult catfish most years and also contain cutthroat trout, largemouth bass and bluegill. A pier, boat launch and vault toilet are available.
Gaebe Pond – Located 1.5 miles west of New Salem, this secluded spot offers annually stocked rainbow trout, adult catfish up to 5 pounds (stocked most years) and small perch and bluegill. There's a fishing pier, too.
Krieg's Pond – Fish for adult perch, adult catfish and annually stocked rainbow trout from five rocky outcroppings on this pond .5 miles east of Hebron.
Mirror Lake – This easy-to-reach lake features a boat ramp, fishing pier, vault toilet and plenty of roadside parking on Hettinger's south side. Look for walleye and pike.
Camp Loop Pond – Find a fishing pier and annually stocked rainbow trout 3 miles southwest of Riverdale on the U.S. Army Corps of Engineers downstream campground.
Glenburn Pond – This tiny pond on Glenburn's north side is stocked with trout annually and occasionally stocked with bluegill and perch. The T-shaped pier provides easy access to the water.
Hazen Creek – Fish the shores of this quiet creek tucked right into the western end of Hazen. Just pull off the road to catch rainbow trout stocked each spring.
Oliver County Sportsman's Pond – Head 4 miles south and a half-mile west of Center to try for annually stocked rainbow trout.
Painted Woods Pond – One of the newest ponds in the state is located near Painted Woods Creek outside of Washburn, just south of where U.S. Highway 83 meets ND Highway 1806. It's stocked with trout, bluegill, perch and catfish.
Riverdale City Pond – Families love fishing for bluegill and rainbow trout at this north Riverdale spot. The fishing pier makes it easy for little anglers to try their luck.
State Fair Pond – Try this family favorite spot on the north end of the state fairgrounds in Minot. (Staff and volunteers assist new anglers when the fair is in town.) The small pond is stocked with trout and panfish annually and it's open year-round.
Triangle Y Pond – This pond and fishing pier outside Garrison is most frequently used by campers at the Triangle Y Camp, but open to all. Plenty of perch await those willing to make the trip.
Cottonwood Park Pond – Escape to this urban fishing pond near the playgrounds, jogging path and Cottonwood soccer complex in south Bismarck. Step onto the pier to fish for adult northern pike and more.
Little Heart Pond – Drive 11 miles south of Mandan on ND Highway 1806 to score catchable-sized rainbow trout, scenic views and solitude. The pond is stocked each spring.
OWLS Pond – Fish for rainbow trout, bluegill, perch, catfish and white bass near the North Dakota Game and Fish Department headquarters in Bismarck. Wheelchair accessible pier, porta potties, benches and a picnic shelter are available.
Porsborg Dam – Pop over to northwest Mandan to enjoy a little fishing right in town. Rainbow trout and several other species are stocked each spring.
Wilton City Pond – Wilton boasts a quiet pond on its south side. Rainbow trout are stocked every spring.
Langdon City Pond – This put-and-take trout lake on Langdon's south side offers a boat ramp, fishing pier and vault toilet. It's average depth of about 11 feet makes it deeper throughout than many ponds of its size.
New Rockford Reservoir – This spot on the north side of New Rockford is primarily a pike fishery, but anglers will also find walleye and smaller perch off the fishing pier.
Ryan Park Pond – Hidden in plain sight by King's Walk Golf Course, this pond offers bluegill and trout fishing in the heart of south Grand Forks. The fishing pier is near a walking trail, picnic shelter, porta potties and playgrounds, so it's a hit with all ages.
Blumer's Pond – This 4-acre pond 1 mile south of Valley City offers perch and bluegill. Lucky anglers might also catch the occasional trout.
Brooks Harbor Pond – Long and narrow, this spot just off Exit 346 in West Fargo boasts shore-fishing and plenty of perch.
Casselton Reservoir – Look for pike, bluegill and the occasional perch in these low-key waters just west of Casselton. A fishing pier, boat launch and vault toilet are available.
Hatchery Kids Pond – Located 2 miles northwest of Valley City, near Valley City National Fish Hatchery (one of two federal fish hatcheries in the state) this shore-fishing spot is a solid option for early season trout.
Little Britches Pond – Just across the road from Jamestown Reservoir Marina, this cozy pond is bursting with rainbow trout. Look for crappie, perch and the odd walleye and pike.
Woodhaven Ponds – Residential south Fargo offers two options for all-season fishing. Head to the north pond for rainbow trout and bluegill and the south pond for perch. Both ponds have a fishing pier for easy access.