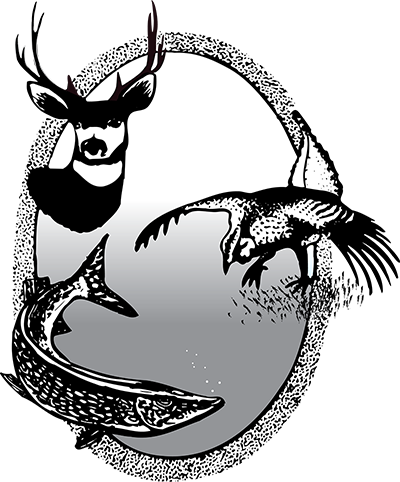 CWD Surveillance Continues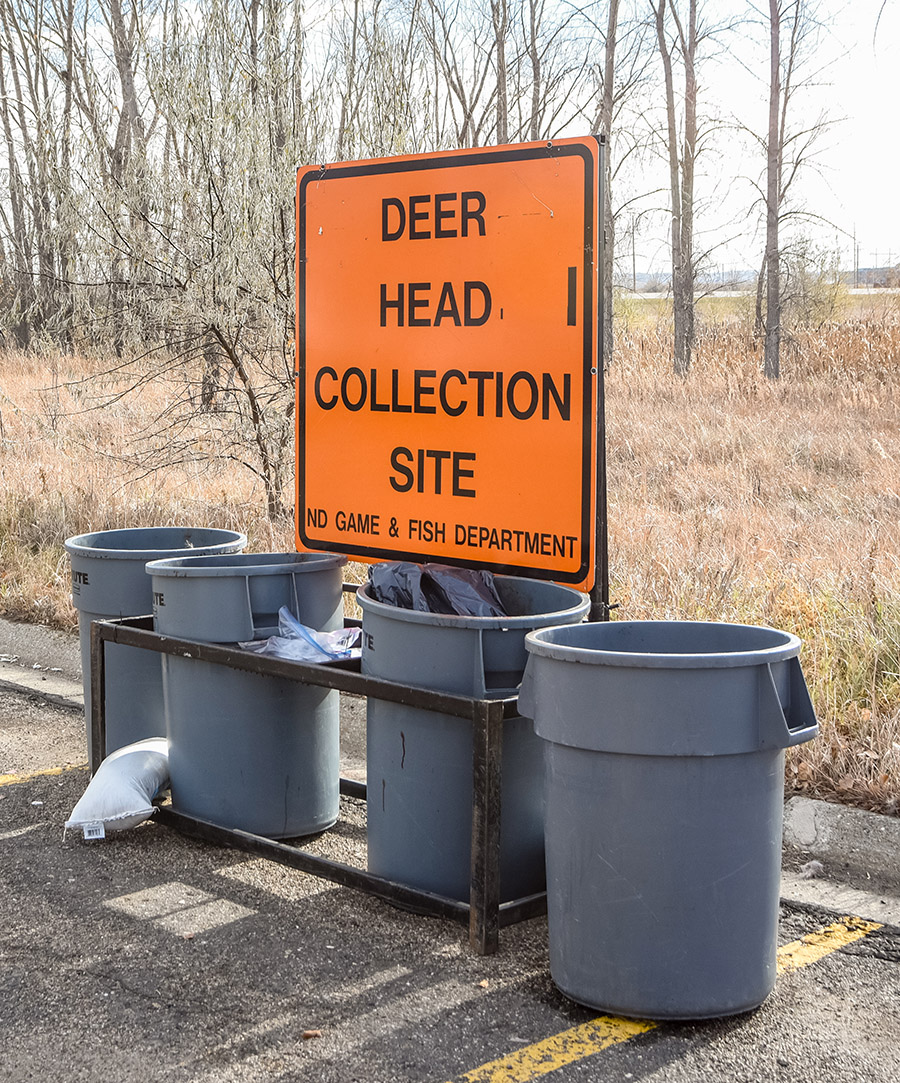 The North Dakota Game and Fish Department will continue its Hunter-Harvested Surveillance program during the 2019 hunting season by sampling deer for chronic wasting disease from units in more than half of the state.
Samples from hunter-harvested deer taken in the eastern portion of the state will be tested from units 1, 2A, 2B, 2C, 2D, 2E, 2F1, 2F2, 2G, 2G1, 2G2 and 2L. In addition, deer will be tested in the northwest from units 3A1, 3A2, 3A3 (that portion of the unit north of U.S. Highway 2) and 3B1, in the west from units 4B and 4C, and in the southwest from units 3C (the portion of the unit west of the Missouri River), 3E1, 3E2, 3F1 and 3F2.
Dr. Charlie Bahnson, Game and Fish wildlife veterinarian, said surveillance is conducted to estimate where CWD is located, and to determine the infection rate in the area. He said the Department uses the information to guide its efforts in managing the impacts of the disease.
"CWD has not been found in the eastern third of the state and our surveillance goal in that area is to confidently say that it is still not present in the area," Bahnson said. "We need to test a lot of deer to reach that conclusion, so it is important for hunters to consider dropping off their deer for testing."
Bahnson said it's likely that additional positive deer will be found this fall in units 3A1, 3B1, 3F2 and 4B where CWD has been previously detected.
"Infection rates are relatively low in those areas, but in previous years only a small portion of hunters have submitted heads for testing," he added. "Most infected deer will look perfectly healthy and the only way to tell is by having them tested."
Hunters are encouraged to drop off the head of an adult or yearling deer at one of nearly 100 collection sites across the state. Hunters wishing to keep the deer head can bring it to a Game and Fish district office during business hours to have it sampled. Fawns and head-shot deer cannot be tested. Testing results will be provided to hunters within 2-3 weeks by email or text message, based on their preferred communication method listed on their Game and Fish account. To add or update contact information, visit My Account at the Department's website, gf.nd.gov.
Hunters should note a carcass or head of a deer taken from units 3A1, 3B1 or 3F2 may not be transported to a collection site outside of the unit. Exception: deer heads taken in units 3A1 or 3B1 may be transported between those units.
More information on CWD, including transportation restrictions and drop-off locations can be found here.
Chronic Wasting Disease Detected in McKenzie County
Two mule deer taken in September tested positive for chronic wasting disease, including one during the archery season from deer gun unit 4B in McKenzie County, where CWD had not previously been found. The other deer was harvested during the youth season in unit 3A1 in Divide County where CWD was first detected last fall.
North Dakota Game and Fish Department wildlife veterinarian Dr. Charlie Bahnson said the finding in 4B marks the first detection of CWD in the badlands.
"This is an iconic place to hunt big game where people travel to from across the state," Bahnson said. "By no means does this first detection spell doom for hunting in this area, as long as we are proactive in trying to keep infection rates from climbing. We also need to reduce the chance of CWD spreading to new areas."
Game and Fish will review its CWD management strategy after the deer rifle season and will consider making revisions for next season. While unit 4B does not have carcass transportation restrictions in place for 2019, Bahnson does recommend that hunters in 4B submit their deer for testing, and avoid transporting high-risk carcass parts, such as the brain and spinal column, outside of the hunting unit.
More information on CWD, including transportation regulations, can be found here.
Dead Deer Permit Needed
North Dakota Game and Fish Department enforcement personnel are issuing a reminder that a permit is required before taking possession of a dead deer found near a road or in a field. Only shed antlers can be possessed without a permit.
Permits to possess are free and available from game wardens and local law enforcement offices.
Fall Fish Survey Completed
North Dakota Game and Fish Department fisheries biologists have completed fall reproduction surveys and the future looks promising, especially compared to a year ago when many waters were struggling.
Scott Gangl, Department fisheries management section leader, said many lakes already had low water levels going into last winter, and then a heavy snowpack resulted in significant winterkill.
"Good moisture throughout the summer rejuvenated the habitat in many of the smaller lakes around the state, primarily in the central and southeast," Gangl said.
The cooler, wet summer produced ideal receiving conditions for stocked pike and walleye. "We saw really good survival and growth on most stocked species," Gangl said.
Similar to last year, Devils Lake saw fair to good numbers of walleye, with the catch close to average.
"However, we saw very low numbers of yellow perch, which means there wasn't a good reproductive year for perch," Gangl said.
In Lake Sakakawea, Gangl said there was a good catch of young walleye.
"This was a result of a combination of stocking efforts and natural reproduction," he said. "We also saw a lot of rainbow smelt, so the forage base is still pretty solid."
Lake Oahe has had several years of good reproduction of walleye, Gangl said, including this year.
"The walleye population continues to be dominated by smaller fish," he said. "Lake Oahe is lacking forage, which causes fish to grow slower than they should."
Reproduction surveys evaluate natural reproduction, stocking success and forage abundance.
Winter Fishing Regulations
Anglers are encouraged to refer to the 2018-20 North Dakota Fishing Guide or the Game and Fish Department's website for winter fishing regulations.
Some winter fishing regulations include: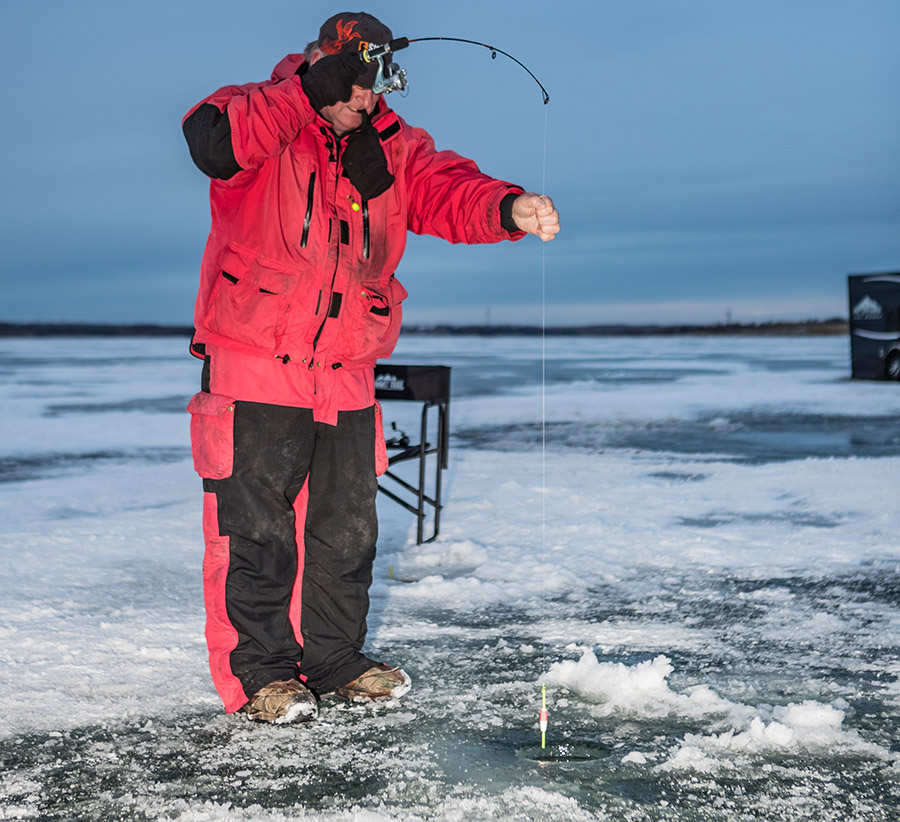 A maximum of four poles is legal for ice fishing. However, when fishing a water body where both open water and ice occur at the same time, an angler is allowed a maximum of four poles, of which no more than two poles can be used in open water.
Tip-ups are legal, and each tip-up is considered a single pole.
There is no restriction on the size of the hole in the ice while fishing. When a hole larger than 10 inches in diameter is left in the ice, the area in the immediate vicinity must be marked with a natural object.
It is only legal to release fish back into the water immediately after they are caught. Once a fish is held in a bucket or on a stringer, they can no longer be legally released in any water.
It is illegal to catch fish and transport them in water.
It is illegal to leave fish, including bait, behind on the ice.
Depositing or leaving any litter or other waste material on the ice or shore is illegal.
Any dressed fish to be transported, if frozen, must be packaged individually. Anglers are not allowed to freeze fillets together in one large block. Two fillets count as one fish.
The daily limit is a limit of fish taken from midnight to midnight, and no person may possess more than one day's limit of fish while actively engaged in fishing. The possession limit is the maximum number of fish that an angler may have in his or her possession during a fishing trip of more than one day.
Anglers are reminded that three North Dakota lakes are closed to ice fishing. The State Fair Pond in Ward County, McDowell Dam in Burleigh County and Lightning Lake in McLean County are closed when the lakes ice over.
Wildlife Viewing Devices on Private Land
Outdoor recreationists who install devices for viewing wildlife on private land should be aware of a state law that was passed during the 2019 legislative session.
House Bill 1503 requires an individual who enters private property and installs a device for observing, recording or photographing wildlife to receive written permission from the landowner. Otherwise, the device must be identified with a permanently affixed metal or plastic tag with either a registration number issued by the North Dakota Game and Fish Department, or the individual's name, address and telephone number.
An equipment registration number can be generated by visiting "Buy and Apply" at the Game and Fish website, gf.nd.gov. One registration number will be issued that can be used on all equipment that requires identification.
The equipment registration number does not expire.
Advisory Board Schedule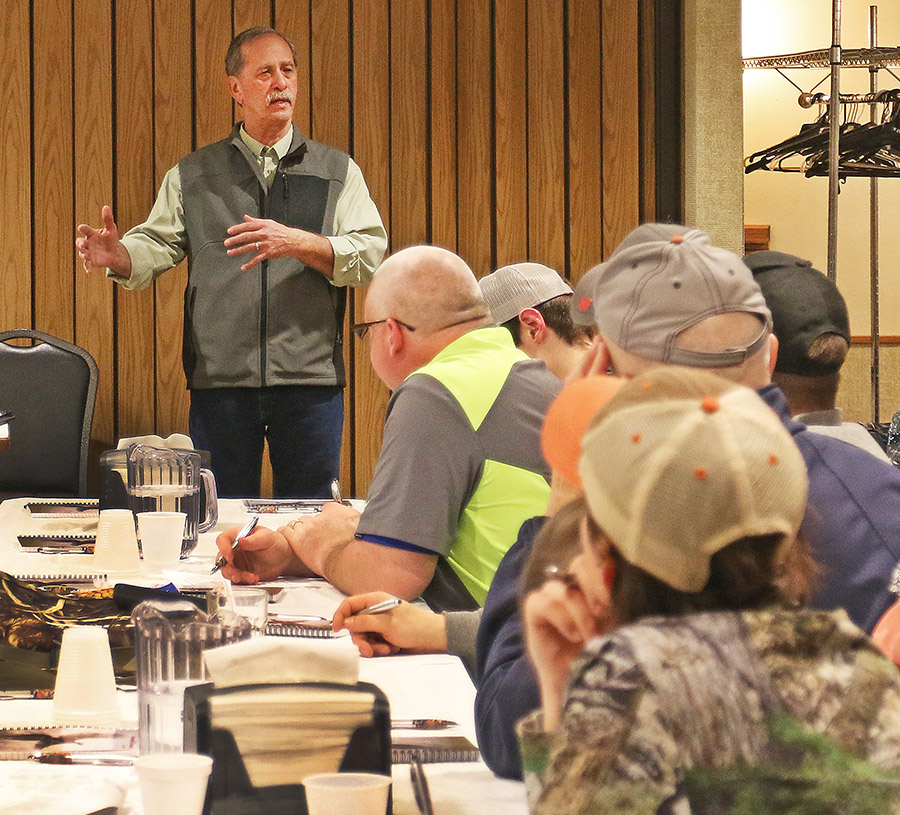 Outdoor enthusiasts are invited to attend a North Dakota Game and Fish Department fall advisory board meeting in their area.
These public meetings, held each spring and fall, provide citizens with an opportunity to discuss fish and wildlife issues and ask questions of their district advisors and agency personnel.
The governor appoints eight Game and Fish Department advisors, each representing a multi-county section of the state, to serve as a liaison between the Department and public.
Any person who requires an auxiliary aid or service must notify the contact person at least five days prior to the scheduled meeting date.
Darkhouse Spearfishing Opens at Ice-Up
North Dakota's darkhouse spearfishing season opens on most state waters whenever ice-up occurs. Legal fish are northern pike and nongame species.
All individuals who participate in darkhouse spearfishing must first register online. In addition, anglers age 16 and older must possess a valid fishing license.
Spearers and anglers are reminded that materials used to mark holes must be in possession as soon as a hole greater than 10 inches in diameter is made in the ice.
North Dakota residents who do not have a fishing license may spear during the winter free fishing weekend Dec. 28-29, but they still need to register to spear.
All waters open to hook and line fishing are open to darkhouse spearing except:
East Park Lake, West Park Lake, Lake Audubon – McLean County
Heckers Lake – Sheridan County
Larimore Dam – Grand Forks County
McClusky Canal
New Johns Lake – Burleigh County
Red Willow Lake – Griggs County
Wood Lake – Benson County
Anglers and spearers should refer to the 2018-20 North Dakota Fishing Guide for more information.
Staff Notes
Howie Retires, Francis Fills Position
Doug Howie retired in September after more than 40 years with the Department. Howie started in 1975 as part of a crew conducting woody draw browse transect surveys. Much of his career was spent in private lands – from the early days of habitat and wildlife food plots to assisting with the development of what most hunters know today as the Private Lands Open To Sportsmen program.
Curt Francis, a private land biologist in Dickinson since 2016, has filled Howie's position in Bismarck.
Buckley Assumes New Role
Todd Buckley has accepted the wildlife resource management biologist position in Williston. He has been in the Williston office as the private land biologist since 2012.
Wright Hired in Williston
Nikki Wright was hired in September as the administrative assistant in Williston.