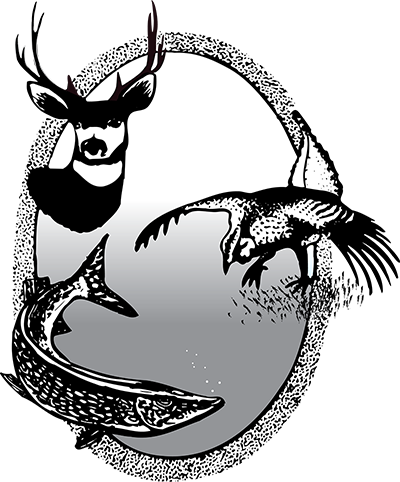 A Plan to Manage Deer in North Dakota
Authors and Contributors
Considering the whims of Mother Nature, changes in the landscape, rising and falling deer populations, deer hunter expectations and differing landowner tolerance levels, managing deer in North Dakota isn't easy.
North Dakota Game and Fish Department wildlife managers certainly understand this. They also recognize the enormity of the task because many North Dakotans have a vested interested in a celebrated outdoor activity that seemingly takes so long to get here, but is over before you know it.
With the 2019 deer gun season finally here, North Dakota OUTDOORS staff visited with Casey Anderson, Department assistant wildlife division chief, about managing deer in North Dakota.
Q: The Game and Fish Department initiated its five-year deer management plan in 2005 and every five years Department officials develop deer population goals for each of the state's 38 hunting units. What tools are used in this plan process to set those goals?
A: Historically, we have reviewed a variety of datasets collected annually on deer population trends. These include: (1) winter white-tailed deer aerial surveys, (2) spring and fall mule deer aerial surveys, (3) regular deer gun hunter harvest results, and (4) hunter observation surveys. These datasets are evaluated for trends both within the hunting unit and compared to trend data for surrounding units. In addition, we take into consideration cultural and biological concerns such as landowner tolerance, disease concerns and changes in habitat. We are currently developing several new population models in hopes of applying these new tools in making management decisions.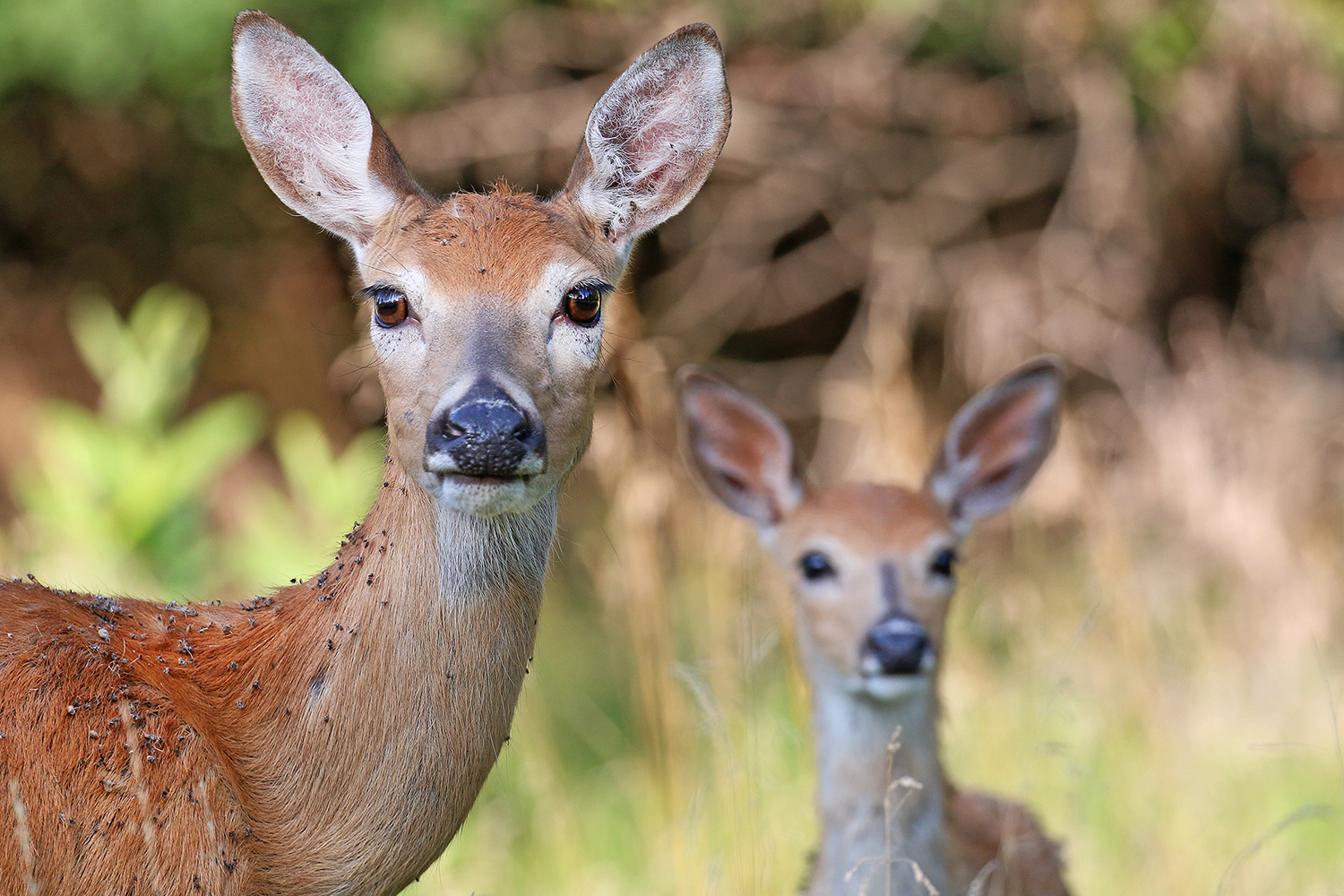 White-tailed deer in summer
Q: Why is it important to have a deer management plan and revisit it every five years?
A: Cultural and biological concerns are always occurring and need to be taken into consideration when setting management goals. For example, loss of habitat (CRP, tree rows and wetlands) significantly influence white-tailed deer recruitment and survival rates; this is particularly true for the eastern third of the state. The spread of chronic wasting disease also influences deer management decisions. As the agency responsible for managing deer populations, we need to be constantly evaluating and adapting to change; we cannot just run these programs on autopilot.
Q: In 2015, for the first time since the plan was introduced, the aim was to increase the statewide deer population, not reduce it. At the time, Game and Fish officials proposed a plan that would support issuing 75,000 deer licenses annually. Has that thinking changed any?
A: For now, that is still the goal the Department continues to shoot for. Reduced habitat and Mother Nature have definitely made it more challenging, but that seems to be a number that is acceptable to the majority for hunting opportunities and for those going about their everyday lives in rural North Dakota.
Q: Since 2015, when the Department made available just 43,275 deer licenses, the lowest total since 1978, license numbers have increased every year to this fall's total of 65,500 licenses. What can be attributed to the slow, but uninterrupted increase in license numbers?
A: Some has to do with the Department being conservative in the number of licenses allocated. But the not-so-terrible winters the last few years have also helped. However, the rebound is slow because of the lack of habitat on the landscape compared to the quick rebounds in the early 2000s.
Q: All deer hunting units across the state are not created equal. Understanding this, where in the state have deer numbers been slower to rebound and why?
A: Some of our more easterly units have a harder time rebounding because they don't have the habitat base already established. Also, many times winters are more severe in eastern North Dakota, especially snow depths, than the western portions of the state.
Q: The Game and Fish Department made available more than 100,000 licenses to hunters from 2001 through 2011. We understand that this was the exception and not the rule in North Dakota's long deer hunting history. Even so, what needs to happen to meet the license number objectives in the Department's five-year management plan?
A: With the habitat base we have now it would take multiple easy winters in a row. If we could increase the habitat it could be faster and it wouldn't be as critical to have easy winters.
Q: For the first time in nearly a decade, the Game and Fish Department allowed hunters to purchase concurrent season licenses valid during any open deer season this fall. What's the reasoning behind this move that will, for some, provide additional deer hunting opportunities?
A: Some of the units that had leftover tags have a good population of deer, and if that population isn't kept in check, deer could start to cause many problems for landowners in those areas.
Also, some of the units are where the Department has found chronic wasting disease. In CWD positive units, one of the management objectives is to reduce deer density, or maintain a low density, but have a healthy reproducing deer population, to reduce the risk of the disease spreading within the unit, and also reduce the chance of deer dispersing to new areas because of a high deer density.
Q: From a management standpoint, what is Game and Fish doing in those deer hunting units where chronic wasting disease has been verified?
A: Our objective is to try to reduce the likelihood of CWD spreading to other units, and to try to keep infection rates low in areas where we already have it. We do this through regulatory tools like baiting and carcass transportation restrictions. But hunters are really our biggest and best tool in these areas. Hunters help us maintain healthy deer densities in these areas and also provide samples so we can track where the disease is and whether it is spreading.
Q: We often say that deer gun season in North Dakota, especially opening weekend, has a holiday-like feel to it. It's that time of year – and maybe the only time during the year for some – that friends and family gather to reconnect and, as a bonus, put venison in the freezer. Do you think this portrayal of the season still rings true today?
A: In North Dakota, where the hunting heritage is strong and is one of the many reasons we live here, I think that portrayal, at least in the crew that I hunt with, certainly rings true. The only difference is not everybody is lucky enough to draw a license every fall, so it's easier to find help dragging out my deer.
Q: What are some of the concerns and comments the wildlife division hears from hunters regarding all things deer and deer hunting in North Dakota?
A: CWD regulations is a big one. CWD is hard to comprehend and the regulations put in place to reduce the risk of spread are sometimes a big change for hunters. As hunters, we need to do what we can to protect the herd for the next hunter that takes the field. We also hear that our deer lottery system is not working. That one typically comes from those folks who don't get drawn for a license. But all hunters are concerned with deer numbers and would like to see them a little higher to increase opportunities. Hunters could help this situation by being advocates for programs that help landowners establish or maintain habitat on the landscape.
Enforcement Questions, Concerns
Fall is a busy time of year for the North Dakota Game and Fish Department's enforcement division. The demand on game wardens certainly increases during the state's deer gun season when thousands of hunters take to the field. Bob Timian, Game and Fish Department enforcement division chief, said when it comes to questions and concerns from hunters at this time of year, the Department's enforcement staff will likely hear it all. North Dakota OUTDOORS staff talked with Timian prior to the season to help clear up some of the common concerns heard from hunters no matter the year. For more frequently asked questions that come up during the deer gun season, visit the Department's website (gf.nd.gov).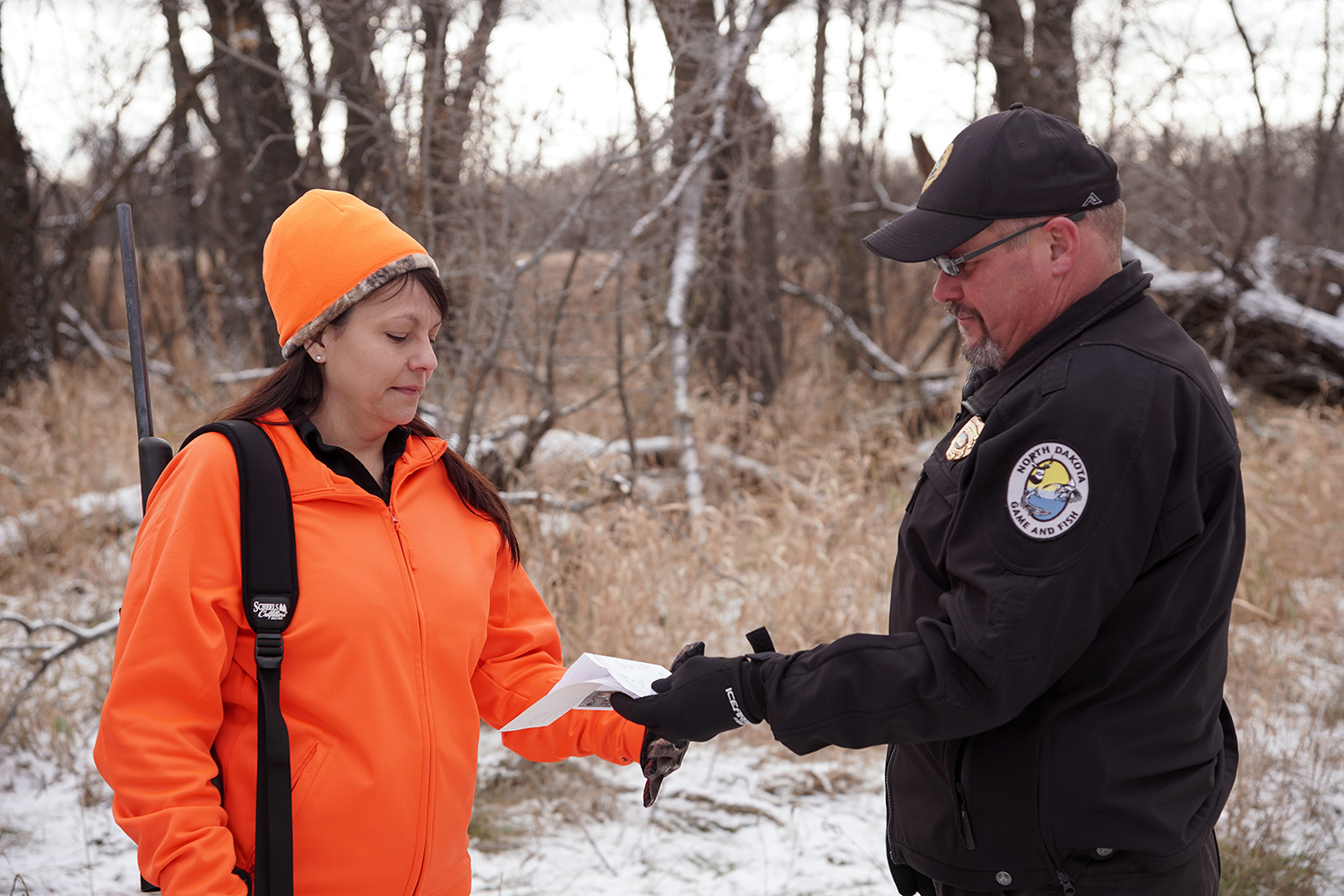 Deer season is a busy time of year for Corey Erck, Game and Fish Department warden stationed in Bismarck, and other enforcement staff.
Q: One of the more common violations during the deer season has to do with tagging. What message do you want to send hunters when it comes to tagging their harvested animals?
A: The tagging rule is pretty straightforward. You shoot your deer and then once you get up to the deer, you need to put a tag on it. Once that's done, then you don't have to worry about it. There are people who intentionally don't tag their deer. And then there are people who, because they don't tag the deer right away, get busy field dressing the animal, load it into a vehicle and then all of a sudden, they are driving down the road and the tag is still in their pocket. Now, when the warden stops you, he doesn't know if you intentionally didn't tag the deer or just made a mistake. While we suggest that you tag the deer before you take a minute to take photos, we certainly insist that you tag the deer before moving it.
Q: If someone, for whatever reason, is going to transport another hunter's deer, what do they need to do this legally?
A: You need a transport permit from a local warden or another law enforcement officer. During deer season wardens are busy. If you know that you are going to need a transport permit, call ahead, get in touch with a warden and he can make arrangements to get you a transport permit. Don't wait 15 minutes before you are ready to leave because I can almost guarantee you that the warden is not going to be there in 15 minutes. So, a little preplanning is good on your part.
Q: If a hunter harvests a deer in one of the state's units where chronic wasting disease has been identified, what does the hunter need to do?
A: First of all, if you are hunting in one of these units, I would first go to the Game and Fish website (gf.nd.gov) and read what the regulations are. And if you have any questions, call the Department (701-328-6300) and we'll walk you through it. In the simplest terms, if you harvest a deer in one of the CWD units, you cannot take the head or the spine out of the unit. Now, depending on how you dress the animal, quarter or bone it out, the carcass tag must stay with the meat. If you shoot a buck and want to get it mounted, you can remove the skullcap, but then you have to clean all of the tissue and matter off of the skullcap. So that, in simple terms, is what you need to do. We would also highly encourage people in those units to take the deer head and drop it off at one of our collection sites to test for CWD. By doing so, the hunter has the assurance that their deer will be tested. And in the relatively rare occasion that the animal does test positive, we would notify the hunter as soon as possible so the hunter can decide what to do with the deer. It's both to the hunter's benefit and the Department's benefit that those heads get dropped off at the collection sites.
Q: Can a hunter retrieve a wounded or dead deer from posted land?
A: Essentially the law says a hunter who shoots or wounds an animal in an area where they legally have the right to hunt and it crosses over onto someone else's property, the hunter has the right to retrieve it. Now, the key here is it's a "retrieval." You can't continue to hunt so the firearms can't go with you. You can't take a firearm with you because then, by definition, you're still hunting. Since you're simply retrieving the animal, that doesn't mean you can walk around all over the property. Also, in an effort to maintain hunter/landowner relationships and avoid conflicts over a situation like this, we tell hunters, especially if the land is posted, that it's a good idea to contact the landowner and let him know that you were hunting elsewhere, but you have a deer down and it's on his property and you want to retrieve it. If the landowner is adamant that you don't go in there, even though you have a legal right to do so, we suggest contacting a local warden to facilitate the retrieval of the deer.
Q: Department wardens get calls during the deer season on off-trail violations. What are off-trail violations?
A: During the big game season, you cannot drive off-trail to hunt deer … you have to stay on the trials. Yet, this brings up a really good subject, especially this fall, given how wet the countryside is at this time. Some good gravel roads are starting to get soft, trails are soft, fields are wet and very soft, so travel and access by vehicle right now is difficult, other than on very good roads. And so, hunters need to be aware of that and avoid places where they're going to tear up roads or fields. Now, by the time the deer season rolls around, the situation may have improved, maybe a little drier, potentially everything could be frozen so the ground and the roads are hard, and if that's the case, then access will be a little easier. But at the same time, we need to remember that there is an awful lot of standing crop out there this year. So, if conditions improve, that also potentially could mean that there will be a lot of farmers moving harvesting equipment around trying to get those crops finally off. Hunters need to be aware of this and to give farmers the room they need to get their crops off.
Q: What the most important thing hunters should remember this and every deer gun season?
A: As always, the big thing is for hunters to practice safety. Be safe. Know where you're shooting, when you are traveling, be aware of traffic. Don't stop in the middle of the road to look at deer, or whatever. Just commonsense safety so that everybody goes home and has a good hunt.
Snapshot of Deer License Numbers
A look at deer gun licenses numbers over time. The state's first deer season was held in 1931, the first year a specific deer license was required.
1971 – The first year more than 50,000 deer licenses were made available to hunters. More than 33,000 deer were harvested that season.
1974 – The first year more than 60,000 deer licenses were made available to hunters. Yet, from 1975-81, deer license totals were below 50,000.
1986-87 – More than 80,000 deer licenses were made available to hunters those two seasons. Yet, in 1988, the total fell to about 64,000.
2001-11 – More than 100,000 deer licenses were made available to hunters during those 11 seasons. The high was 149,400 in 2008.
2012 – Nearly 45,000 fewer deer licenses were made available compared to 2011.
2015 – The lowest number of licenses (43,275) made available to hunters in 35 years.
2016-19 – Deer licenses made available to hunters have increased (from 49,000 in 2016 to 65,000 in 2019) in each of those four hunting seasons.