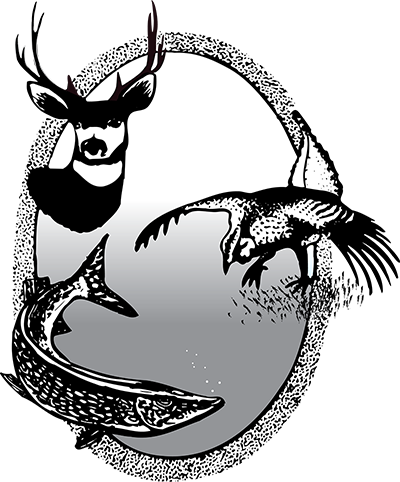 Changing Elk Dynamics Prompts Study
Dozens of GPS-collard elk in western North Dakota are providing big game biologists and researches a revealing peek into the lives of a mostly reclusive animal that often goes unnoticed in the rugged badlands.
In February 2019, the North Dakota Game and Fish Department, in cooperation with the University of Montana, captured and fit 90 elk – 70 cows and 20 bulls – to better understand elk distribution and movements, and to identify a population monitoring technique to assess annual abundance.
Elk dynamics in the badlands changed significantly after nearly 900 animals were removed from the South Unit of Theodore Roosevelt National Park about a decade ago.
"Prior to 2010, it was pretty much a park elk system, where elk would leave the park periodically. We established a hunting season in the late 1990s to take advantage of these hunting opportunities and to address elk depredation issues with landowners," said Bruce Stillings, Game and Fish Department big game management supervisor. "But at the end of the day, those elk would all end up back in the park for winter."
Stillings said big game biologists and researchers haven't analyzed the data just yet to specifically identify the types of habitat the elk are using throughout the year, but just knowing the areas the GPS locations are coming from, it's a mix of badlands and agriculture lands.
"They most definitely like to find those areas away from roads, away from disturbance and spend most of their time there," he said. "If you're lucky enough to draw a once-in-a-lifetime tag in North Dakota, you'll have to get into the backcountry because that's where you'll find them."
Interestingly, the study has also shown that several adult cows that dispersed west are using the Blue Mountain area in Montana from spring to late fall, and then head back to North Dakota before winter sets in.
For a young bull to take the scenic route to South Dakota or for adult cows to migrate back and forth between North Dakota and Montana isn't unusual.
"Just on a normal feeding outing for a day, they can put on 5 to 6 miles pretty effortlessly," Stillings said. "Putting on 10 to 20 miles in a short period is pretty commonplace for elk."
Some of the study elk have been taken during North Dakota's elk season, which Stillings said was expected.
"We had three collared cows that were harvested during the 2019 season, one collared bull that was legally taken, and another young bull that was lost due to wounding," he said. "Hunting-related mortality at this point is the only source of mortality that we've identified. So, we've had very, very high survival rates, at least through one year."
Stillings said having elk in western North Dakota is a unique big game resource that isn't lost on the public and the thousands of hunters who apply for once-in-a-lifetime licenses each year.
"And it sure looks like we're going to have elk on the landscape for the foreseeable future and we'll not just be relying on elk exiting the park now and again," he said. "Which is why we are looking at identifying a population monitoring technique that's going to help us better manage and determine abundance each year to provide as many hunting opportunities as we can to the general public.
"North Dakota's elk herd is very, very healthy … this western half of the state as you get west of the Little Missouri River, you're getting into some pretty healthy elk numbers," he added. "We realize that there are landowner tolerance issues, so we are trying to strike that balance of a healthy elk herd, but within the tolerance of landowners."