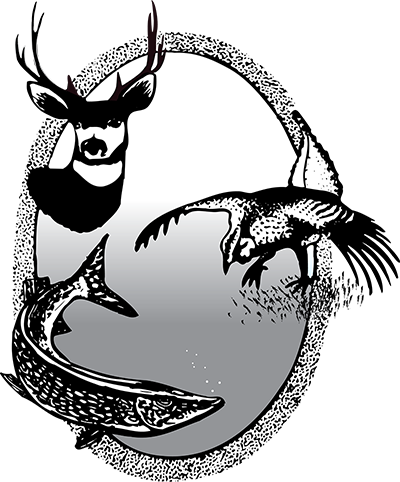 Safe Detour for Bighorn Sheep
"Historically, with all the oilfield traffic and agriculture traffic, there have been a lot of animal-vehicle collisions," Schonert said. "One way to reduce that is to install a wildlife crossing to funnel them through and help maintain that habitat connectivity and reduce the number of collisions to make it safer."
In 2019, Wiedmann said Game and Fish deployed GPS collars on some bighorn sheep in the area and learned that the animals crossed U.S. Highway 85 more than originally thought.
"We thought it was pretty rare for the ewes to be crossing, but as soon as we deployed GPS collars that collect daily locations, we learned that they were crossing quite a bit," he said. "They've even been crossing during the construction project itself. So, this wildlife crossing, I think, is going to do wonders to reduce mortality."
Wiedmann said there are a number of reasons why bighorns gravitate toward the highway. In fall during the rut, for instance, with ewes navigating the rugged terrain on both sides of U.S. 85, mature rams will cross often to check on adult females. And in spring, ewes will ease out of the hills to pick at the alfalfa adjacent to the highway.
"They've habituated to the road traffic, so they don't really fear vehicles," he said.
Bighorn mortality on U.S. Highway 85 got to be such an issue years ago north of Long X Bridge that the Game and Fish Department had to step in.
"There were bighorns north and south of Long X and the mortality got so intense on the north side that we actually had to go in and trap all those animals and move them out of there because they were getting killed at such a high rate," Wiedmann said.
Because the road-widening effort from Watford City to Belfield is such a big project, especially when the safety of motorists and the safeguarding of the state's natural resources must be taken into consideration, there were several obstacles to overcome.
"That's why we had this unique design," he said. "Open it up so those bighorns can see through. The key will be the fencing to funnel them to the crossing where they don't have an option to cross the highway."
After bighorns were removed north of Long X, what remains is a herd of about 50 animals in the area.
"That's a pretty big herd," Wiedmann said. "Typically, it's 10-15 ewes east of the highway and 30 west, and the rams will migrate to this area during the rut. There is a lot of bighorn activity around here and because they don't fear vehicles, it just makes it worse."
Signs warning motorists that bighorn sheep frequently cross the highway in this area were put in place about a decade ago, but Wiedmann said the signs could only do so much.
"I've been here and watched big rigs lock up their brakes, smoke flying, because bighorns are crossing, or simply popped up out of nowhere," Wiedmann said. "Another issue is when people see bighorns right off the highway and they stop right on Highway 85. I came down here once and there were like seven, eight vehicles stopped on the highway taking pictures. I actually fired a cracker shell to chase the bighorns away. That's a real hazard if you have a big truck coming down the steep grade with people taking pictures of bighorns from their vehicles."
Wiedmann said seeing an end in sight for the project is appreciated and long-awaited.
"It's kind of eye-opening to me all the different agencies and individuals involved in this … it's been quite a collaboration," he said. "I know I've been working on it for about 10 years and it's nice to finally see something happening."

---