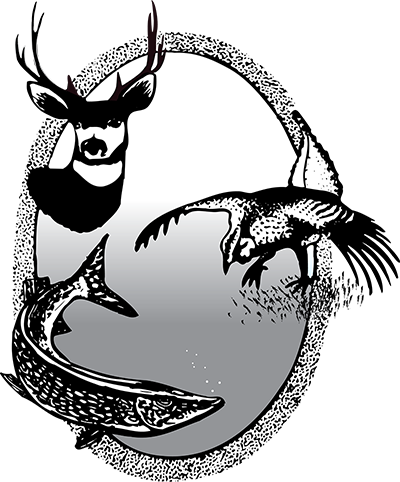 Authors and Contributors
Weaving its way north and south on the east side of N.D. Highway 41 in McLean County, Crooked Lake is aptly named.
It's also long, about 5 miles from the north end to the south end, or vice versa, depending on how you look at things.
What's interesting, and likely means nothing, is that Crooked Lake is about twice as long as Long Lake, a neighboring fishery located just a short hike north.
On this day, nearly the middle of January, it's quiet, there's no one around. The summer places are shuttered, blinds are closed, and boat lifts and docks are pulled up on shore.
Yet, even from where we've parked and are unloading gear, there's evidence of recent activity. Abandoned darkhouse spearfishing holes are properly and legally marked for safety reasons with brush and other vegetation that stick out of the ice about waist-high and higher. Scattered here and there, these marked holes look like the fallout of a bad haircut.
This winter marks 20 years of darkhouse spearfishing in North Dakota. This is not something I know offhand. I had someone more in the know look it up before we left town.
No matter, it doesn't seem like we've been doing this off and on for 20 winters. Then again, there are lot of things that I've been doing for years but feels like I've just gotten started.
I don't know what seems more improbable. Cutting a roughly 3-foot hole in the ice on a 5-mile-long lake in hopes that a northern pike swims by our little window and hangs around long enough to give us a shot. Or the fact that we're spearing in nearly mid-January on the Northern Plains with the temperature in the upper 40s. Gloves are off. Insulated bibs aren't needed. Jalapeno and cheddar brats are sizzling on the gas-fired grill outside the darkhouse for lunch.
Both seem so unlikely.
Watching pike, big or small, slowly glide in, or scream by our illuminated window as if they were shot from a cannon, never gets old. And today, it's happened just enough to stall our conversations and send the closest fumbling for the homemade spear.
Although darkhouse spearfishing offers some rubbernecking into a world mostly unknown to many of us, there's a finality, a celebrated conclusion when you stick a nice pike that showed too much interest in the red and white fish decoy 5 feet under the ice.
There isn't any catch-and-release. Like shooting a flushed rooster pheasant, it's field to table.
While we're not here today specifically to celebrate darkhouse spearfishing's 20th anniversary in a state that has strong pike populations and ample spearing opportunities if the conditions allow, you'd be hard-pressed to find a nicer winter day to do it.