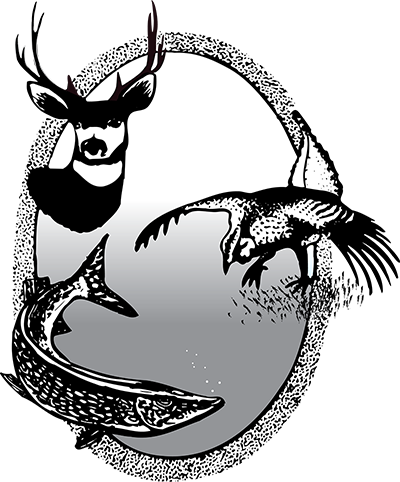 Authors and Contributors
Drought
North Dakota endured a hot, dry summer that featured little precipitation and a record number of days over 100 degrees. While some late summer rains in parts of the state provided some hope and relief, farmers, ranchers and wildlife managers continued to wonder as winter neared if there was an end in sight.
Realistically, wildlife managers said drought conditions had been around the state closer to two years, not just 2021 alone. The fear, they said, is when you start getting into multi-year droughts, things start to get really taxing across the landscape for wildlife, habitat, agriculture producers, the list goes on.
Despite falling water levels – lakes were down across the state from 2 to 5 feet from where they were two years ago – fishing opportunities remained abundant in about 430 North Dakota waters, and fisheries personnel continued their walleye stocking efforts by releasing about 9 million walleye fingerlings in 144 waters.
EHD Fallout
Based on reports of deer mortality, including documentation of substantial mortality in some areas due to epizootic hemorrhagic disease, the Game and Fish Department allowed hunters with whitetail or "any" deer gun licenses in 22 hunting units the option of turning those licenses in for refunds.
The first confirmed EHD report occurred in early August. Department wildlife managers said there was evidence of moderate to significant deer losses in some areas that might affect hunting success in those locations.
Hunters who returned their licenses had their bonus points restored, if applicable, to the same number of points prior to the 2021 deer gun lottery.
EHD, a naturally occurring virus spread by a biting midge, is almost always fatal to infected white-tailed deer, while mule deer do not usually die from the disease.
The whitetail population, big game biologists noted, was not decimated and in many areas a good harvest was still needed.
Game and Fish made license refunds an option for hunters in 2020 in 12 hunting units in western North Dakota. Prior to that, the last time the agency made available this option because of an EHD outbreak was 2011.
Meadowlark Initiative Launched
The Game and Fish Department announced a new statewide strategy that will team landowners, conservation groups, scientists, and others to enhance, restore and sustain native grasslands in North Dakota.
Mussels Found in Two Lakes
Electronic Posting
The landscape changed for hunters in North Dakota in 2021.
While current posting laws allowed landowners to leave lands unposted or to post land with physical signs, lawmakers in 2021 passed a bill allowing electronic posting of private land, giving landowners another option for posting private property.
That law went into effect Aug. 1.
Landowners who were interested in posting electronically for the 2021-22 hunting season had to do so by July 15. According to Department statistics, about 4 million acres were enrolled by the deadline.
Tools were made available on the Game and Fish website for hunters to use to determine land that has been electronically posted. Those tools included multiple map applications and digital PDF documents that could be saved to a device or printed for use in the field.
The map applications could be accessed by a computer or smartphone. The applications offered features to identify a point of contact, work offline or without cellular service, and the ability to create your own maps. Custom maps provided the ability to turn on other map features, such as deer hunting units and aerial imagery, or zoom into areas to see more detailed information.
A benefit of electronic posting for hunters, Department officials stressed, is that they could determine a valid point of contact when requesting access. The name of the landowner, or authorized individual who posted the land, was included on the map applications.
While law requires the name of the individual who posted the land to be available to the public, hunters were told they may also find additional contact information such as an email address, phone number and/or alternate point of contact.
Mule Deer Counted in Badlands
The Game and Fish Department's fall mule deer survey indicated the drought had a big influence on fawn production.
Biologists counted 2,163 mule deer in the October aerial survey. The ratio of 60 fawns per 100 does was significantly lower than last year (82/100) and the long-term average (88/100), while 38 bucks per 100 does was similar to 2020 (36/100) and the long-term coverage (43/100).
The 2021 count was the lowest fawn-to-doe ratio since 2011 and 2012, following the severe winters of 2008 through 2010. Nutritional stress related to the drought was also apparent with considerably more yearling bucks observed as spikes rather than forked bucks.
Snowfall and windy conditions during the survey limited biologists to 20 of the 24 study areas. The fall aerial survey was conducted specifically to study demographics in western North Dakota. Biologists also surveyed the same study areas in spring to determine deer abundance.

2021 Stats
21 – Number of outdoors-related bills Department officials tracked during the legislative session.
33 – Length in inches of the record 16-pound, 6-ounce walleye caught by Dickinson angler Jared Shypkoski from the Missouri River System in March.
90 – Number of years North Dakota OUTDOORS has been in publication.
780 – Number of any-deer bow licenses made available to nonresidents.
13,909– Number of applicants who applied for the 1,720 pronghorn licenses.
165,000 – Estimated number of Canada geese counted during the Department's annual midwinter waterfowl survey.
800,000 – Approximate number of Private Land Open To Sportsmen acres featured in the PLOTS Guide.
1.8 million – Number of chinook salmon eggs collected during the Department's salmon spawning operation in fall on the Missouri River System.
2020-21 Licenses and Permits Issued

| Type | Resident | Nonresident |
| --- | --- | --- |
| Individual Fishing | 54,077 | 20,665 |
| Married Couple Fishing | 14,609 | 6,511 |
| Senior Citizen Fishing | 15,225 |   |
| Disabled Fishing | 229 |   |
| Short-Term Fishing |   |   |
| 10-Day |   | 7,863 |
| 3-Day |   | 26,036 |
| Paddlefish Tags | 0 | 0 |
| Commercial Tags | 14 |   |
| Retail Bait Vendor | 219 |   |
| Wholesale Bait Vendor | 28 | 4 |
| Fish Hatchery | 3 |   |
| 2019 Boat Registrations (First year of 3-year decal) | 60,262 |   |
| General Game Hunting | 46,059 | 41,326 |
| Small Game Hunting | 15,158 | 20,607 |
| Combination License | 63,215 |   |
| Waterfowl Hunting |   | 24,063 |
| Furbearer Hunting/Trapping | 8,284 | 2,992 |
| Fur Buyer | 25 | 8 |
| Deer Gun Hunting | 54,809 | 671 |
| Deer Gun Hunting (Gratis) | 11,845 | 285 |
| Deer Bowhunting | 27,041 | 3,301 |
| Moose Hunting | 400 |   |
| Moose Hunting (Preferential Landowner) | 53 |   |
| Elk Hunting | 438 |   |
| Elk Hunting (Preferential Landowner) | 88 |   |
| Turkey Hunting (Spring) | 6,355 |   |
| Turkey Hunting (Fall) | 3,525 |   |
| Turkey Hunting (Gratis Spring) | 543 |   |
| Turkey Hunting (Gratis Fall) | 277 |   |
| Habitat Stamp | 109,274 |   |
| Shooting Preserve | 12 |   |
| Fishing/Hunting Guide | 293 | 52 |
| Taxidermist | 275 | 11 |
| Falconry | 5 |   |
| Scientific Collector | 34 | 18 |
| Swan | 1,324 | 876 |
| Sandhill Crane | 3,046 | 2,122 |
2021 Special Big Game Licenses

| Type | Licenses Available | Applications Received |
| --- | --- | --- |
| Moose | 470 | 26,034 |
| Elk | 519 | 23,016 |
| Bighorn Sheep | 5 | 19,126 |
Financial Statement


July 1, 2020 to June 30, 2021

Type
Amount
Income
$36,035,448
Expenses
$39,615,968
Fund Balances, Fixed Assets and Long-Term Debt
Game and Fish General Fund
$31,634,292
Habitat and Depredation Fund
$2,430,357
Nongame Wildlife Fund
$131,907
Aquatic Nuisance Species Program
$348,328
TOTAL ALL FUNDS
$34,544,884
FIXED ASSETS
$55,576,348
DEPARTMENT NET WORTH
$90,121,232