NORTH DAKOTA OUTDOORS MAGAZINE
2022 Enforcement Division Review
By Chief Game Warden Scott Winkelman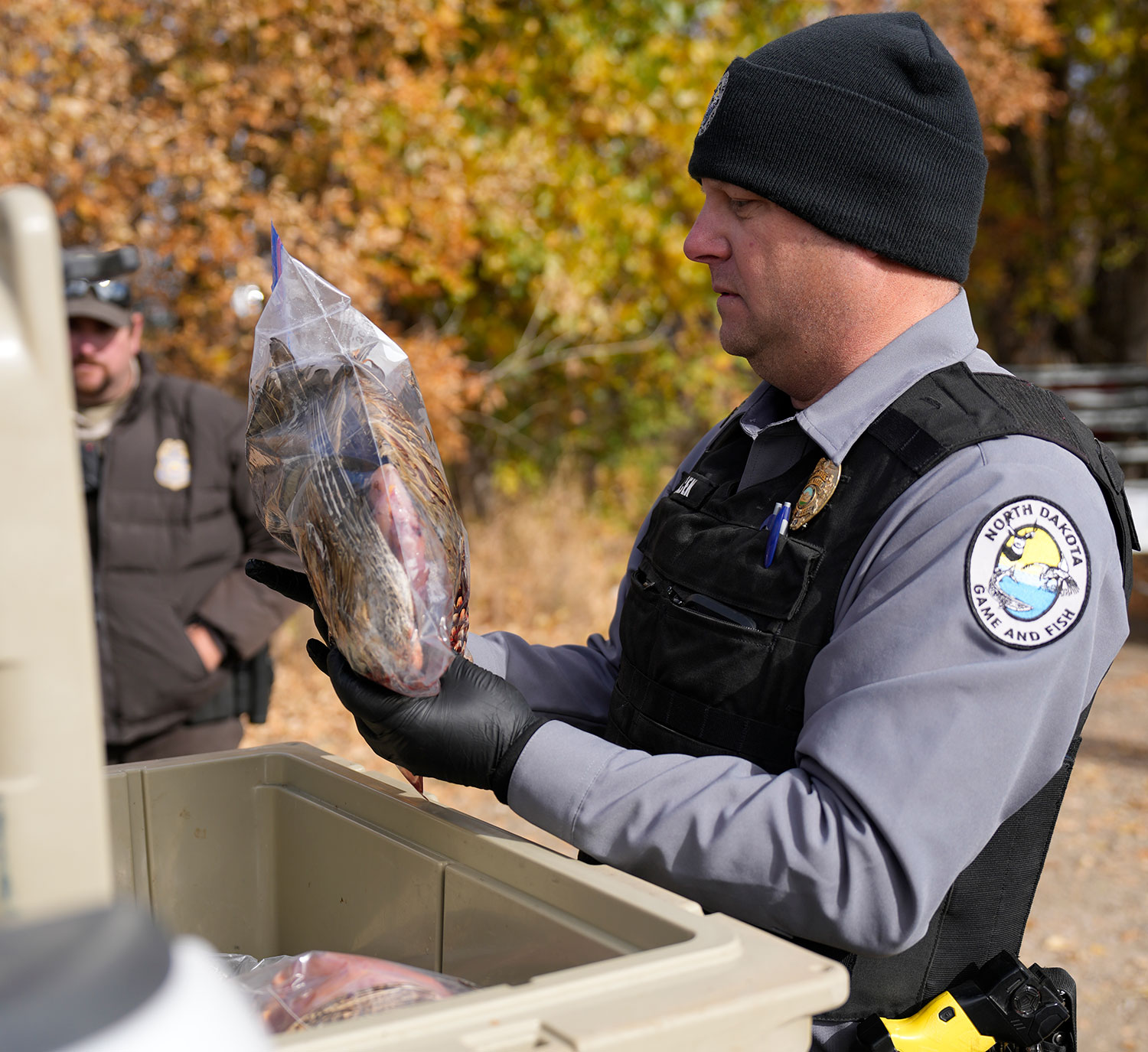 The North Dakota Game and Fish Department's enforcement division had another tremendous year in 2022.
The effort and professionalism exhibited by game wardens of this fine state are second to none, and I am extremely proud of the work they all do in protecting our wildlife, habitat, and those who enjoy it.
They truly are the "best of the best" in law enforcement.
The amount of work and responsibility game wardens of North Dakota are responsible for is really eye opening.
North Dakota has the third smallest number of wildlife law enforcement officers in the nation, with 38 full time game wardens, with each patrolling districts covering an estimated 2,438 square miles.
Only Delaware (30) and Rhode Island (32) have fewer game wardens.
When you consider that those states are about the same size as Cass and Grand Forks counties, it really is a testament to the amount of great work our game wardens do.
In the following pages you will see the citation and field contact information for the past year.
It is important to note that by state law all fines and fees collected due to convictions for these citations are paid to the county where the violation occurred and added to the state school fund.
The North Dakota Game and Fish Department does not receive any funding from the fines or fees associated with citations issued.
I hope that you all find time in 2023 to safely enjoy the wildlife and waters that our game wardens have dedicated their careers and time protecting.
---
2022 Summary of Violations
2022 Summary of Violations
BIG GAME
Type
Count
Illegal taking/possession of big game
42
Failure to wear fluorescent orange
14
Tagging violations
27
CWD violations
17
Killing wrong species or sex
7
Shining big game
7
Other big game violations
26
Total
139
SMALL GAME
Using gun able to hold more than 3 shells
56
Hunting before/after legal hours
30
Illegal possession/taking
2
Exceeding limit
56
Failure to leave identification or sex of game
53
Killing wrong sex or species
10
Wanton waste
33
Other small game violations
52
Total
292
BOATING
Use of unlicensed or unnumbered boat
40
Failure to display boat registration
60
Operating without lights at night
45
Inadequate number of PFDs
268
Water skiing violations
13
Reckless or negligent operation
11
Operating vessel under influence/intoxicated
17
Other boating violations
219
Total
673
FISHING
Exceeding limit
86
Fishing in closed/restricted area
3
Fishing with illegal bait
10
Paddlefish violations
8
ANS violations
86
Other fishing violations
130
Total
323
FURBEARER
Other Furbearer violations
3
Total
3
GENERAL
Use of motor vehicle off established trail
61
Hunting on posted land without permission
38
Aid in concealment of unlawful game
5
Loaded firearm in motor vehicle
37
440-yard violation
6
Littering
17
Hunting in unharvested field
4
Other general violations
9
Total
177
LICENSING
Hunting/fishing/trapping without proper license
222
Failure to carry license on person
218
Misrepresentation on license or application
30
Other licensing violations
9
Total
493
WILDLIFE MANAGEMENT AREAS/REFUGE
Failure to obey posted regulations
52
Tree stand violations
14
Possession of glass beverage containers
7
Camping violations
2
Prohibited use of motor vehicles
6
PLOTS access violations
19
Other WMA/refuge violations
9
Total
109
MISCELLANEOUS
Possession of controlled substance
30
Possession of drug paraphernalia
24
Open container
12
Minor in possession
30
Criminal trespass
79
Other miscellaneous
15
Total
182
COMMERCIAL
Commercial violations
6
Total
6
Grand Total
2,404
INCIDENTS 2022 – TOP 10 COUNTIES
(An incident is defined as any situation that requires a response from a game warden. It does not have to be a crime. The situation could be, for example, a stranded angler.)
Ramsey – 235
McLean – 165
Williams – 181
McKenzie - 146
Burleigh - 124
Cass - 112
Mountrail - 110
Stark - 100
Ward - 90
Stutsman - 87
Total - 2,730
CITATIONS 2022 – TOP 10 COUNTIES
Ramsey - 324
Williams - 123
McKenzie - 115
Benson - 111
Mclean - 110
Bottineau - 93
Burleigh - 92
Stark - 84
Kidder - 77
Mountrail - 77
Total - 2,389
---
Field Contacts
"That's an important statistic for us to keep. When you think about it, that's a lot of people we are reaching. A field contact is any time one of our wardens has an interaction with somebody in the field, usually just checking a license, equipment, bag limits. We can answer questions and hopefully point them in the right direction. It's a friendly interaction and it's good all around," said Scott Winkelman, Game and Fish chief warden, of the nearly 47,000 field contacts wardens made in 2022.
---
Staff Awards