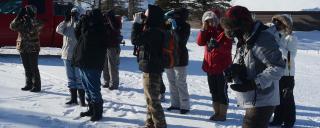 Other Classes and Workshops
Throughout the year, various outdoor and educational classes may be offered by North Dakota Game and Fish Department staff or in conjunction with other conservation agencies or clubs. These classes include but are not limited to conservation landscaping, rod building, sausage making, and wildlife identification. Other presentations may be available based on time and availability of the outreach biologists in their communities.
Scheduled Classes
Darkhouse Spearfishing Workshop - Feb. 3, 2018
Individuals interested in darkhouse spearfishing can sign up for a workshop offered Feb. 3 from 10 a.m. – 4 p.m. at the Upper Souris National Wildlife Refuge office northwest of Minot.
Sponsored by the North Dakota Game and Fish Department and U.S. Fish and Wildlife Service, participants will learn about ice safety, the tradition of darkhouse spearfishing and required gear. In addition, there will be time spent on the ice for spearfishing with a mentor.
Registration is limited to 18 participants, with a minimum age of 12. Cost of the workshop is $25, and all equipment is provided.
For more information or to register, contact Game and Fish Department education coordinator Brian Schaffer at 328-6312.