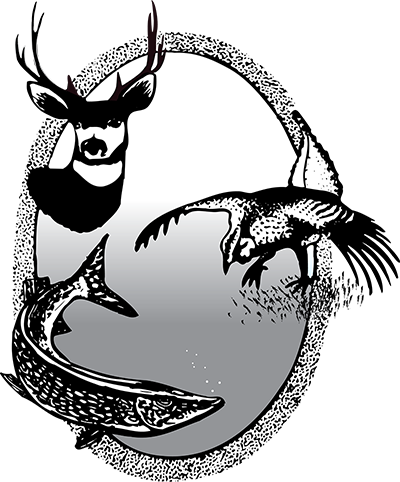 Venison Pot Roast
Venison roast slice into chunks 2 inches think across the grain
Salt and pepper
1 onion diced
2 stalks celery diced
1 carrot chopped
2 cloves of garlic
Beef boullion
Kitchen bouquet
Season meat with salt and pepper and brown all sides of roast chunks in oil, transfer to pressure cooker.
In the remaining oil, saute the onion, celery, carrot and last the garlic. You may deglaze the pan with a little red wine if desired.
Transfer this to the pressure cooker with the meat. Add beef broth to come 1/3 to 1/2 way up the pot. Then add kitchen bouquet until you get a nice dark brown broth.
Close up pressure cooker and cook for 45 min. when it is done it will just fall apart. You can throw more carrots in there if you want.
---
Deer-O-Gyro
Meatloaf
2 pounds ground venison/pork mix (50/50 mix recommended, although leaner mixes can be used with 1/3 cup oil or lard for fat)
1 large or 2 small red onions (~3/4 cup)
1 tbsp minced garlic (~3-6 cloves)
2 tsp oregano
2 tsp thyme
2 tsp marjoram
1 tsp cumin
1 tsp salt
1 tsp pepper
1 tsp rosemary (crushed)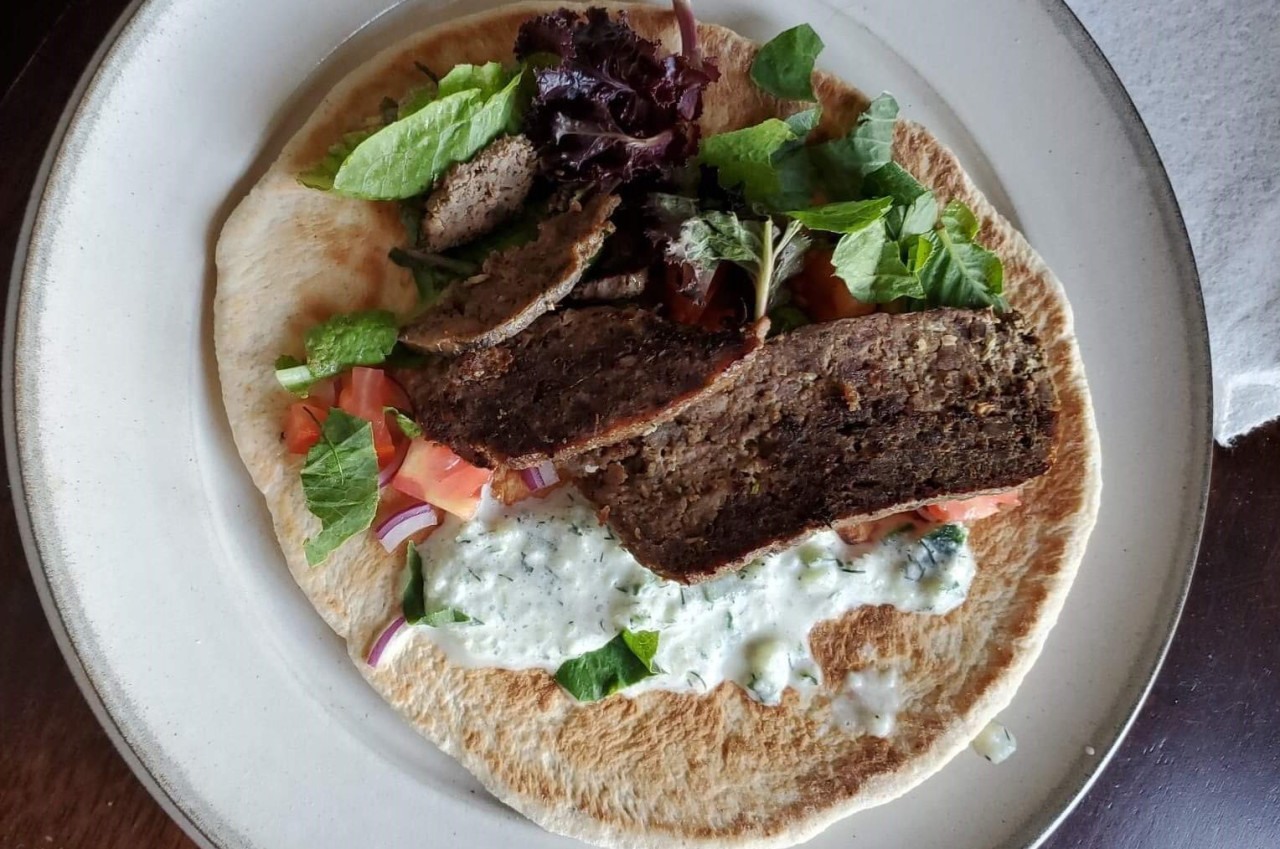 Instructions
Mince garlic/onions very fine (or use blender/food processor).
Mix all ingredients and puree in food processor or mash with potato masher until "sticky".
Press firmly into bread loaf pan (loaf should be shallow, no more than 3" deep, so may need two bread pans)
Let set refrigerated for an hour (not required, but helps dry out the loaf)
To prevent drying out:
Fill an 11x13 cake pan ½ full of water and press a small cotton towel/dish cloth to the bottom (the cloth helps to prevent rapid boiling and provides a cushion for the bread pan, which goes in later)
Place cake pan in oven and preheat oven to 325. (May also use a pre-heated grill)
Place bread loaf pan inside the cake pan and bake for 45 minutes or until inside reaches 165.
Remove bread pan, drain, then flip loaf onto a sheet of foil.
Wrap in foil and compress for 1 hour by placing something heavy on top (cast iron skillet with cans, filled flour container, gallon jug of water, etc)
Slice meat in 1/8" thick slices (if too crumbly, may have to cut thicker or vice versa..adjust fat in recipe to improve the consistency to personal preference).
Fry on high in a little bit of olive oil until outside gets slightly charred on the outside.
Foil can be put in a 2-quart ziplock and refrigerated or froze until ready to use.
Sandwiches
Layer meat on pita, flatbread, or flour tortilla and top with Tzatziki sauce, tomatoes, greens and feta cheese.
(If you have fresh cucumbers, Tzatziki sauce can be made by blending plain yogurt (or sour cream), garlic, and chopped cucumbers--there are many recipes online).
---
Venison Jerky
15-16 tsp salt
1-2 tsp black pepper
1 tsp cayenne
1.5 tsp cardamon
1 tsp marjoram
3 tsp accent
2 tsp garlic powder
1.5 tsp tender quick
1 oz liquid smoke
Grind up meat and mix with the first eight of the above spices.
Press meat onto sheets of tin foil or wax paper. Be sure to get meat as thin as possible (flatten with a rolling pin).
Mix 1 oz (~12 tsp) of liquid smoke with 1 oz water and brush onto meat.
Line oven to catch drippings.
Place meat on grates in oven, remove tin foil.
Bake at 160 F for 3-4 hours.
When meat is dry, cut into strips.
(Per NDO 1978)
---
Venison Tuscan Soup
2 strips bacon, diced
1 pound venison Italian sausage (60:40 venison:pork ground with Italian sausage seasoning) or plain ground venison
4 to 5 potatoes, unpeeled and cubed
4 cloves garlic, minced
1 cup onion diced
Salt and pepper
6 cups chicken broth
5 cups chopped kale
¾ cup heavy cream
Cook diced bacon over medium heat until crisp then remove and set aside.
Add the venison to the same pan and brown in the bacon drippings. Then set aside.
Add potatoes, garlic and onion. Cook until soft ~ 6 minutes. Season with salt and pepper.
Add chicken broth and bring to a boil. Reduce heat and simmer until potatoes are tender (~12 minutes).
Add the kale, heavy cream, bacon, and venison and cook an additional 3-5 minutes.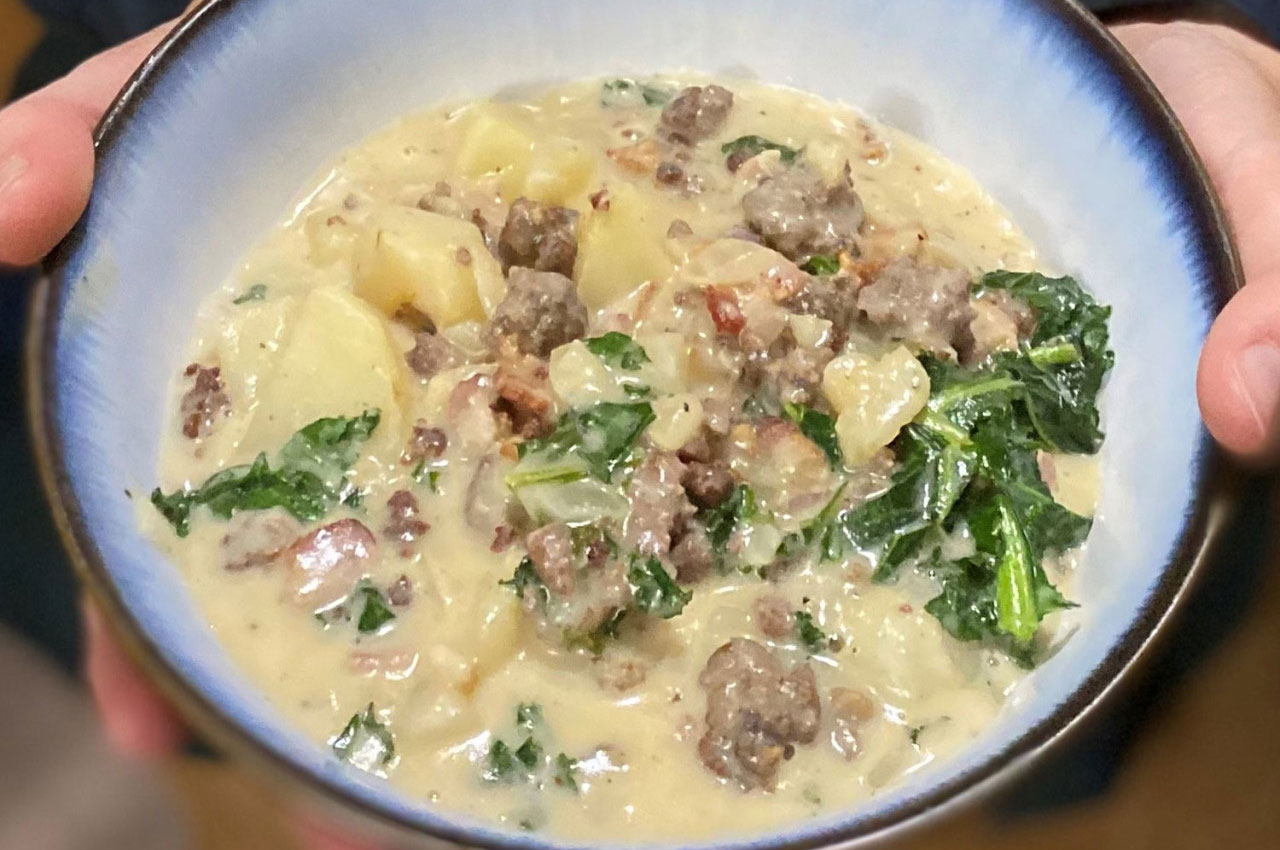 ---
Venison Sausage Egg Bake
1 lb venison breakfast sausage (60:40 venison:pork with breakfast seasoning, ground and froze as loose sausage)
1 tube of refrigerated biscuits
2 cups shredded cheddar cheese
1 small can of diced green chiles
8 eggs
¼ cup milk
Salt and pepper to taste
Preheat oven to 350 degrees
Cook sausage in medium skillet until brown
Cut or tear each biscuit into pieces and place in the bottom of a 9 x 9 baking dish sprayed with cooking spray.
Add cooked sausage, then cheese and green chiles on top of biscuits.
Whisk together eggs, milk, salt and pepper and pour over everything else.
Bake 35-45 minutes or until eggs are cooked through.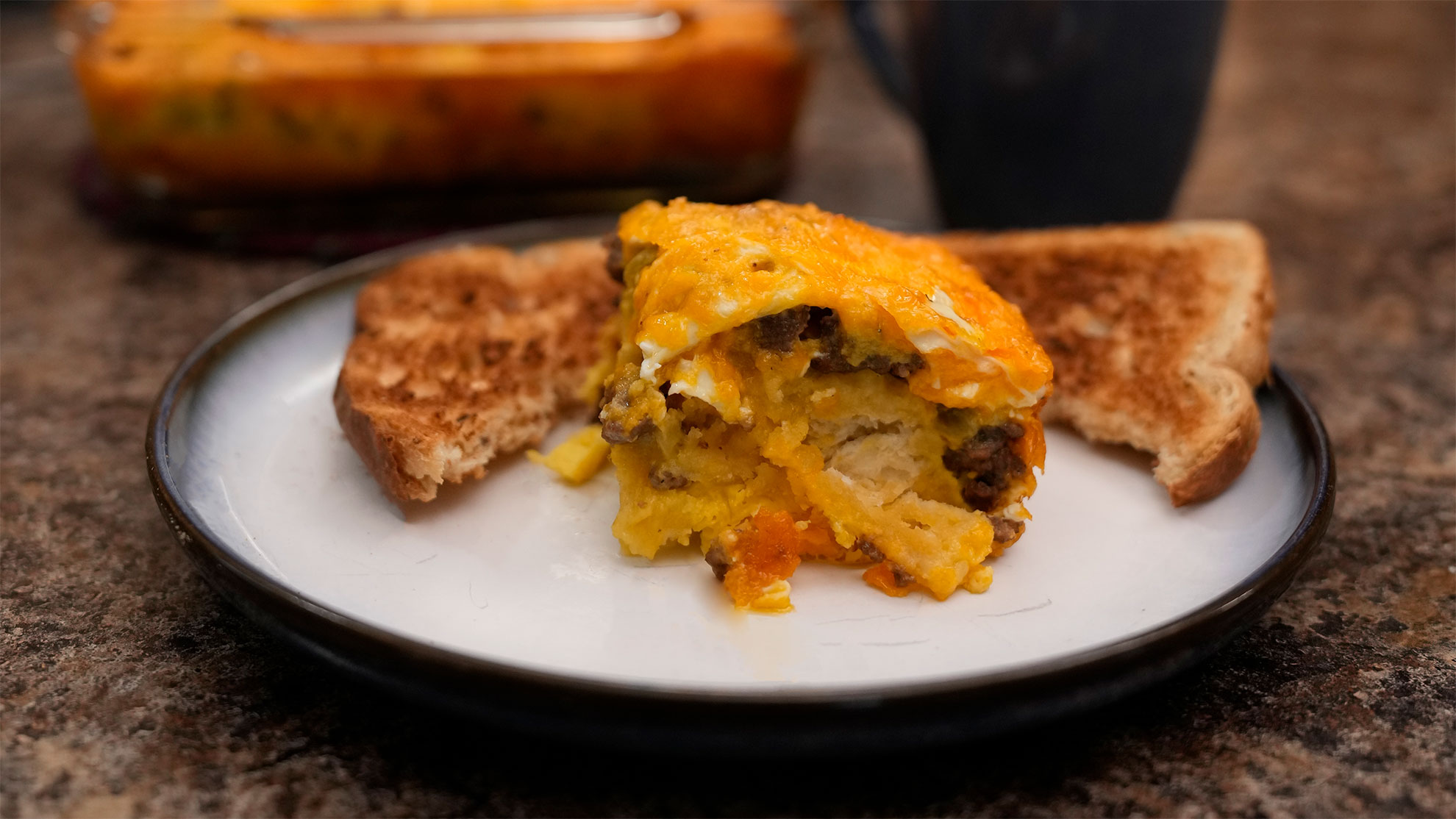 ---
Moose Meatballs with Spaghetti
2 pounds ground moose
1 pound pork sausage
2 tbsp dried minced onion
1 large clove garlic, minced
1 cup bread crumbs
1 egg
Salt and pepper to taste
Canned milk
Olive oil
3-4 pounds spaghetti, cooked and drained
Grated parmesan cheese
In a large bowl, mix all the meatball ingredients together, adding enough canned milk to bind the mixture until it appears moist.
Form mixture into 20-24 medium-sized balls and brown on all sides in a skillet with a little olive oil.
After browning, place meatballs and a favorite sauce over cooked spaghetti
---
Stuffed Elk Steak
2 elk club steaks, cut 1-inch thick
1.5 slices of day-old bread
1/2 tsp salt
2 tsp green pepper, chopped finely
2 tsp minced onion
2 tsp celery, chopped fine
Salt and pepper to taste
Flour to dredge
2 tbsp butter
1.2 cup water
Make a dressing by combining bread, broken into small pieces, salt, green pepper, onion and celery
Salt and pepper steaks and dredge with flour.
Cut slits halfway through steaks and fill with dressing.
Brown steaks in butter.
Place in a pressure cooker, add water and cook at 10 lbs. pressure for about 20 minutes.