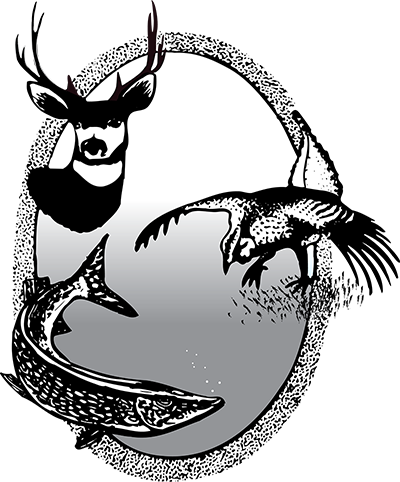 Canned Pike
1 tbsp lemon juice
1 tbsp ketchup
1 tbsp oil (optional)
1/2 tsp salt
Put fish in pint jars.
Put ingredients on top of fish.
Process at 11 pounds for 100 minutes.
Note: You can debone fish and clean all 'red' meat off fillets, however bones may be left in since they will become soft under canning pressure.
---
Pike Dip
Dip Recipe 1
1 pint canned boneless pike
1 (8 oz) pack of cream cheese
1 tsp of liquid smoke
2 tbsp prepared horseradish
1 tbsp soy sauce
Squeeze as much water out of the fish as possible.
Throw everything into a kitchen aid mixer and let it mix at low speed for a few minutes.
Serve cold with multi-grain crackers or something similar.
Dip Recipe 2
Pike fillets (~1-2 pounds)
Chicken stock
Green onion
Black olives
Green peper
Green olives with pimentos
Mayonaise
Creole and Old Bay
Cheddar cheese
Boil pike fillets in chicken stock until cooked and easily flakes apart (save a little of the chicken stock for later).
Let fillets cool in the fridge for a bit.
Meanwhile, finely chop up the green onion, black olives, green pepper, and green olives with pimentos.
Take cooked fillets out of fridge and shred apart, remove any remaining bones.
Add shredded pike meat to the finely chopped veggies and add just enough mayonnaise/miracle whip to coat all of the fish (you can add a little bit of the chicken stock to thin out the mayo).
Add some finely shredded cheddar cheese and the seasoning.
Mix together well and put in fridge (best if it sits overnight).
Serve with crackers.
---
Grilled Fish Taco
4 fish fillets (walleye, pike, perch, or catfish)
White corn tortillas
Marinade
2 tbsp olive oil
2 tbsp lime juice
1 tbsp chili pepper
1 tsp garlic salt
Pico de Gallo
1 cup chopped red cabbage
2 roma tomatoes diced
½ cup red onion diced
1 tbsp cilantro
1 tsp lime juice
Lime Sauce
½ cup sour cream
1/3 cup mayo
2 tbsp lime juice
1 tsp garlic powder
1 tsp Siracha or other hot sauce
Combine olive oil, 2 tablespoons of lime juice, chili pepper and garlic salt. Marinate the fillets in this mixture for at least 30 minutes, up to 8 hours.
Remove fillets from marinade and place in foil ensuring they're still evenly coated with the marinade. Seal foil packets so they can be flipped on the grill.
Grill for 10 minutes, flipping half-way through on medium high heat or until fish is white and flaky.
Meanwhile, dice tomatoes, cabbage, red onion and cilantro. Mix with lime juice to make a pico de gallo.
Combine sour cream, mayo, lime juice, garlic powder and hot sauce to make fish taco sauce.
Serve fish atop tortillas with pico and taco sauce.
---
Shrimp and Black Bean Soup with Pike
2 medium onions, chopped
4 cloves garlic, minced
1 can whole tomatoes
3 14.5 oz cans of reduced-sodium fat-free chicken broth
2 15 oz cans black beans, drained
1 tsp ground cumin
1 tsp dried oregano leaves
1 tsp dried thyme leaves
1 bay leaf
1 pound peeled, deveined raw shrimp, about size 40 cut in two pieces
1 pound baked pike
Vegetable cooking spray or butter
Salt and pepper to taste
Lemon pepper
Preheat oven to 350 degrees, bake pike on sprayed cookie pan, season with lemon pepper, cook till firm.
Spray large saucepan with cooking spray; heat over medium heat until hot.
Add one tablespoon of butter sauté onions and garlic until tender, about five minutes.
Process onion mixture, tomatoes, and one can chicken broth until smooth; return to saucepan.
Add remaining 2 cans broth, black beans and herbs to saucepan; heat to boiling.
Reduce heat and simmer, uncovered, 10 minutes, adding shrimp and crumbled pike during last 5 minutes.
Discard bay leaf and season with salt and pepper.
---
Pike Chowder
2 cups diced northern pike sprinkled with seafood seasoning
4 tbsp melted butter
1 chopped onion
3-4 diced potatoes
1 stick celery
Carrots
1 can cream of celery soup
1 can whole corn
1 can evaporated milk
Cook potatoes, onion and carrots until done.
Add evaporated milk.
Add cream of celery soup.
Add fish.
Add whole corn (drained).
Simmer 20 minutes until fish is flaky, season to taste.
---
Poor Man's Lobster
2 1/2 cups white wine
1 small onion
4 lemon slices
1 tsp salt
1/8 tsp peppercorns
1 small bay leaf
1.5 pounds fish (3/4 inch thick)
Boil 4-5 minutes until fish turns snow white.
Serve with melted butter and fresh lemon wedge
---
Cedar Planked Pike
Soak a cedar plank for at least 1 hour or longer until the wood becomes saturated. Keep plank in water until ready for use.
Pike Fillets (Rub quantities should make enough for 2 decent size fillets), 2-3 fresh sprigs of rosemary
Rub:
1/2 tbsp smoked paprika
1/4 tsp cayenne
2 tsp garlic powder
1 tsp onion powder
1/4 tsp cumin
1/4 tsp ground coriander
2 tbsp brown sugar
1 tsp salt
1 tsp fresh ground black pepper
Mix rub ingredients thoroughly.
Apply to fish.
Set aside.
Heat your grill to 350 degrees (better with charcoal than with gas but both work, you can also use your oven just be careful the wood plank will smoke).
Place rosemary on soaked plank on grill for 5 minutes prior to putting fish on it.
Place fish on plank overtop the rosemary and cook until tender.
Do not flip fish. Serve on plank.
Pickled
---
Simple Pickled Recipe (Modified from a Hank Shaw recipe)
(Ingredients - per pound of fish)
Brine: 1 cup kosher salt, 4 c. water
Pickling solution:
1 cup water
2 cup cider vinegar
1/3 cup sugar
2 tsp pickling seasoning
2 bay leaves
Peel of 1 lemon
1 medium red onion - thinly sliced
---
Pickled Fish Recipe
1/2 gallon of fish (de-bone, take the lateral line off, and remove all 'red' meat from fillets)
Cut fish into bite size chunks
4 cups water + 1 cup salt
Soak for 48 hours
Drain and rinse in cold water and cover with white vinegar for 24 hours, drain.
Brine
Onions
2 tsp peppercorns
2 tbsp minced garlic
3 tbsp lemon juice
2 cups white vinegar
1 1/2 cups sugar
4+ bay leaves
5 whole cloves (more is better)
1 tbsp All Spice whole
Combine and soak for 10 days.
Option – add a jalapeno to spice it up a bit.
For a double batch of fish, triple the brine.
---
Smoked Northern Pike
Brine:
5 cups cold water
1/4 cup canning/pickling salt
1/2 cup dark brown sugar
2 tbsp (or more) minced garlic
Steps:
Prepare fillets with skin off, ribs and peritoneum removed, and Y-bones in tact (help hold meat together when cooking).
Prepare brine, whisk until salt and sugar are completely dissolved. Tip - use a large stainless steel bowl.
Place thoroughly rinsed fillets in brine and submerse completely. Tip - place plate on top to keep meat under liquid surface.
Cover bowl with clear wrap and refrigerate two days.
Pick preferred smoking wood type. For light colored meats, I prefer fruit woods (i.e. cherry, chokecherry, apple). Feel free to mix flavors.
Place wood chips in box and rinse to dampen. Place wood chip box and water dish in smoker and preheat to 170F-180F. While smoker is preheating, grease meat racks with cooking spray or a wrapper from a stick of butter. Briefly rinse fillets and place on greased racks. Place a tray below racks to catch dripping water/brine.
*After the smoker has started to produce smoke (not before!) place meat racks into smoker allowing enough spacing for proper circulation of smoke and heat. Cooking time is about three hours. If a fully loaded smoker, you may need to add a half hour + to your total cooking time.
Remove meat when done and allow to rest for a half hour or longer. I place the meat racks in the oven to rest as it is an insulated and sealed container.
Store fillets in vacuum seal bags and store properly.
---
Fish Cleaning and Cooking Tips
---
Transporting Fillets
in North Dakota
---
---
How to Clean
a Walleye for Transport
---
---
Cooking and Cleaning Walleye

(after transporting to home)
---
---
Removing Y Bones from
Northern Pike
---