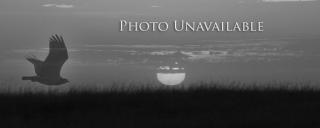 McCown's Longspur
Fact Sheet
Scientific Name
Rhynchophanes mccownii
General Description
L 6", WS 11", 0.81 oz. Male is gray overall with a white neck, crescent-shaped black patch on chest, and rufous shoulders. Female is light brown. Black "T" on white tail.
Status
Occurs in North Dakota from mid-April to September. Peak breeding season late May to mid-July.
Abundance
Rare.
Primary Habitat
Arid, shortgrass prairie or heavily grazed mixed-grass prairie.
Federal Status
Migratory Bird.
Reason for Designation
Former records indicate this species was once much more common in North Dakota, possibly as abundant as Chestnutcollared Longspurs, and had nested throughout much of the state. Since the mid-1960s, this species has presumably only nested in Bowman County. It is included on the National USFWS Birds of Conservation Concern list, and also in Region 6, BCR 11 and 17. Partners in Flight (PIF) identifies the McCown's Longspur as a Regional Concern and Stewardship Species, and a U.S.-Canada Stewardship Species.
Locations and Conditions of Key Habitat
Preferred Habitat
McCown's Longspurs should be found in open shortgrass or heavily grazed mixed-grass prairie with little litter and low vegetation cover. Small-grain stubble fields and summer fallow fields are occasionally used. Often breed on high, barren hillsides with a southern exposure. Associated vegetation includes blue grama and buffalo grass. Nests are often placed near a clump of grass, shrubs, plains prickly pear, or a cowpie. Pairs often nest near each other and each territory requires 0.5-1.5 ha. Primary food includes seeds of grasses and forbs but also feed on insects and other arthropods.
Key Areas and Conditions for McCown's Longspur in North Dakota
The known tract of prairie used by breeding McCown's Longspurs is a section of state school land in Bowman County. It is also referred to as the Rhame Prairie.
Problems Which May Affect this Species
Habitat
Conversion of grassland to cropland, energy development and urban expansion. Degradation of grasslands from invasive plants, woody encroachment, succession, and loss of diversity. Specifically, the loss of expansive tracts of native shortgrass prairie habitat has resulted in the near extirpation of the species in North Dakota.
Other Natural or Manmade Factors
Rate or effect of brown-headed cowbird parasitism is not known. The application of some pesticides has been directly linked to the death of nestlings. The effect of human disturbance on nesting birds is unclear.
Research and Survey Efforts
Current Research or Surveys
There is currently nothing specific to the species in North Dakota.
Previous Research or Surveys
Little, if any, research or surveys specifically for McCown's Longspur in North Dakota.
Numerous published reports and gray literature on this species throughout its range.
Additional Research or Surveys Needed
Determine the breeding status or occurrence of McCown's Longspurs in North Dakota. Population estimates likely overestimate the population size.
Population and Trend Estimates
PIF Global Population Estimate: 600,000
PIF North American Population Estimate: 600,000
PIF North Dakota Population Estimate: unknown, estimated less than 500
Survey-wide BBS Trend 1966-2012: -4.24
Management Recommendations
• Protect known breeding sites from agricultural and urban development. • Provide areas with little litter, low forb cover, and short, sparse vegetation. • Graze areas where grass is too tall and thick. • Use prescribed burns in areas where fire has been suppressed.
Monitoring Plans
According to the Partners in Flight Landbird Conservation Plan, long-term population trend monitoring such as the Breeding Bird Survey is generally considered adequate, but may not account for some issues (e.g. bias). However, few BBS routes in North Dakota intersect with McCown's Longspur possible range. Future monitoring proposals should follow recommendations North American Bird Conservation Initiative 'Opportunities for Improving Avian Monitoring'.
2005-2015 Progress
The McCown's Longspur remains a Level III Species of Conservation Priority. The species is in imminent danger of being extirpated from North Dakota.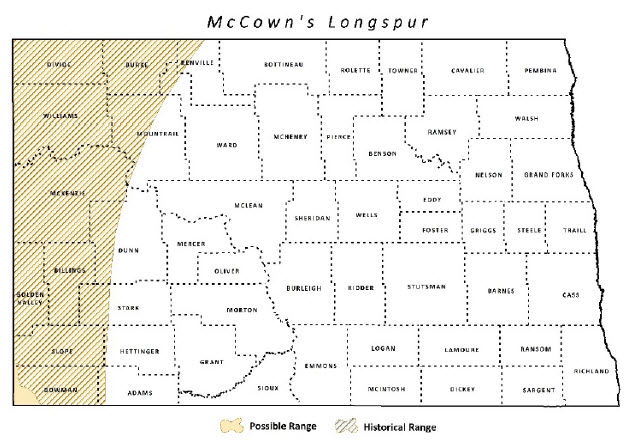 Note: A listing of works consulted when compiling the information on this page may be found in the 2015 State Wildlife Action Plan.