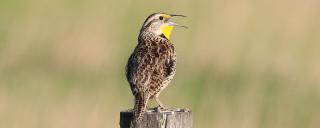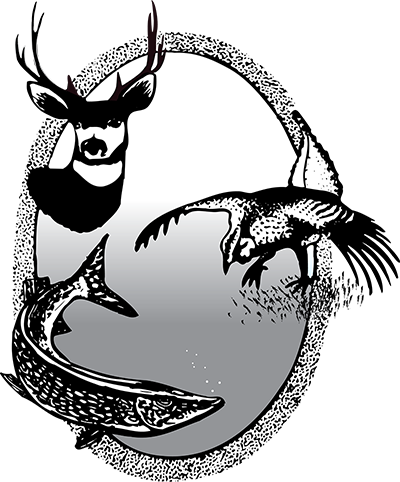 Fact Sheet

| | |
| --- | --- |
| Scientific Name | Sturnella neglecta |
| General Description | L 9.5", WS 14.5", 3.4 oz. Medium-sized songbird, bright yellow belly and underparts with distinctive black "V". |
| Status | Occurs in North Dakota from March to October. Peak breeding season early May to mid-July. |
| Abundance | Common to uncommon. |
| Primary Habitat | Grassland with few or no trees. Perches such as fence posts are used extensively. |
| Federal Status | Migratory Bird. |
| Reason for Designation | Although still fairly common in the western 2/3 of North Dakota, the Western Meadowlark is much less common in the eastern 1/3 of the state compared to historical records. The species is showing a steady population decline. |
Locations and Conditions of Key Habitat
Preferred Habitat
Native and planted grassland are primary habitat. Also occur in roadsides, weedy field borders, and hayland. Avoid very sparse grassland or tall cover. Fence posts are favored perches for singing. Will tolerate some shrubs but less tolerant of higher amount of trees in grassland. Territory size ranges from 3-13 ha. Forages on the ground for grain and weed seeds and insects.
Key Areas and Conditions for Western Meadowlark in North Dakota
No specific areas have been identified.
Problems Which May Affect this Species
Habitat
Conversion of grassland to cropland, energy development and urban expansion. Degradation of grasslands from invasive plants, woody encroachment, succession, and loss of diversity. Loss of tall perches, such as fencing, around grassland habitat may limit use.
Other Natural or Manmade Factors
Brown-headed cowbird parasitism is variable but may be of concern. Confirmed deaths from consuming poisoned grain. Pesticide acute toxicity may be a potential contributor to declines of grassland birds. Grassland birds avoid habitat within 150 meters of roads and 350 meters of oilfield infrastructure, likely due to anthropogenic disturbance of heavy traffic and/or changes in habitat near oil development.
Research and Survey Efforts
Current Research or Surveys
Southern Illinois University (ND SWG T-43-R) is studying abundance, productivity and nest survival of grassland nesting birds in different vegetation types. A final report is anticipated in 2016.
Previous Research or Surveys
University of Montana (ND SWG T-1-R) developed breeding bird models which link population density to local and landscape habitat features in the Prairie Pothole Region of North Dakota. Western Meadowlark was one of 16 grassland bird focal species. The project was initiated in 2002, a final report was provided in 2004 (Naugle 2005), and dissertation in 2007 (Quamen 2007).
Numerous published reports and gray literature on this species throughout its range.
Additional Research or Surveys Needed
Post-fledgling survival, breeding site fidelity, nest success and adult survival is lacking for Western Meadowlark.
Population and Trend Estimates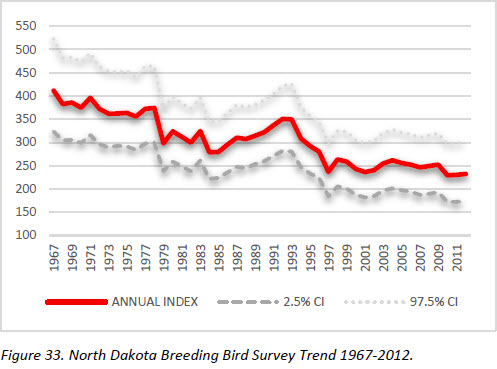 PIF Global Population Estimate: 85,000,000
PIF North American Population Estimate: 79,000,000
PIF North Dakota Population Estimate: 5,600,000
North Dakota BBS Trend: see figure 33
Survey-wide BBS Trend 1966-2012: -1.39
Management Recommendations
Protect or create large tracts of grassland, particularly native prairie.
Prevent encroachment of woody vegetation in grasslands.
Encourage vegetative diversity.
Conduct prescribed burns at varying intervals.
Delay mowing until July 15.
Use native grasses when replanting or restoring grassland.
Monitoring Plans
According to the Partners in Flight Landbird Conservation Plan, long-term population trend monitoring such as the Breeding Bird Survey is generally considered adequate. Ensuring all BBS routes are conducted annually is priority.
2005-2015 Progress
The Western Meadowlark has been added as a Level II Species of Conservation Priority.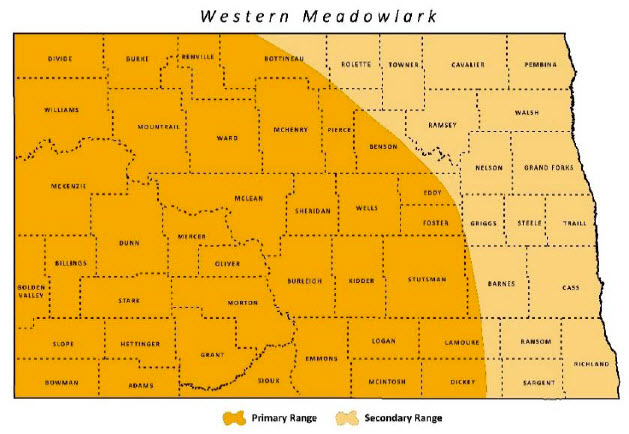 Note: A listing of works consulted when compiling the information on this page may be found in the 2015 State Wildlife Action Plan.