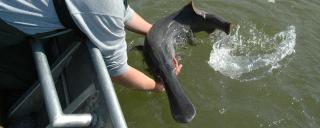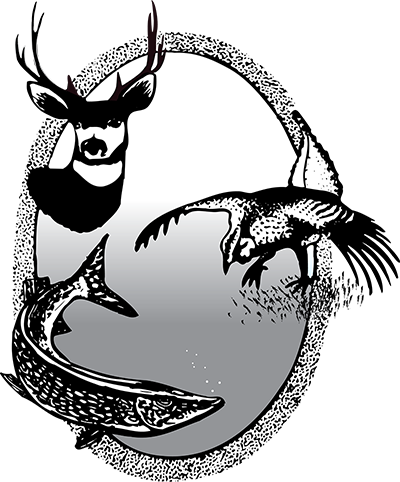 Fact Sheet
Scientific Name
Polyodon spathula
Description
Large paddle-shaped snout. Smooth skin has no scales. Color ranges from blue-gray to nearly black with a lighter underside. Long fleshy gill covers.
Weight
Can weigh over 100 pounds
Body length
Up to 7 feet
Habitat
In summer months, slack water areas of a river are a preferred habitat for paddlefish. If this is not available, areas of low flow are sought such as behind sandbars, wing dams, or other structures. In winter paddlefish move into the deeper water of Lake Sakakawea. Paddlefish spawn in the spring and lay their eggs over silt-free gravel beds.
Breeding Season
Spring spawning
Status in North Dakota
Locally common. Year-round resident.
Food habits
Primarily zooplankton.
Conservation Issues
Habitat
Impoundments along the Missouri River System have changed the flow regime of the river and cover needed for spawning habitat. Slower flows have allowed silt to cover important gravel beds, making them unusable by spawning fish. As a result, reproduction only occurs in the wild when conditions are favorable in the Yellowstone River. Dams have also impeded the movement of fish throughout the system, separating populations. This brings up concerns about genetic integrity.
Other Natural or Manmade Factors
Over-harvest for the fishes' valuable roe is a concern for this species. The North Dakota Game and Fish Department regulates a controlled harvest for paddlefish as a sport fish. Water withdrawal or diversion for irrigation from the Yellowstone River is a growing concern.
More information: Paddlefish FAQs