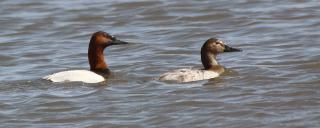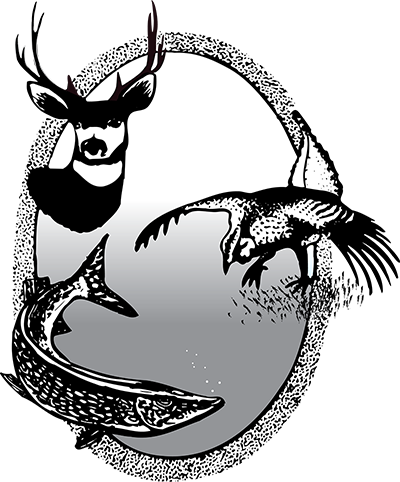 Fact Sheet

| | |
| --- | --- |
| Scientific Name | Aythya valisineria |
| General Description | L 21", WS 29", 2.7 lb. Long, pointed, black bill on a sloping, dark red head, red eye, gray and white pattern on back and sides. |
| Status | Occurs in North Dakota from mid-March to November. Peak breeding season from mid-May to mid-August. |
| Abundance | Fairly common to abundant. |
| Primary Habitat | Deep wetlands, particularly semi-permanent wetlands with emergent cover. |
| Federal Status | Migratory Bird. |
| Reason for Designation | Identified as a species of Moderately High Continental Priority in the North American Waterfowl Management Plan. |
Locations and Conditions of Key Habitat
Preferred Habitat
Canvasbacks use semi-permanent wetlands, small lakes, or deep water marshes containing emergent cover such as bulrush and cattails. Occasionally use shallow river impoundments managed for waterfowl. Canvasbacks are an ecological specialist and rely heavily on deep, more stable wetlands for breeding. Feed primarily on wild celery and pondweeds, but also on roots, tubers, grass seeds, and some aquatic invertebrates such as mollusks. Nest over water in fairly dense stands of emergent vegetation of bulrush, reeds, and cattails. Nests are typically located within 1-20 yards from the edge of open water. Shallow wetlands with beds of sago pondweed or wigeongrass are especially important as migration stopover sites in North Dakota.
Key Areas and Conditions for Canvasback in North Dakota
No specific sites have been identified at this time.
Problems Which May Affect this Species
Habitat
Wetland destruction and/or degradation reduces available nesting habitat and could result in increased predation.
Other Natural or Manmade Factors
The occurrence of lead poisoning in this species is reduced since the ban on lead shot for waterfowl. Nests are parasitized by redheads. Over harvest could reduce the population, but conservative hunting regulations are in place. Human disturbance (e.g. recreational boaters) can cause birds to unnecessarily disperse from resting grounds. Mortality from collisions with power lines and wind turbines. Expanding oil and gas development in North Dakota may impact Canvasback and there is increasing risk of oilfield contamination to wetlands.
Research and Survey Efforts
Current Research or Surveys
Traditional waterfowl survey efforts occur annually.
The effects of oil and gas development on waterfowl and waterfowl production is being studied in North Dakota.
There is currently nothing specific to the species in North Dakota.
Previous Research or Surveys
The Canvasback is one of the most studied ducks in North America. Numerous published reports and gray literature on this species throughout its range and in North Dakota.
Additional Research or Surveys Needed
Contact the North Dakota Game and Fish Department Waterfowl Biologists for most current information needs.
Population and Trend Estimates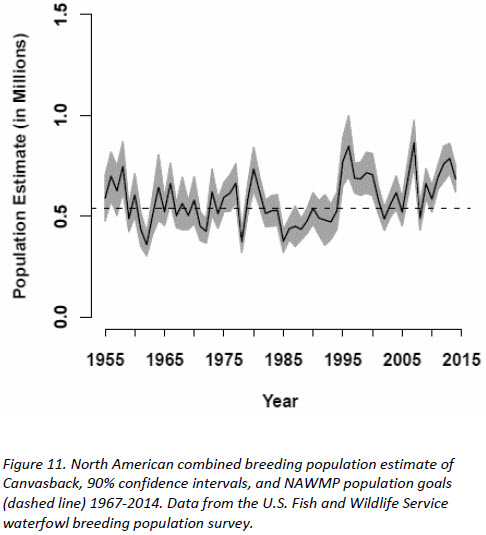 2014 Waterfowl Breeding Population: 700,000 ± 0.05 million, see figure 11
North American Waterfowl Management Plan Objective : 540,000
Management Recommendations
Preserve semi-permanent wetlands and wetland complexes.
Restore hydrology and vegetation to degraded wetlands.
Leave grassed buffer strips around wetlands and waterways to prevent erosion and runoff into wetlands.
Stocking fish in shallow wetlands is detrimental to waterfowl production.
Utility development should follow the guidance of "Reducing Avian Collisions with Power Lines" including marking power lines and creating an Avian Protection Plan.
Wind industry companies should collaborate with the American Wind and Wildlife Institute for responsible wind development.
Monitoring Plans
For nearly 50 years, the May Waterfowl Breeding Population and Habitat Survey have been in place. In addition, four-square mile and duck brood counts are conducted annually by the U.S. Fish and Wildlife Service. The North Dakota Game and Fish Department also conducts annual mid-July duck brood index surveys. At this time, there appears to be no additional monitoring needs.
2005-2015 Progress
The Canvasback remains a Level II Species of Conservation Priority. Several State Wildlife Grant Projects (T2-9-R, T- 18-R, T-27-HM) have contributed to habitat enhancement of wetlands for Canvasback and other wetland dependent birds.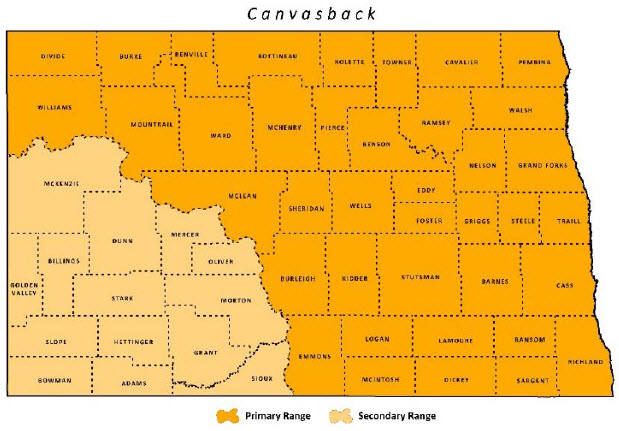 Note: A listing of works consulted when compiling the information on this page may be found in the 2015 State Wildlife Action Plan.