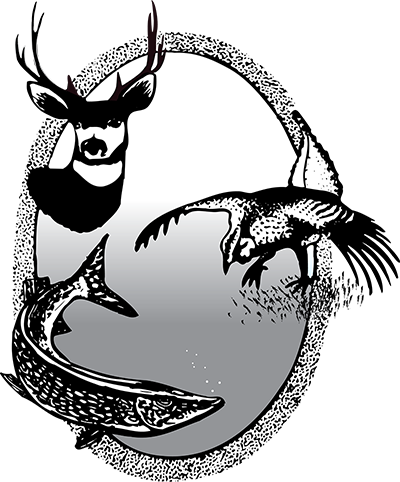 Not Your 8-5 Job
District Game Warden Corey Erck
I had a person make a comment to me a while back. He told me that he knows where I live, and he didn't think my work truck moves as often as he thought it should.
At the time he said it to me I didn't think about it much. Then one breezy cold Sunday night in January, I was driving home well after dark from checking ice fishing activity on my ATV all day, I would arrive home at about 8 p.m. that night.
I'm not sure why but the comment came to my mind, and I wondered if that guy will be going by my house tonight at eight when I get home, doubtful.
This made me reflect on his comment and why he said it. There is a lot to explain about the job of being a game warden.
When the pandemic hit, and people started working remotely this was nothing new for wardens as most have had home offices and mobile computers for years and have been able to do a lot of work from anywhere.
If you are going by a game warden's house Monday morning and expect to see that truck gone, realize that most Monday mornings there is probably a groggy warden sitting over a computer and a cup of coffee typing up reports for the State's Attorney after a long weekend of work.
How about Tuesday, Wednesday and Thursday? Game wardens work three out of four weekends for most of the year so don't be surprised if my days off are during the middle of week.
It does not seem likely that this guy goes by my house every Memorial Day or Labor Day weekend as he is probably out having fun not realizing that the game wardens of North Dakota are out on the water enforcing the boat safety laws hoping everyone gets home safe.
I have seen more firework displays than I care to remember all from the seat of a boat, again working long hours on the water of a holiday weekend.
The boating season also has the late-night call outs for stranded or lost boaters, or like what happened on "just another Saturday" in June of 2021.
Me and my neighboring warden Jerad Bluem went to work around noon expecting to be home around the time the sun went down. Little did we know that we would be spending the afternoon in triple digit temps searching for a lost kayaker and later, well after dark we were called to assist with a fatal accident that took the life of a personal watercraft operator. Fourteen hours after the start of a normal day and my head hits the pillow after 2 a.m.
Fall is the favorite season of most game wardens that I know.
With the start of the hunting seasons, there is the early mornings of checking the early Canada goose hunter followed not long after by getting home around 10 p.m. from checking archery deer hunters.
September and October are filled with the excitement of opening weekends. Rest assured that we are out there many times before the first legal hours of shooting light for ducks and well after the last light has ended for the archery deer hunter.
It would not be uncommon for you to see a warden truck home early on Saturday in the fall, having worked since 5 a.m. What you probably will not see is that game warden leaving again after dark to go and work an area where there have been complaints of night hunting activity.
Home again at 3 a.m. and back out the door with a jug of coffee by 8 or 9 o'clock Sunday morning.
Finally, when November comes and deer season starts, I again doubt this fellow is driving by my house as I am quite sure I don't live near the deer camp he is spending the weekend at with his family.
Most days during the deer gun season it is dark both on my departure and arrival back home.
To be clear after reflecting on the gentleman's comment, I don't feel any animosity toward him. I think it was just an off-hand comment made from ignorance of what the job of being a game warden entails.
In-fact if he happens to read my article, nothing would please me more than having him call so we could arrange to meet over a cup of coffee.
Game wardens do all these things and more, including answering the after-hours phone calls not knowing if it is a person just calling to ask a question or if it is an emergency or on-going violation report that will see me out the door and, in my truck, as fast as I can put the uniform on.
One would not be an effective game warden working 8-5 Monday through Friday.
This is what I signed up for 23 years ago and I would not change it.