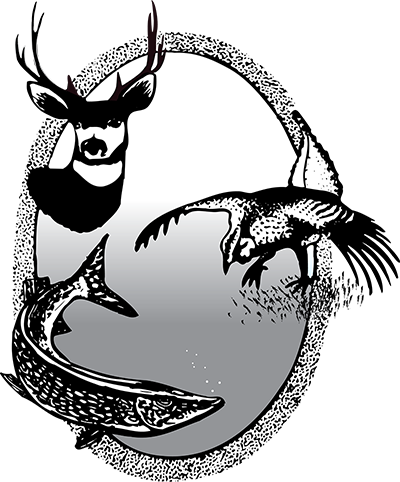 FAQ
What if I have an antlerless deer permit and I shoot a deer with two-inch spikes, but I could not see them when I shot?
Game wardens have some leeway about what is an antlered deer. However, it is always a hunter's responsibility to fully identify your target before shooting.
I shot a deer, but it is rotten. What can I do?
You must take possession of the animal by tagging it. A license only allows you the opportunity to hunt. It is not a guarantee to harvest a deer, or to the quality of the animal.
What should I do if I find a wounded deer?
Contact a game warden. Do not shoot the deer unless you want to tag it, or are instructed by the warden to do so.
Is camouflage blaze orange acceptable for the deer gun season?
No. You must wear both a hat and outer garment above the waistline totaling at least 400 square inches of solid daylight fluorescent orange.
I hunt with a bow. When do I have to wear orange?
During the regular deer gun season you must wear orange. During the muzzleloader season, however, bowhunters do not need to wear orange.
Can I hunt road rights-of-way?
Do not hunt on road rights-of-way unless you are certain they are open to public use. Most road rights-of-way are under control of the adjacent landowner and are closed to hunting when the adjacent land is posted closed to hunting.
Can I hunt on a section line if it is posted on both sides?
No. If the land is posted on both sides, the section line is closed to hunting, but is still open for travel.
Can I retrieve a wounded deer from posted land?
If the deer was shot on land where you had a legal right to be and it ran on posted land, you may retrieve it. However, you may not take a firearm or bow with you. The department suggests contacting the landowner as a courtesy prior to entering.
What if the landowner says I cannot retrieve a deer from posted land that was shot on land where I had a right to be?
Can I drive off a trail on private land to retrieve a deer?
Unless prohibited by a landowner or operator, you may drive off-trail on private land once a deer has been killed and properly tagged. You must proceed to the carcass by the shortest accessible route, and return to the road or trail by the same route. However, off-trail driving is prohibited in all circumstances on state wildlife management areas, Bureau of Land Management lands, national wildlife refuges, national grasslands, federal waterfowl production areas and state school land.
Can I transport someone else's deer?
Yes, but you will need a transportation permit from a game warden. The license holder, person transporting the animal, and the carcass must be presented to the game warden before the permit is issued.
What if I am going to take my deer head to a taxidermist and meat to a butcher shop?
How do I keep the tag with it all? The tag should remain with the head and the carcass tag should remain with the meat.
May I carry a pistol when I am hunting with a deer rifle?
Yes, but the handgun must meet minimum requirements listed in the deer hunting regulations to be legal for taking deer.
How do I carry a revolver in a vehicle when hunting?
The cylinder of a revolver must be completely unloaded.
How do I carry a muzzleloader in a vehicle when hunting?
Remove the cap from a percussion gun or the powder from the flash pan of a flintlock.
Can I use a bow to fill my regular deer gun license?
Yes. You may use any legal firearm or bow during the regular deer gun season.
Can I use a gun to fill my bow license?
No. Archery licenses may be filled only with bow and arrow.
Can I carry both bow and gun afield during deer gun season if I have both licenses?
Yes, but only if you are going to fill your gun license. No firearms, except handguns, may be in the hunter's possession while hunting with a deer bow license. However, handguns may not be used in any manner to assist in the harvest of a deer with an archery license.
Are muzzleloading handguns legal for deer hunting?
Yes. They must be .50 caliber or larger.
Are the .22-250 and .243 legal for deer hunting?
Yes. Centerfire rifles of 22 caliber or larger are legal.
If I see a collared deer during deer season am I okay to shoot it?
Yes. Radio-collared deer can be legally harvested during the deer season. Hunters are asked to contact the Game and Fish Department after harvesting a collared deer.
Should I be concerned about chronic wasting disease?
The threat of CWD is a serious concern to North Dakota and its natural resources. CWD affects the nervous system of members of the deer family and is always fatal to the animal. CWD will not likely be fully understood without the assistance, cooperation, and commitment of big game hunters and their families throughout the nation. As we learn more about the disease and its impacts on wildlife, we will keep the public informed. More information on CWD, including deer head drop-off locations this fall for the Game and Fish Department's ongoing research project, is available here.