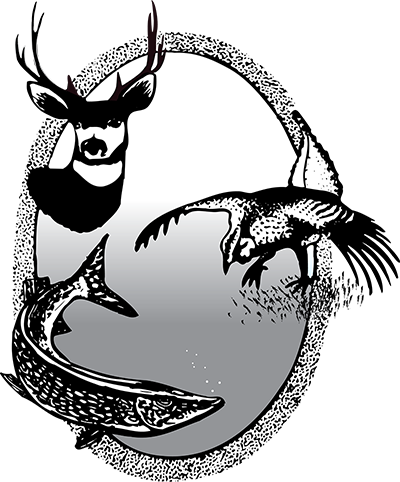 Resident Licenses and Requirements
See Resident License Eligibility.
In North Dakota hunting, fishing and boat licensing fees support wildlife management area management, fish stocking, educational programs, wildlife and fisheries surveys, boat and fishing access, the PLOTS program, enforcement and more.
Resident Licenses
Deer gun, moose, elk, bighorn sheep, tundra swan and wild turkey licenses are issued by lottery and require special application procedures. Go to the Buy and Apply page to learn what lottery licenses are available at the present time.
Note: For a breakdown of licenses required by species/season please see the Licensing Requirements Quick Reference.
Prerequisites
Prerequisite for all hunting and fishing licenses
Fishing, Hunting, Furbearer Certificate (need only purchase one per year)
$1
Prerequisite for all hunting licenses except furbearer
General Game and Habitat License (need only purchase one per year)
$20
---
Combination Licenses
Combination License (age 16 or older) - includes fishing, general game and habitat, small game and furbearer licenses.
$50
Veteran Combined Hunting (requires 100% service-related disability) includes general game and habitat, small game, and fur-bearer licenses
$3
Fishing
Fishing License - under 16 not required, except for paddlefish tags, which are required for all paddlefish snaggers.
$16
Married Couple Fishing License
$22
Senior Citizen Fishing License (65 or older)
$5
Totally or Permanently Disabled Fishing License (proof of disability required)
$5
Veteran with a 50 percent service-related disability
$5
Paddlefish
$10
Big Game
Deer Gun (1st lottery)
$30
Youth Deer Gun (under age 16)
$10
Deer Bow License (age 16 or older)
$30
Youth Deer Bow (under age 16)
$10
Pronghorn Gun (age 16 or older)
$30
Youth Pronghorn Gun (under age 16)
$10
Pronghorn Bow (age 16 or older)
$30
Youth Pronghorn Bow (under age 16)
$10
Moose Gun (age 16 or older)
$30
Youth Moose Gun (under age 16)
$10
Moose Bow (age 16 or older)
$30
Youth Moose Bow (under age 16)
$10
Elk Gun (age 16 or older)
$30
Youth Elk Gun (under age 16)
$10
Elk Bow (age 16 or older)
$30
Youth Elk Bow (under age 16)
$10
Bighorn Sheep Gun (age 16 or older)
$30
Youth Bighorn Sheep Gun (under age 16)
$10
Bighorn Sheep Bow (age 16 or older)
$30
Youth Bighorn Sheep Bow (under age 16)
$10
Nonrefundable Application Fee for moose, elk and sheep lottery applications
$5
Small Game
Small Game License (age 16 or older) - for upland species such as pheasant and grouse, waterfowl and other migratory birds.
$10
Early Canada Goose
Early Canada Goose - required of all hunters regardless of age for Early Canada Goose season - ages 16 and older also need small game license and federal waterfowl stamp.
$5
Wild Turkey
Wild Turkey, spring and fall (1st lottery) - small game license also required for those age 16 and older.
$15
Sandhill Crane
Sandhill Crane Permit - small game license also required for those age 16 and older.
$10
Federal Waterfowl Stamp (Duck Stamp)
Required of all hunters ages 16 and older to hunt ducks, geese, swans, mergansers and coot. Exception: Not required to hunt during spring light goose conservation season.
$25
Harvest Information Program (HIP) Registration
All hunters regardless of age must obtain a new Harvest Information Program registration number each year for each state in which they hunt ducks, geese, swans, mergansers, coots, cranes, snipe, doves and woodcock.
Free