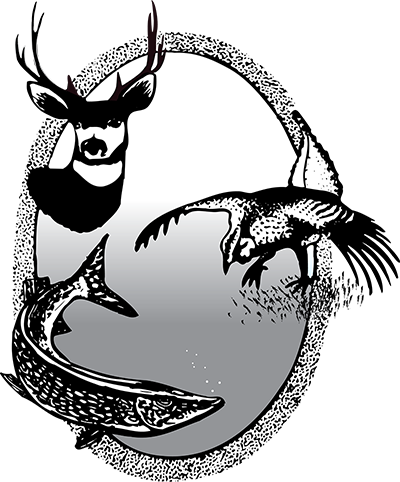 CWD Surveillance Continues
The North Dakota Game and Fish Department will continue its Hunter-Harvested Surveillance program during the 2016 hunting season, by sampling deer for chronic wasting disease and bovine tuberculosis from 13 units. In addition, all moose and elk harvested in the state are eligible for testing.
Samples from hunter-harvested deer taken in the eastern portion of the state will be tested from units 1, 2A, 2B, 2C, 2D, 2E, 2F1, 2F2, 2G, 2G1, 2G2 and 2L. In addition, deer will be tested from unit 3F2 in the southwest.
Every head sampled must have either the deer tag attached, or a new tag can be filled out with the license number, deer hunting unit and date harvested.
Hunters are encouraged to drop off deer heads at a collection site.
Moose and elk heads should be taken to a Game and Fish office.
Pheasants Numbers Down Statewide
North Dakota's roadside pheasant survey conducted in late summer indicated total birds and number of broods are down statewide from 2015.
Aaron Robinson, North Dakota Game and Fish Department upland game bird management supervisor, said the survey showed total pheasants are down 10 percent from last year. In addition, brood observations were down 7 percent, while the average brood size was down 8 percent.
"Compared to last year, our late summer roadside counts indicate pheasant hunters are going to have to work harder to find more pheasants in most parts of the state, with fewer young roosters showing up in the fall population," Robinson said. "As always, there will be local areas within all four pheasant districts where pheasant numbers will be both better and below what is predicted for the district."
Statistics from southwestern North Dakota indicated total pheasants were down 21 percent and broods observed down 19 percent from 2015. Observers counted 21 broods and 168 birds per 100 survey miles. The average brood size was 5.5.
Results from the southeast showed birds are down 4 percent from last year, and the number of broods up 1 percent. Observers counted eight broods and 62 birds per 100 miles. The average brood size was 5.0.
Statistics from the northwest indicated pheasants are up 129 percent from last year, with broods up 161 percent. Observers recorded 12 broods and 93 birds per 100 miles. Average brood size was 6.1.
The northeast district, generally containing secondary pheasant habitat, with much of it lacking good winter cover, showed two broods and 14 birds per 100 miles. Average brood size was 3.9. Number of birds observed remained the same, and the number of broods recorded was up 5 percent.
Find Your Deer License
Now is the time to locate your deer license and check it for accuracy.
Every year the North Dakota Game and Fish Department's licensing section receives last-minute inquiries from hunters who can't find their license. When that happens, it's difficult to try to get a replacement license in time for the season opener.
Another reason to check the license now is to make sure the unit and species is what was intended.
Deer hunters in need of a replacement license can print out a duplicate (replacement) license application from the Game and Fish website, gf.nd.gov, or can call 701-328-6300 to have an application mailed or faxed.
The form must be completely filled out and notarized, and sent back in to the Department with a fee.
Permit Required to Possess Dead Deer
North Dakota Game and Fish Department enforcement personnel are issuing a reminder that a permit is required before taking possession of a dead deer, or any part of a dead deer such as a skull and antlers, found near a road or in a field. Only shed antlers can be possessed without a permit.
Permits to possess are free and available from game wardens and local law enforcement offices.
In addition, hunters are reminded to properly dispose of dead deer. Harvested deer cannot be left on the side of a roadway or in a ditch, and deer parts cannot be discarded in commercial dumpsters.
Report Migrating Cranes
Whooping cranes are in the midst of their fall migration and sightings will increase as they make their way through North Dakota this month. Anyone seeing these birds as they move through the state is asked to report sightings so the birds can be tracked.
Whoopers stand about 5 feet tall and have a wingspan of about 7 feet from tip to tip. They are bright white with black wing tips, which are visible only when the wings are outspread. In flight they extend their long necks forward, while their long, slender legs extend out behind the tail. Whooping cranes typically migrate singly, or in groups of two to three birds, and may be associated with sandhill cranes.
Other white birds such as snow geese, swans and egrets are often mistaken for whooping cranes. The most common misidentification is pelicans, because their wingspan is similar and they tuck their pouch in flight, leaving a silhouette similar to a crane when viewed from below.
Anyone sighting whoopers should not disturb them, but record the date, time, location and the birds' activity. Observers should also look closely for and report colored bands which may occur on one or both legs. Whooping cranes have been marked with colored leg bands to help determine their identity.
Whooping crane sightings should be reported to U.S. Fish and Wildlife Service offices at Lostwood, 701-848-2466, or Long Lake, 701-387-4397, national wildlife refuges; the North Dakota Game and Fish Department in Bismarck, 701-328-6300, or to local game wardens across the state. Reports help biologists locate important whooping crane habitat areas, monitor marked birds, determine survival and population numbers, and identify times and migration routes.
Motorists Warned to Watch for Deer
Motorists are reminded to watch for deer along roadways this time of year because juvenile animals are dispersing from their home ranges.
October through early December is the peak period for deer-vehicle accidents. Motorists are advised to slow down and exercise caution after dark to reduce the likelihood of encounters with deer along roadways. Most deer-vehicle accidents occur primarily at dawn and dusk when deer are most often moving around.
Motorists should be aware of warning signs signaling deer are in the area. When you see one deer cross the road, look for a second or third deer to follow. Also, pay attention on roadways posted with Deer Crossing Area caution signs.
Deer-vehicle accidents are at times unavoidable. If an accident does happen, motorists are reminded that a law passed by the 2013 state legislature eliminates the need for the driver involved in an accident to notify law enforcement authorities, if only the vehicle is damaged. Deer-vehicle accidents that involve personal injury or other property damage still must be reported.
In addition, a permit is still required to take parts or the whole carcass of a road-killed deer. Permits are free and available from game wardens and local law enforcement offices.
A few precautions can minimize chances of injury or property damage in a deer-vehicle crash.
Always wear your seat belt.
Don't swerve or take the ditch to avoid hitting a deer. Try to brake as much as possible and stay on the roadway. Don't lose control of your vehicle or slam into something else to miss the deer. You risk less injury by hitting the deer.
If you spot deer ahead, slow down immediately and honk your horn.
Order 2017 Outdoors Calendars
The North Dakota Game and Fish Department is taking orders for its North Dakota OUTDOORS calendar, the source for all hunting season and application dates for 2017. Along with outstanding color photographs of North Dakota wildlife and scenery, it also includes sunrise-sunset times and moon phases.
To order, send $3 for each, plus $1 postage, to: Calendar, North Dakota Game and Fish Department, 100 N. Bismarck Expressway, Bismarck, ND 58501-5095. Be sure to include a three-line return address with your order, or the post office may not deliver our return mailing.
The calendar is the North Dakota OUTDOORS magazine's December issue, so current subscribers will automatically receive it in the mail.
Game and Fish Volunteers Recognized
The following volunteer instructors for the North Dakota Game and Fish Department were recognized in August at the annual training conference in Bismarck:
Instructors of the Year – Lynn Baier, Fordville, and Chuck Vasicek, Bismarck.
Team of the Year – Dave Urlacher and Troy Anderson, both Dickinson.
Lifetime Achievement Award – Harold Randall, Grand Forks, Lorne Sterner, Casselton, and Gordonna Toepke, New Salem.
30-year awards – David Colby, Kenmare; Wayne Evans, Stanley; Bruce Fairbrother, Towner; Allen Giese, Wahpeton; David Just, Beulah; Gary Leslie, Burlington; Allen Martin, Drake; Mark Walsh, Williston; Terry Week, Beach; and Walter Zimbelman, Fullerton.
25-year awards – Ray Aamold, Hatton; Rene Arnold, Cavalier; Douglas Benson, Fargo; Dale Bren, Elgin; Neil Dockter, Horace; Mark Frost, Carrington; Thomas Kelsh, Minot; Arvid Knutson, Park River; Bruce Messmer, Dickinson; Darris Olson, Bowbells; Paul Sinner, Wahpeton; Larry Thompson, Watford City; and Merle Weatherly, Jamestown.
20-year awards – Wayne Anderson, Bismarck; Lynn Baier, Fordville; Thomas Balsdon, Osnabrock; Beth Darr, Williston; Glen Fuhrman, Enderlin; Theodore Hoberg, Grand Forks; Mark Hunt, Minot; Dan Imdieke, Linton; Larry Johnson, Belfield; Larry Leier, Hague; Bradley Moser, Medina; Larry Nagel, Shields; Pam Podoll, Velva; Paul Roeder, Milnor; Douglas Sommerfeld, Lisbon; Larry Viall, Epping; Mark Volk, Bismarck; and Linda Weigum, Zap.
15-year awards – George Babcock, Garrison; Lynn Baltrusch, Fessenden; Janice Bishop, Kathryn; Diane Dockter, Horace; Craig Enervold, Moorhead, Minn.; Corinne Engen, Anamoose; John Gorman, Larimore; Jeremy Haugen, Minot; Rodney Howatt, Langdon; Brent Jacobson, Garrison; Grant Johnson, Almont; Mitchell Kallias, Minot; Darrell Kersting, Kindred; Richard Michels,, Elgin; Tony Poupa, Sand Coulee, Mont., Chris Pulver, Stanley; Scott Rehak, Williston; Randel Sand, Tuttle; Elizabeth Schaner, Center; Wayne Stanley, Minot; and Jodie Woroniecki, Hebron.
10-year awards – Richard Bell, Wyndmere; Jim Bennett, Minot; Roger Decker, Belfield; Gary Green, Granville; Todd Greenmyer, Oakes; Kari Helland, Kathryn; Justin Hughes, Minot; John Jacobson, Hatton; Sean Jalbert, Grandin; Perry Johnson, Northwood; Ruth Johnson, Belfield; Curtis Kaseman, Jamestown; Suzanne Kersting, Kindred; Kristi Kilde, Glen Ullin; Todd Lerol, Grafton; Calvin Leyendecker, Marion; Dale Miller, Grandin; Michael Myers, Dickinson; Robert Olstad, Galesburg; Ross Reimche, Bottineau; Gary Schaner, Bismarck; Gerald Schmidt, Devils Lake; Steve Schrader, West Fargo; John Schwalk, Milnor; Renae Selensky, Rugby; Dan Spellerberg, Oakes; Rich Truesdell, Wahpeton; Joe Tuchscherer, Rugby; Lavern Vance, Ray; Lamar Wells, Wyndmere; and Gary Wilz, Killdeer.
5-year awards – Joshua Barringer, Mooreton; Lena Anna Marie Bohm, Mohall; Damon Bosche, Medina; Jamey Boutilier, Hazen; Rodd Compson, Jamestown; Matthew Deal, Grace City; Jeremy Duckwitz, Moffit; Shari Fisher, Bismarck; Albert Frisinger, Harwood; David Kraft, Bismarck; Jacob Miedema, Jamestown; Scott Norton, Mandan; Tom Nowatzki, Bottineau; Quentin Obrigewitsch, Belfield; Daniel Olson, Medina; Jeffrey Sorum, Grand Forks; and Matt Webster, Jamestown.
Kading Receives Trees Award
Kevin Kading, North Dakota Game and Fish Department private land section leader, was recognized by the North Dakota Forest Service and North Dakota State University with the 2016 Natural Resource Professional Trees Award. Kading received his award at the Trees Bowl and Awards Ceremony in Fargo.
Kading was recognized for his work with the Department's PLI program, which has a primary focus of developing habitat and hunting access through the Private Land Open To Sportsmen program.