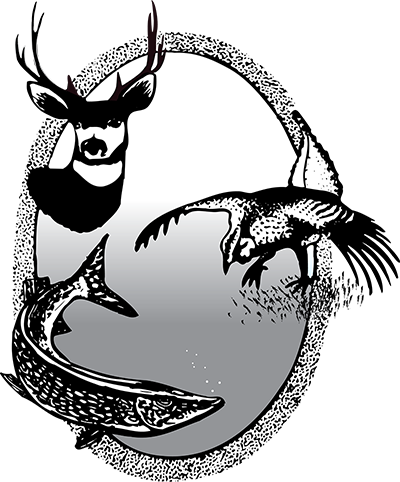 North Dakota OUTDOORS staff sat down with Stephanie Tucker, Game and Fish Department game management section leader, to talk about North Dakota's furbearers, the focus of many hunters and trappers this time of year. Tucker is a furbearer biologist who, when time allows, actively hunts and traps those animals she helps manage.
NDO: While mountain lions, animals once believed extirpated from the state but which have since established a breeding population in western North Dakota, often garner much of the furbearer spotlight, let's talk about coyotes.
Tucker: Coyotes are by far our most popularly pursued furbearer by hunters and those individuals who use both traps and cable devices. There is a lot of predator calling going on with coyotes in the state. Coyotes are also our most valuable furbearer these days. The fur market is an international market, it is a worldwide market that waxes and wanes. But really the last couple of years the only furbearer that has had decent value is the coyote, and that has garnered a lot of interest from people in North Dakota because we have a really good coyote population.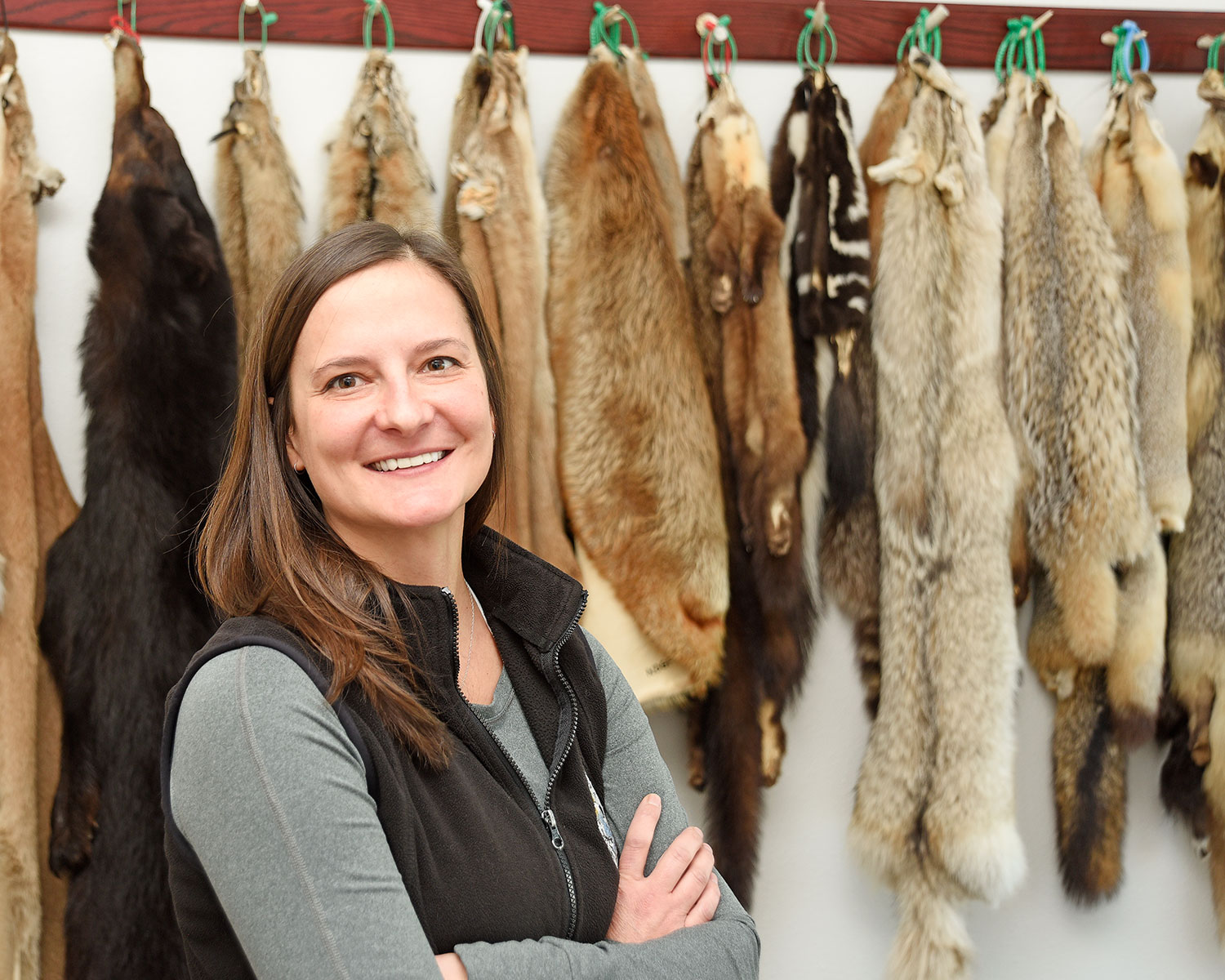 Stephanie Tucker, Game and Fish Department game management section leader, is also the agency's furbearer biologist.
Coyotes are found statewide, their numbers are abundant, and I think most hunters and trappers can expect to see similar numbers this year compared to previous years. By any means, the population did not go up by drastic numbers anywhere in the state. When someone tells me they want to hunt coyotes, but don't know where to go, I tell them anywhere. And if they don't find a coyote on their first stop, drive 5 miles in any direction and try again.
NDO: Considering the popularity of hunting coyotes, we're guessing questions from hunters arise about pursuing these furbearers at night.
Tucker: Yeah, they do. Our night hunting season for coyotes in North Dakota opens the Monday after deer gun season closes and runs to, generally, March 15. In the past, night hunting was just something you would do during a full moon, with lots of snow on the ground because you could see the animal without any artificial light. More recently, in the last couple of years, we have allowed the use of night vision equipment, or thermal imaging equipment, for hunting coyotes at night, which is gaining in popularity.
We remind hunters, though, that while we allow night vision and thermal imaging, artificial lights are still illegal for hunting coyotes at night. So, hunters cannot use any type of artificial light, red or green.
We also field a number of questions about using infrared illuminators that come with a lot of the night vision equipment. Unfortunately, the way state law is currently written, hunters cannot use infrared illuminators, which amplifies what little bit of light is out there so that hunters can better see their target. North Dakota law prohibits the use of artificial light, visible to the naked eye or not, for hunting coyotes at night.
NDO: Tell us about the Coyote Catalog, a joint effort between the Game and Fish Department and North Dakota Department of Agriculture to connect coyote hunters and trappers with landowners.
Tucker: This program is set up to match recreational hunters and trappers with landowners who maybe haven't had anybody knock on their door to ask permission to coyote hunt, but they are more than willing to open their property for coyote hunting because they are not comfortable with the number of coyotes they are seeing or hearing on their property.
Landowners who are willing to open their property up to coyote hunting or trapping, go on the Department of Agriculture's website and provide their name, address and the county where their property is located, and then hunters and trappers can sign up on the Game and Fish Department website and indicate the counties they are interested in hunting or trapping.
It's important to note that those livestock producers who are experiencing livestock loss or damage from coyotes should first contact the U.S. Department of Agriculture Wildlife Services. Wildlife Services provides assistance to producers to help remove coyotes that are causing problems and killing livestock, and they do that at no charge. The Coyote Catalog program is more just for hunters and landowners willing to work with each other for hunting, for recreation.
NDO: Let's talk mountain lions. But first, give us some general background on mountain lion hunting in North Dakota.
Tucker: It's a hunting season only, no trapping, for mountain lions in North Dakota. We have two hunting zones. Zone 1 in the badlands, where we have our primary population of mountain lions. And Zone 2, which is the remainder of the state. Mountain lions found in Zone 2 are those animals that have reached a certain age and have dispersed from their natal home ranges.
Zone 1 is split into an early and late season, with the early season starting with the deer archery season in late August or early September. The early season runs through the deer gun season, then the late season opens. Really, the only difference between the early season and the late season is that in the late season you can pursue mountain lions with hounds. But otherwise, there is a lot of predator calling going on or just boot hunting for both seasons.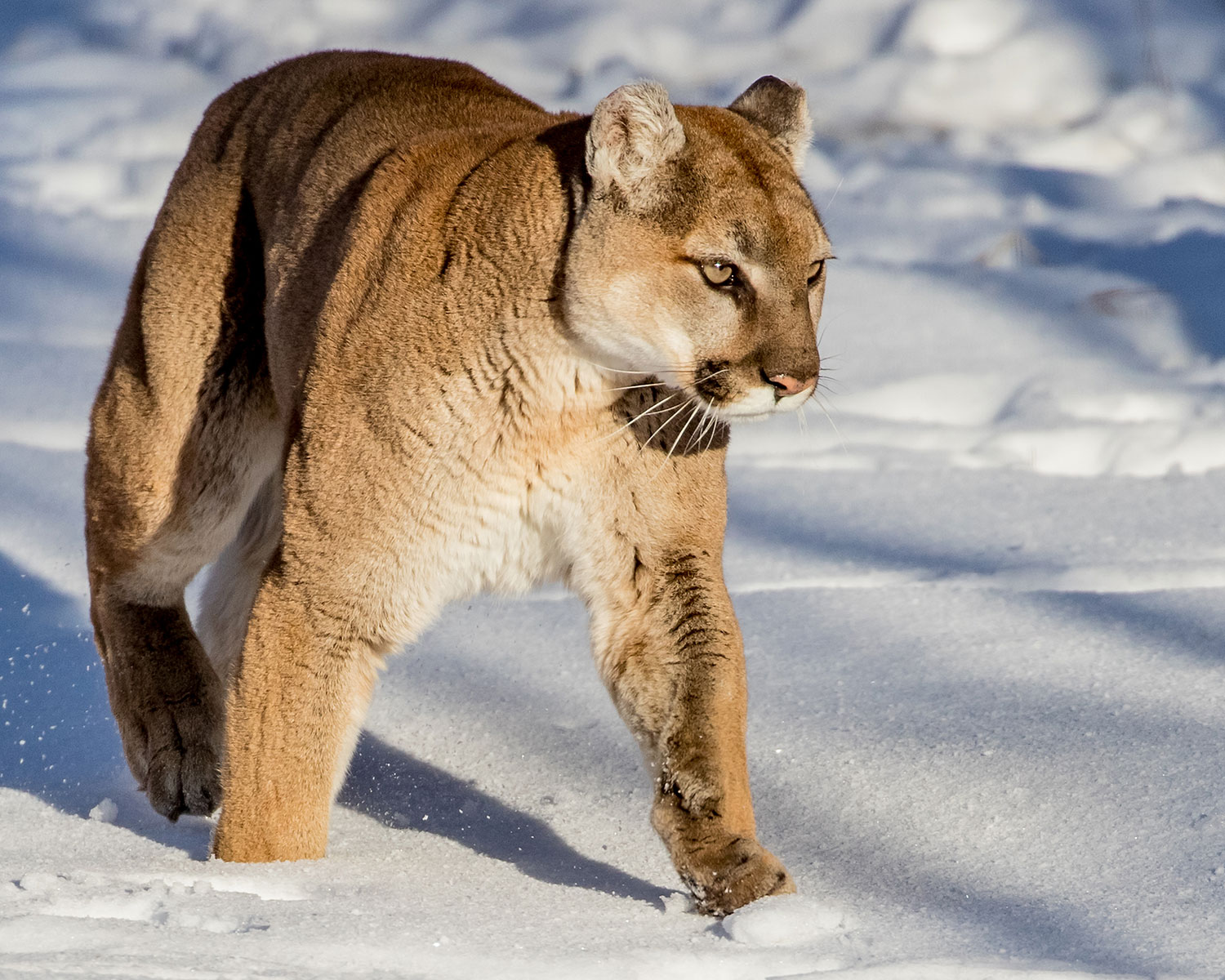 In Zone 2, the season also starts with the deer archery season and ends in late March.
NDO: At the time of this writing in mid-December, update us on how the mountain lion hunting season has shaken out so far.
Tucker: We had a harvest limit of eight mountain lions for the early season and only two were taken. That was the lowest harvest we've had in our early mountain lion hunting season since it opened over 10 years ago.
We are not surprised that there has been a lower number of mountain lions taken this year, as our trends show the population has been going down since 2011. From research, we know that hunters are the primary driver of population trends in mountain lions in North Dakota. Other forms of mortality we documented for mountain lions were also human-caused and included automobile collisions and poaching. And although we are trying to manage mountain lions at a low level, we are going to have to look at backing off on the harvest limit in future years to sustain our breeding population.
Zone 2 does not have a quota. The mountain lions that turn up in Zone 2 are kind of these dispersal, subadult mountain lions that have already effectively removed themselves from the breeding population in the badlands. We do not limit the take in Zone 2 because there is not a breeding population we are trying to protect.
The late season harvest limit in Zone 1 is seven mountain lions, or three females, whichever comes first. We have this female subquota to try and limit the number of females taken during the late season to protect that part of the breeding population.
Generally speaking, you cannot tell the difference between male and female mountain lions when you are out boot hunting or predator calling. But hound hunters, on the other hand, might have an opportunity to differentiate between a male and a female, especially if the animal has been treed.
Note: As of January 6, five mountain lions had been taken in Zone 1 late season.
NDO: Let's move from the rugged ambush cover in the badlands favored by mountain lions to some of North Dakota's aquatic habitat favored by river otters.
Tucker: The river otter is kind of a big deal. This is our second regulated trapping season for river otters in North Dakota, last year was our first season in nearly 100 years, and it went over very well.
It is a trapping only season and river otters can be taken anywhere in the state, but most of our river otters are found in the Red River Valley and its tributaries. And, not surprisingly, that is where most of the river otter harvest was last year.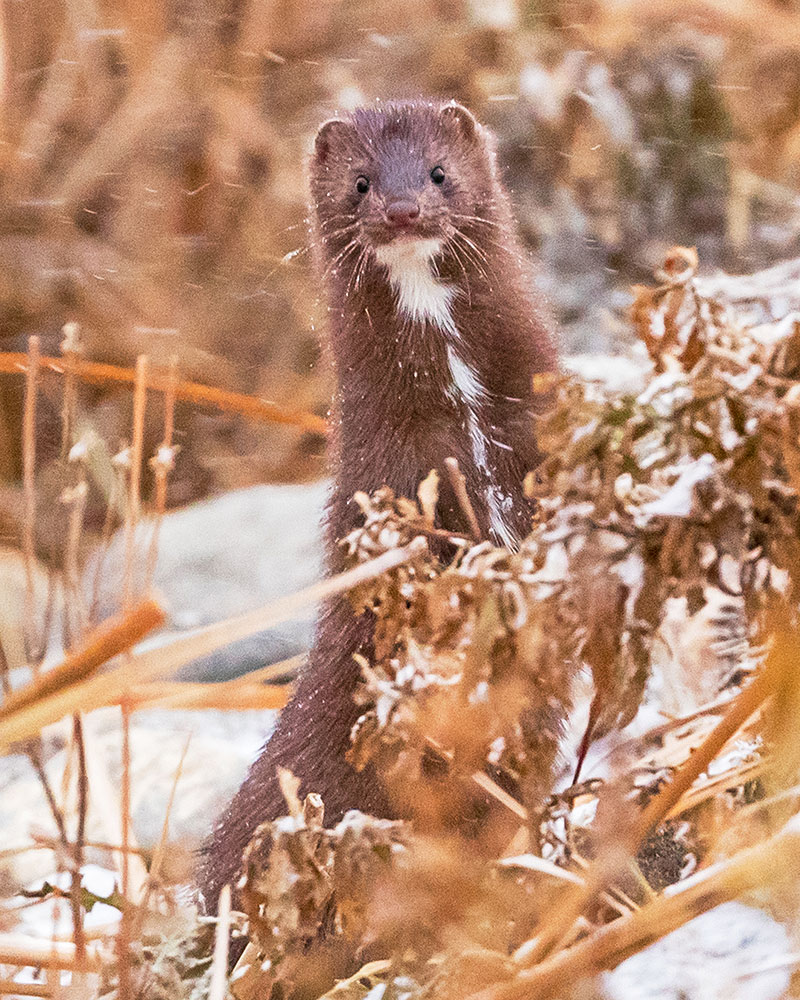 Mink photographed in winter in McLean County
Last year and this year the harvest limit for river otters was 15, one per trapper. In 2017, the harvest limit was met in just eight days. This year, the harvest limit was again reached in about a week's time.
For those who harvest a river otter, they have 12 hours to report it to their local game warden or district Game and Fish office. They must let somebody in the Department know that they took a river otter and then we will make arrangements to have it tagged. Tagging river otters and fishers, for that matter, is mandatory.
After someone traps an otter and reports it to Game and Fish, they remove the pelt, tag it and then we collect the carcass, which will provide biologists with a lot of really good biological information, including population trends. So, all the information we need on the how the population is doing comes from those dead animals, and that is why we require trappers to turn in the carcasses.
NDO: You mentioned fishers. While the river otter trapping season is still new, the second season just wrapped up, the trapping-only season on fishers has been going on for a while.
Tucker: We opened the first regulated, modern fisher season in 2011. While we do not have a harvest limit, the season is pretty short, only a week long. Last year, trappers took 38 fishers in a week, so there is quite a bit of harvest going on in a short period of time. We've been at that approximate harvest level for the last five or six years, so the harvest keeps the population stable.
The fisher season is only open east of ND Highway 281 and the primary reason for that open and closed zone is we want to allow harvest of fishers where we have most of our fisher population. But in the Turtle Mountains we also have a population of American marten and we do not want trappers trying to target fishers in the Turtle Mountains because they will probably catch a marten in the process … we do not know enough about our marten population to allow a harvest up there yet.
NDO: The North Dakota Game and Fish has more than 200 wildlife management areas, right around 220,000 acres of land. Individuals can trap on these WMAs, but there are some rules.
Tucker: Probably the biggest rule for trapping on wildlife management areas that trappers need to be aware of is that all of their equipment needs to be tagged with either their name, address and telephone number, or their equipment registration number.
To get your equipment registration number, you log on to your account on the Game and Fish website at gf.nd.gov. That registration number stays with you for life, it will never change, so you can use that tag number year after year. That registration number is also good for ground blinds or tree stands you might leave on WMAs, trail cameras, fish houses that you leave on the ice overnight … things like that. This year the U.S. Fish and Wildlife Service also adopted these rules for tagging equipment used on waterfowl production areas.
Also, as a reminder, we do not allow trappers to set cable devices on our WMAs until the upland game hunting season closes in early January. We enforce this restriction during the upland season because a lot of hunters are hunting with bird dogs.