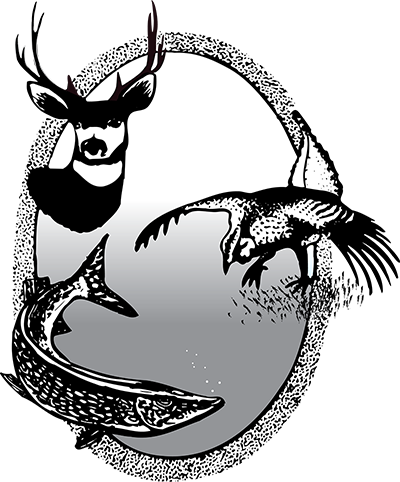 Zebra Mussels Discovered in Lake Ashtabula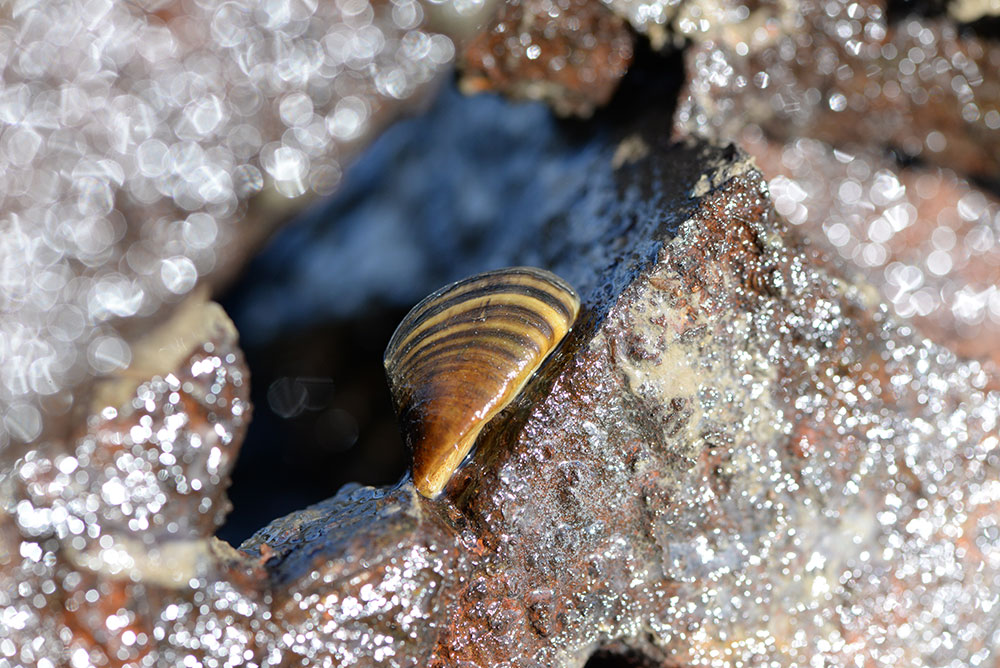 The North Dakota Game and Fish Department has confirmed the presence of invasive zebra mussels in Lake Ashtabula.
In June, an angler discovered a suspected zebra mussel and turned it in to Game and Fish aquatic nuisance species coordinator Jessica Howell. Howell confirmed it as an adult zebra mussel, and subsequent inspections of Lake Ashtabula, an impoundment on the Sheyenne River in Barnes and Griggs counties in east central North Dakota, also found well-established populations of zebra mussels of various ages throughout the lake.
At 5,200 acres, Lake Ashtabula is operated by the U.S. Army Corps of Engineers, and it offers a variety of outdoor activities such as boating, swimming, fishing, camping and skiing. Howell said it's unknown how these small, sharp-shelled mussels were introduced into Lake Ashtabula, and there is no known method to completely rid a lake of zebra mussels.
"This situation shows how important it is for boaters, anglers, swimmers and skiers to be aware of aquatic nuisance species and to take precautions to prevent their spread," Howell said. "Everyone who uses this lake now plays a key role in stemming the spread of these mussels to uninfested waters."
Because of this new finding, the Game and Fish Department has classified Lake Ashtabula, and the Sheyenne River downstream all the way to the Red River, as Class I ANS infested water. Emergency rules are in effect to prohibit the movement of water away from the lake and river, including water for transferring bait. Notices will be posted at lake access sites and popular shore-fishing spots along the river.
The Red River is the state's only other Class I ANS water. Adult zebra mussels were discovered in the Red in 2015.
Prevention is the best way to avoid spreading ANS, Howell said, as they often travel by "hitchhiking" with unsuspecting lake-goers.
"Always clean, drain and dry boats and other equipment before using another lake," Howell said. "Also, don't transfer lake water or live fish to another body of water. This can help stop the spread of not only zebra mussels, but most aquatic nuisance species that may be present."
Zebra mussels attach to solid objects, so lake-goers should be careful when handling mussel-encrusted objects and when grabbing an underwater object when they can't see what their hands may be grasping. Visitors should protect their feet when wading, or walking on shoreline rocks.
Zebra mussels are just one of the nonnative aquatic species that threaten North Dakota waters and native wildlife, Howell said. North Dakota regulations designed to prevent the spread of ANS include:
Remove aquatic vegetation before leaving the water access and do not import into North Dakota.
Drain all water before leaving the water access.
Remove drain plugs and devices that hold back water, and leave open and out during transport.
Do not import bait. For Class I ANS Infested waters, bait cannot be transported in water away from the river or lake. In all other areas, bait must be transported in a container that holds 5 gallons or less. Fish cleaning stations are available around Lake Ashtabula to dispose of unused bait. Remember that it is illegal to dump unused bait on shore or into the lake. If no fish cleaning station is available, place in a dry container and dispose of the bait at home.
In addition to North Dakota regulations, the Game and Fish Department strongly recommends that all equipment is cleaned, drained and dried every time it is used.
Clean – remove plants, animals, and excessive mud prior to leaving a water access.
Drain – drain all water prior to leaving a water access.
Dry – allow equipment to dry completely before using again or disinfect.
For more information about aquatic nuisance species in North Dakota, options for disinfection, or to report a possible ANS, visit https://gf.nd.gov/ans.
About Zebra Mussels
Zebra mussels are dime-sized mollusks with striped, sharp-edged, two-part shells. They can produce large populations in a short time and do not require a host fish to reproduce. A large female zebra mussel can produce 1 million eggs, and fertilized eggs develop into microscopic veligers that are invisible to the naked eye. Veligers drift in the water for at least two weeks before they settle out as young mussels, which quickly grow to adult size and reproduce within a few months.
After settling, zebra mussels develop byssal threads that attach their shells to submerged hard surfaces such as rocks, piers and flooded timber. They also attach to pipes, water intake structures, boat hulls, propellers and submerged parts of outboard motors. As populations increase, they can clog intake pipes and prevent water treatment and electrical generating plants from drawing water. Removing large numbers of zebra mussels to ensure adequate water flow can be labor-intensive and costly.
Zebra mussels are native to the Black and Caspian seas of western Asia and eastern Europe, and were spread around the world in the ballast water of cargo ships. They were first discovered in the United States in Lake St. Clair and the Detroit River in 1988, and quickly spread throughout the Great Lakes and other rivers including the Mississippi, Illinois, Ohio, Tennessee, Arkansas and Hudson. Moving water in boats and bait buckets has been identified as a likely vector, as has importing used boat lifts and docks.
Spring Pheasant Count Up from Last Year
North Dakota's spring pheasant population index is up slightly from the same time last year, according to the state Game and Fish Department's 2019 spring crowing count survey.
R.J. Gross, Department upland game management biologist, said the number of roosters heard crowing this spring was up about 6 percent statewide. The primary regions holding pheasants ranged from up 14 percent in the southeast and up 17 percent in the northwest, to down 8 percent in the southwest. The count in the northeast, which is not a primary region for pheasants, was up 33 percent from last year.
"We are still seeing the effects of the drought of 2017 that resulted in low chick survival," Gross said. "Typically, a spring pheasant population is composed primarily of yearling roosters with nearly as many 2-year-olds, and currently we have very few 2-year-old roosters."
While the spring number is an indicator, Gross said it does not predict what the fall population will look like. Brood surveys, which begin in late July and are completed by September, provide a much better estimate of summer pheasant production and what hunters might expect for a fall pheasant population.
"Barring significant storms or prolonged cold temperatures in June and July, we could be set for a good hatch," Gross said.
Pheasant crowing counts are conducted each spring throughout North Dakota. Observers drive specified 20-mile routes, stopping at predetermined intervals, and counting the number of pheasant roosters heard crowing over a two-minute period during the stop.
The number of pheasant crows heard is compared to previous years' data, providing a trend summary.
CRP Enrollment Open
The U.S. Department of Agriculture is accepting applications for certain practices under the continuous Conservation Reserve Program.
Eligible farmers, ranchers and private landowners can sign up at their local USDA Farm Service Agency offices.
Practices eligible for enrollment include grassed waterways, filter strips, riparian buffers and wetland restoration.
The Conservation Reserve Enhancement Program, an offshoot of CRP, is also open for enrollment.
Continuous signup enrollment contracts are for 10 to 15 years, with soil rental rates set at 90 percent of the existing rate. Incentive rates are not offered.
Kevin Kading, North Dakota Game and Fish Department private land section leader, said landowners interested in these programs could also qualify for additional financial incentives and cost-share from Game and Fish.
"Anyone who's interested in seeing how Game and Fish can help add to these practices, can contact a private land biologist in their area," Kading said.
Department land biologists and the counties they serve include:
Bismarck – Levi Jacobson (701-527-3764) – Burleigh, Emmons, Kidder, Morton and Oliver counties).
Devils Lake – Andrew Ahrens (701-204-5227) – Bottineau, Cavalier, Grand Forks, Nelson, Pembina, Ramsey, Rolette, Towner and Walsh counties.
Dickinson – Jaden Honeyman (701-260-3546) – Adams, Grant, Hettinger and Sioux counties.
Dickinson – Curtis Francis (701-227-7431) – Billings, Bowman, Golden Valley, Slope and Stark counties.
Harvey – Terry Oswald, Jr. (701-399-9958) – Benson, Eddy, Foster, Pierce, Sheridan and Wells counties.
Jamestown – Renae Schultz (701-320-4695) – Barnes, Cass, Dickey, Griggs, LaMoure, Logan, McIntosh, Ransom, Richland, Sargent, Steele, Stutsman and Traill counties.
Riverdale – Ryan Huber (701-527-8963) – Dunn, McHenry, McLean, Mercer, Renville and Ward counties.
Williston – Todd Buckley (701-770-3815) – Burke, Divide, McKenzie, Mountrail and Williams counties.
Spring Breeding Duck Numbers Tallied
The North Dakota Game and Fish Department's 72nd annual spring breeding duck survey conducted in May showed an index of 3.4 million birds, up 20 percent from last year.
Mike Szymanski, Department migratory game bird supervisor, said the index was the 22nd highest on record and stands 40 percent above the long-term (1948-2018) average.
"Breeding duck numbers generally trend with wetland conditions," Szymanski said. "The large number of ducks in North Dakota this spring can again be attributed to the large number of ducks that we have been producing for many years."
Survey results indicate numbers for all primary species were up from their 2018 estimates, including mallards (16 percent), green-winged teal (81 percent) and ruddy ducks (57 percent). All other ducks ranged from 5 (scaup) to 40 percent (pintails) above last year's numbers. All species, except for pintails and blue-winged teal, were above the 71-year average.
The number of temporary and seasonal wetlands was substantially higher than last year, as figures show the spring water index is up 46 percent. The water index is based on basins with water and does not necessarily represent the amount of water contained in wetlands or the type of wetlands represented.
"Water conditions ranged from poor to excellent across the state," Szymanski said. "Excellent wetland conditions in the south and east quickly deteriorated moving into the north central region, but are fair to good in the northwest."
Szymanski said concerns about habitat remain, as nesting cover in North Dakota continues to decline.
"Waterfowl breeding habitats are under extreme pressure, and expiring Conservation Reserve Program contracts and the continual conversion of habitat to other uses can only further reduce waterfowl production in the state," he added.
The July brood survey provides a better idea of duck production and insight into expectations for this fall, Szymanski said, though hunting success is also influenced by bird movements before and during hunting seasons, and weather patterns during the fall migration.
Traveling Boaters Take Note of ANS Regulations
North Dakota boaters traveling to or through other states or Canadian provinces, are reminded to check the aquatic nuisance species regulations of their destination, to make sure they are in compliance.
Mandatory boat inspections may be required along highways or at lakes based on destination or route taken.
In general, to ensure compliance, boaters are encouraged to clean, drain and dry equipment.
Clean – remove plants, animals and excessive mud from trailers, hulls, motors and other equipment such as fishing rods.
Drain – drain all water, including bilges, livewells and bait buckets.
Dry – allow all equipment to dry completely, as an inspection might be failed in a neighboring state if any standing water is present. If necessary, use sponges or towels to remove excess water and leave compartments open to dry.
More information on bordering state and provincial ANS regulations is available at the following web addresses.
Combatting Winterkill
The fallout of a tough winter in North Dakota is often winterkill. To help combat these fish kills and to provide anglers fishing opportunities during the open-water season, North Dakota Game and Fish Department fisheries staff often trap adult fish in one lake and transport them to waters that suffered setbacks over winter. That's what these two photographs depict. In the photo on the left, fisheries personnel in spring trapped adult bluegill from Harmon Lake and stocked them in Crown Butte Dam in the photo on the right. Both fisheries are in Morton County. According to Department fisheries managers, Crown Butte Dam suffered a total winterkill.
Hunting Guide and Outfitter Exam Scheduled
The next guide and outfitter written examination is August 17 at 1 p.m. at the North Dakota Game and Fish Department in Bismarck. The test is given periodically to anyone interested in becoming a hunting guide or outfitter in the state.
In addition to passing a written exam, qualifications for becoming a guide include a background check for criminal and game and fish violations; certification in cardiopulmonary resuscitation and standard first aid; and employment by or contract with a licensed hunting outfitter.
Hunting outfitter eligibility requirements include the guide qualifications, as well as an individual must have held a hunting guide license for two years; and must have proof of liability insurance.
Interested individuals are required to preregister by calling the Game and Fish Department's enforcement office at 701-328-6604.
Application Deadlines
Hunters are reminded the pronghorn application deadline is August 7 and the deadline for swan permits is August 14.
Later that month, archery seasons for deer and pronghorn open on August 30, while the mountain lion season opens on the same date.
Photo Contest Deadlines in Fall
The North Dakota Game and Fish Department's Watchable Wildlife Photo Contest guidelines are the same as in previous years, but the process for submitting photos has changed.
Photographers who want to submit photos to the contest will now go the Department's website at gf.nd.gov/photo-contest. Then it is a matter of providing some pertinent information about the photo and uploading it.
The changes were put in place to help both with ease of submitting photos for the photographer and managing those images for Department staff.
The contest is now open and the deadline for submitting photos is October 1. For more information or questions, contact Patrick Isakson, Department conservation biologist, at pisakson@nd.gov.
The contest has categories for nongame and game species, as well as plants/insects. An overall winning photograph will be chosen, with the number of place winners in each category determined by the number of qualified entries.
Contestants are limited to no more than five entries. Photos must have been taken in North Dakota.
By submitting an entry, photographers grant permission to Game and Fish to publish winning photographs in North Dakota OUTDOORS, and on the Department's website.
Game and Fish at State Fair
The North Dakota Game and Fish Department will host thousands of visitors to its free Conservation and Outdoors Skills Park July 19-27 at the State Fair in Minot.
Visitors will be treated to an array of activities, exhibits and useful information as the park is open from 1-7 p.m. daily. Pathways to Hunting, Fishing, Trapping and Archery are major attractions where interested kids and adults participate in each outdoor activity.
In addition to hands-on outdoor learning opportunities, the area offers a live fish display, furbearer exhibit and native prairie plantings. An information center staffed by Game and Fish Department personnel greets visitors to the Conservation and Outdoors Skills Park, which is located on the north end of the fairgrounds near the State Fair Center.
WMA Regulations Prohibit Fireworks, Camping Restrictions Lifted for Holiday
The North Dakota Game and Fish Department reminds citizens that possession or use of fireworks on state wildlife management areas is prohibited.
The primary objective of a wildlife management area is to enhance wildlife production, provide hunting and fishing opportunities, and offer other outdoor recreational and educational uses that are compatible with these objectives.
Only activities that would not disrupt the intentions of how these areas are managed are encouraged, and a fireworks display is not compatible.
In addition, the Game and Fish Department will lift the Tuesday-Wednesday no-camping restriction for the upcoming Fourth of July holiday week, which will allow overnight camping July 2-3 on those WMAs that otherwise have this two-day restriction in place.
A complete list of the WMA regulations is available here.
Fur Harvester Education Class
The North Dakota Cooperative Fur Harvester Education Program is sponsoring a free 16-hour fur harvester education class August 6 and 8 from 5-9 p.m. and August 10 from 8 a.m.-4 p.m. for anyone interested in trapping or hunting furbearers.
Students will learn the history of the fur trade in the Dakotas, furbearer identification, tools and techniques for harvesting furbearers in North Dakota, as well as proper handling (skinning, fleshing and boarding) of furbearers.
Upon completion, graduates are issued a certification card recognized by any state requiring trapper education prior to purchasing a license. Learn more and register here.
Shooting Clays
The North Dakota State High School Clay Target League state championship was held in June at The Shooting Park in Horace. The Game and Fish Department is an active supporter of the program, providing grants to help the teams get started through its Encouraging Tomorrow's Hunters grant program, as well as supporting the state tournament.
Top three individual varsity and team results follow:
Class 1A Boys – Kordell Kraft, Rugby High School, 100; Blaine Howard, Century High School, 98; and Daniel Murray, Shiloh Christian School, 97.
Class 1A Girls – Kyla Radomski, Rugby High School, 96; Evie Janosek, Thompson High School, 90; and Piper Suhr, Barnes County North High School, 88.
Class 1A Team – Rugby High School, first place; West Fargo High School, second place; and Century High School, third place.
Class 2A Boys – Lathan Stroklund, South Prairie High School, 98; Isaac Piseno, Red River High School, 97; and Blake Didier, Valley City High School, 96.
Class 2A Girls – Cassidy Lipelt, Legacy High School, 95; Emma Jordet, Red River High School, 90; and Jenna Thompson, Mandan High School, 89.
Class 2A Team – Sheyenne High School, first place; South Prairie High School, second place; and Red River High School, third place.