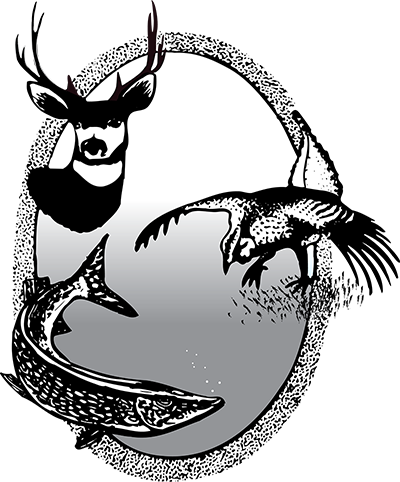 Authors and Contributors
CREP Enrollment Open
Landowners in southwestern North Dakota are again able to enroll in the state Conservation Reserve Enhancement Program, after the U.S. Department of Agriculture opened a new signup period in early December.
In addition, USDA also announced a signup for the general Conservation Reserve Program, which is open until February 29.
The North Dakota Riparian Project CREP, first offered in spring 2017, allows states to identify resource concerns and design custom-built projects along riparian areas.
"Over a 10-year period, approximately $19 million in federal funds from the USDA Farm Service Agency can be used to provide annual rental, incentive and cost-share payments for filter strips, riparian buffers, or pollinator and honeybee habitat," according to Kevin Kading, private land section supervisor for the State Game and Fish Department.
The state will contribute more than $4.3 million, which is funded from the Game and Fish Private Land Open To Sportsmen program, and the North Dakota Outdoor Heritage Fund.
"We've worked a long time developing these projects with USDA, and working with other partners and stakeholders," Kading said. "We feel these are good options for landowners to address a resource concern, and also open up some quality habitat for hunters."
Landowners interested in CREP can enroll acres in portions of Adams, Billings, Bowman, Burleigh, Dunn, Emmons, Grant, Golden Valley, Hettinger, McKenzie, Mercer, Morton, Oliver, Sioux, Slope and Stark counties. The enrollment cap for this program is 20,000 acres.
Expired, or expiring CRP is not eligible for the North Dakota Riparian Project CREP at this time, Kading said. Land offered must meet FSA cropping history requirements and be located within the project boundary.
There is no minimum acreage requirement for enrolling land into CREP, but any land enrolled in a CREP contract with USDA must also be enrolled in the Game and Fish PLOTS program. Kading said landowners don't have to allow public access to their entire property, but the PLOTS tract must be at least 40 acres in size.
Landowners will receive payments for allowing walk-in hunting access, and are eligible for additional habitat enhancements, incentives and cost-share.
For information regarding the project, landowners should contact a local Game and Fish private land biologist or their local county USDA service center.
Watercraft Registrations Online
North Dakota watercraft owners are reminded that 2020 is the first year of a new three-year registration period.
Watercraft registrations must be renewed online. A credit card is required.
The price to register motorboats in North Dakota under 16 feet in length, and all canoes, is $18; motorboats from 16 feet to less than 20 feet in length is $36; and motorboats at least 20 feet in length are $45. Fees are prorated.
In addition, Senate Bill 2293, passed by the 2019 state legislature, created an aquatic nuisance species program fund in the state treasury. Effective Jan. 1, 2020, this new state law establishes an ANS fee of $15 for each motorized watercraft registered in North Dakota to run concurrent with the three-year watercraft registration period.
For motorized watercraft operated on waters in North Dakota and not licensed in North Dakota, the state law establishes an ANS fee of $15 to be paid for each calendar year, and to display an ANS sticker on the watercraft.
New watercraft owners can attach the required documentation, such as the bill of sale or proof of taxes paid, with the online purchase, or send in the required documentation via standard mail. A 10-day temporary permit will be issued to allow for processing and delivery of registration and decals. For timely processing, Game and Fish encourages watercraft owners to submit attachments online.
The 2020-22 watercraft registration cycle begins January 1 and runs through December 31, 2022.
Coyote Catalog Available for Hunters, Landowners
The North Dakota Game and Fish Department and North Dakota Department of Agriculture are once again opening the Coyote Catalog, a statewide effort designed to connect coyote hunters and trappers with landowners who are dealing with coyotes in their areas.
Last winter, more than 20 landowners participated in the Coyote Catalog, along with 400 hunters and trappers. Landowners can sign up on the Department of Agriculture website. County and contact information is required.
Hunters and trappers can sign up here. Anyone who registered for the Coyote Catalog in the past must register again to activate their names on the database.
Throughout winter, hunters or trappers may receive information on participating landowners, and they should contact landowners to make arrangements. Landowners who are experiencing coyote depredation of livestock should first contact the U.S. Department of Agriculture Wildlife Services.
The Coyote Catalog will remain active through March 31, 2020. For more information, contact Ryan Herigstad at Game and Fish, 701-595-4463; or Jamie Good, at the Department of Agriculture, 701-328-2659.
Contour Lake Maps on Website
North Dakota Game and Fish Department fisheries personnel recently added new fishing waters to the list of available contour maps on the Game and Fish website.
In addition, Jerry Weigel, fisheries production and development section leader, said maps of existing waters have been reprocessed to improve detail and quality.
"We have access to more tools and options to create a better map than we did back in the early 2000s when most contour mapping occurred," Weigel said.
Contour maps recently added or improved are: Fox Lake, Barnes County; Bowman-Haley Dam, Bowman County; Powers Lake, Burke County; Crimmins Lake, Burleigh County; North Washington Lake, Eddy County; Rice Lake, Emmons County; Larimore Dam, Grand Forks County; Alkaline Lake and Lake Geneva, Kidder County; Buffalo Lodge Lake and Cottonwood Lake, McHenry County; Kislingbury Lake and Lehr Wildlife Management Area, McIntosh County; Arnegard Dam, McKenzie County; Coal Lake, McLean County; Clearwater Lake, Mountrail County; Buffalo Lake, Pierce County; Hinsz Lake, Sheridan County; Dickinson Reservoir, Stark County; North Golden Lake, Steele County; and Epping Springbrook Dam, Williams County.
All contour maps are available here.
Hunter Education Classes
Individuals interested in taking a hunter education class in 2020 are reminded to register early, as most classes are held the first few months of the calendar year.
Classes are listed by city and can also be sorted by start date. Classes will be added throughout the year as they become finalized.
To register for a class, click on "enroll" next to the specific class, and follow the simple instructions. Personal information is required.
Individuals interested in receiving a notice by email when each hunter education class is added, can click on the "subscribe to news and alerts" link found below the news section on the Game and Fish home page. Check the box labeled "hunter education" under the education program updates.
In addition, SMS text notifications of new classes can be sent directly to a cell phone. Simply text "NDGF HunterClass" to 468311 to subscribe to this feature.
State law requires anyone born after December 31, 1961 to pass a certified hunter education course to hunt in the state. Hunter education is mandatory for youth who are turning 12 years old. Children who turn age 11 during the calendar year can take the class.
2020 North Dakota OUTDOORS Calendar Available
The 2020 North Dakota OUTDOORS calendar is available for ordering online.
Calendars are also available via mail order. Send $3 for each, plus $1 postage, to: Calendar, North Dakota Game and Fish Department, 100 N. Bismarck Expressway, Bismarck, ND 58501-5095.
The calendar is the North Dakota OUTDOORS magazine's December issue, so current subscribers should have already received it in the mail.
Staff Notes
Reile Named Game and Fish Employee of the Year
Alan Reile, North Dakota Game and Fish Department information technology coordinator in Bismarck, received the agency's Director's Award for professional excellence at the Department's annual staff meeting in December.
Terry Steinwand, Game and Fish director, said Reile has had a hand in making all staff more efficient by maintaining Department systems, law enforcement technologies, video production, cyber security and desktop support.
"Alan consistently demonstrates professionalism by supporting our technologies and staff," Steinwand said. "His ability and effort have helped us all perform at a very high level. Perhaps most of all, his commitment to the Department and his willingness to help is recognized and appreciated by all."
Game and Fish Recognizes Employees
North Dakota Game and Fish Department Director Terry Steinwand recently honored a number of employees with performance-based awards. Steinwand presented the following employees with special recognition awards at the Department's annual winter meeting.
Renae Schultz, private land biologist, Jamestown, was recognized for her attitude, persistence and efforts in coordinating a Private Lands Open To Sportsmen tract along the James River.
Mike Anderson, video project supervisor, Bismarck, was recognized for his planning, shooting, editing, script writing and voicing the North Dakota Outdoors weekly broadcast, in addition to hosting and editing the Game and Fish Department's weekly online webcast.
Justin Mattson, administrative staff officer, Bismarck, was recognized for his work ethic, reliability and willingness to take on extra responsibilities in the administrative services division.
Bill Haase, wildlife resource management supervisor, Bismarck, was recognized for his work on several projects, including public shooting ranges, cover crops and GPS mapping for weed spraying.
Mike Szymanski, migratory game bird management supervisor, Bismarck, was recognized for his vision and coordination in combining the three separate small game, waterfowl and furbearer/trapping guides into one combined hunting and trapping guide.
Steve Dyke, conservation section leader, and Sandra Johnson and Elisha Mueller, conservation biologists, all Bismarck, were recognized for their efforts in developing a new standard for wind project planning and siting in North Dakota.
In addition to special recognition recipients, Keenan Snyder, district game warden, Williston, was named North Dakota's Boating Officer of the Year. His district has approximately 150 miles of shoreline bordering Lake Sakakawea and portions of the Yellowstone and Missouri rivers. Chief game warden Robert Timian said warden Snyder has been tasked with water patrols relating to monitoring environmental issues associated with oil activities in, on and around these three water bodies, and has met these challenges with enthusiasm, which reflects highly on the department and the community he serves.
Cox Named Wildlife Officer of the Year
Art Cox, North Dakota Game and Fish Department district game warden stationed in Bowman, is the state's 2019 Wildlife Officer of the Year. Cox was honored in December by the Shikar-Safari Club International, a private conservation organization that annually recognizes outstanding wildlife officers in each state.
In a nomination letter sent to Shikar-Safari, chief warden Robert Timian said Cox's district contains a variety of wildlife and recreational areas that encompasses parts or all of four counties.
"Warden Cox has a large district that requires energy and dedication to patrol with elk, deer, pronghorn, grouse, partridge, waterfowl, fishing and pheasant seasons overlapping," Timian said. "He is often pulled in different directions, but always finds a way to get his mission completed and has a great working relationship with the public and landowners in his district."
Oberhelman, Johnson Fill PLI Positions
Ryan Oberhelman, Dickinson, and Jens Johnson, Williston, have been hired to fill Game and Fish Department private land biologist positions.
Oberhelman, a native of Bloomington, Minnesota, has a Bachelor of Arts from Reed College in Oregon, Master of Arts from the University of Nebraska, Master of Fine Arts from the University of Wyoming and a Master of Arts, Environment and Natural Resources with graduate work on rangeland ecology.
Johnson, a native of Northwood, has a Bachelor of Science in fish and wildlife biology from the University of North Dakota.
Holen Hired as ANS Biologist
Bismarck native Ben Holen has been hired as the agency's aquatic nuisance species biologist. Holen has Bachelor of Science degrees in biology, and fisheries and wildlife, from Valley City State University.
Wegner Hired as Programmer Analyst
Shane Wegner has filled the Department's programmer analyst position. He has a computer science degree from the University of Jamestown.