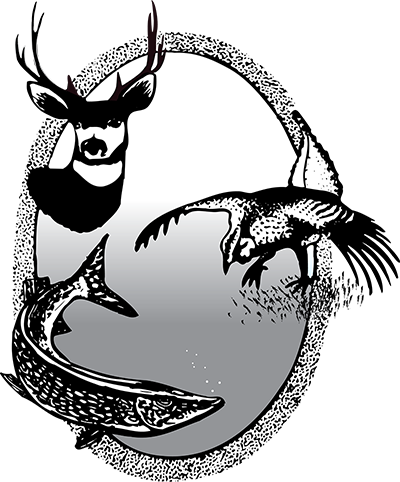 Authors and Contributors
CWD Test Results
Spring Light Goose Conservation Order
Big Three Lottery
Elk, moose and bighorn sheep applications must be submitted online before midnight March 24.
To apply online. Paper applications are not available.
Hunters who have received a license through the lottery in the past are not eligible to apply for that species again.
In 2020, more than 24,000 people applied for the 470 moose licenses; 21,069 applied for the 523 elk licenses; and 16,935 applied for the 5 bighorn sheep licenses.
Legislation on Game and Fish Website
The North Dakota Game and Fish Department continues to track hunting and fishing issues during the 2021 legislative session.
Interested outdoor enthusiasts can follow proposed outdoors-related bills online.
A brief description of each bill will be included. To view each bill in its entirety, click on the linked bill number.
Midwinter Waterfowl Survey
2021 North Dakota OUTDOORS Calendar Available
The 2021 North Dakota OUTDOORS calendar is available for ordering online at the state Game and Fish Department website, gf.nd.gov.
The calendar features outstanding color photographs of North Dakota wildlife and scenery, and includes season opening and application deadline dates, sunrise-sunset times and moon phases.
Calendars are also available via mail order. Send $3 for each, plus $1 postage, to: Calendar, North Dakota Game and Fish Department, 100 N. Bismarck Expressway, Bismarck, ND 58501-5095.
The calendar is the North Dakota OUTDOORS magazine's December issue, so current subscribers should have already received it in the mail.
Gear on WMAs
Hunters are reminded that tree stands, blinds, steps and other personal items such as cameras, must be removed from all wildlife management areas by Jan. 31.
Items not removed by Jan. 31 are considered abandoned property and are subject to removal and confiscation by the North Dakota Game and Fish Department.
Nonresident Any-deer Bow Licenses
The North Dakota Game and Fish Department will have 780 any-deer bow licenses available to nonresidents in 2021.
Applicants can apply online beginning March 15 on the Game and Fish website, gf.nd.gov. The deadline for applying is April 15.
Up to five hunters can apply together as a party. A lottery will be held if more applications are received than licenses available. A total of 1,486 people applied in 2020.
The number of nonresident any-deer bow licenses available is 15% of the previous year's mule deer gun license allocation.
Permanent Fish House Deadline
State law requires removal of permanent fish houses from North Dakota waters by midnight March 15.
Anglers are advised to use caution because mild weather conditions can quickly result in unstable ice conditions.
Fish houses may be used after March 15 if they are removed from the ice daily. In addition, it is illegal to leave fish houses on any federal refuge land or on any state-owned or managed land after March 15.
Earth Day Patch Contest
The state Game and Fish Department's annual Earth Day awareness campaign is accepting entries for design of a 2021 Earth Day patch. North Dakota students ages 6-18 are eligible to participate. The deadline for submitting entries is March 15.
The Game and Fish Department will announce a winner in three age categories – 6-9, 10-13 and 14-18. Each winner will receive a pair of binoculars. The final patch design will be chosen from the three winners.
The winning design will be used on a patch given to members of Girl Scouts, Boy Scouts, 4-H clubs and any school participating in Earth Day cleanup projects on state- owned or managed lands in North Dakota in April and May.
The patch should incorporate some aspect of Earth Day – celebrated April 22 – or keeping North Dakota clean. It must be round and three inches in diameter. There is a limit of five colors on the patch, and lettering must be printed. Name, address, age and phone number of the contestant must be clearly printed on the entry form. Only one entry per person is allowed.
Earth Day contest rules and entry forms are available online.
Winter Anglers Need to Clean Up Ice
The North Dakota Game and Fish Department reminds winter anglers to clean up the ice after fishing. This not only applies to trash, but fish as well.
It is not only unsightly, but it is illegal to leave fish, including minnows used for bait, behind on the ice. According to state fishing regulations, when a fish is caught, anglers must either immediately release the fish unharmed, or reduce them to their daily possession.
It is common practice for some anglers to fillet fish on the ice, which is allowed, as long as fish entrails and other parts are removed from the ice and properly disposed of at home.
In addition, all trash, including aluminum cans, cigarette butts and Styrofoam containers, must be packed out and taken home.
Watchable Wildlife Checkoff
North Dakota citizens with an interest in supporting wildlife conservation programs are reminded to look for the Watchable Wildlife checkoff on the state tax form.
The state income tax form gives wildlife enthusiasts an opportunity to support nongame wildlife like songbirds and birds of prey, while at the same time contributing to programs that help everyone enjoy all wildlife.
The checkoff – whether you are receiving a refund or having to pay in – is an easy way to voluntarily contribute to sustain this long standing program. In addition, direct donations to the program are accepted any time of year.
To learn more about Watchable Wildlife program activities online.
Staff Notes