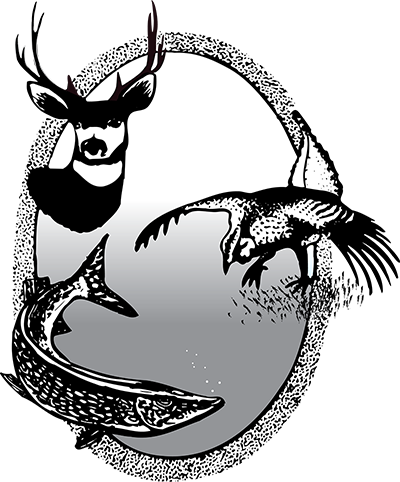 Habitat Needs of Pheasants
(A Farm and Ranch Guide to Developing and Maintaining Wildlife Habitat on the Northern Great Plains - Section 4)
Trees and pheasant habitat
Cropland Management Strategies
Managing Hayland
Producers can hay one-third of a designated nesting area annually and still provide optimal wildlife nesting opportunity.
No matter the amount, delaying haying until August 1 each year yields best results for limiting mortality of pheasant nests and broods, while July 15 is an alternative date if hay quality is a priority (Figures 1 and 2).
If better hay quality and quantity is the desired goal, and a producer would like to hay up to 50% of dedicated nesting acres annually, following a haying rotation is a beneficial compromise. In this scenario, 50% of the field is cut annually, with each area cut two years in a row, then switching to the other area for two years. This helps ensure good residual cover for nesting most years, while usually increasing hay quality.
Inside-out haying, or haying toward the idle acres, allows pheasant broods and adults to escape to the unhayed area instead of getting trapped in a small strip in the middle of the field. Under this scenario, the producer hays the ends of the field first, then works back and forth toward the unhayed nesting cover.
If haying is used to manage and invigorate a grass stand, rake and remove dead grass (litter) from the soil surface. Using a heavy harrow or other light ground disturbance post-haying will allow more sunlight to reach the soil surface to encourage forb growth.
Cover Crops
Pheasant biology considerations
To benefit pheasants, it's important to keep in mind the annual life cycle of a pheasant to meet year-round habitat needs. Also, although pheasants can move up to 10 miles to access winter cover, most habitat needs should be met within neighboring sections of land—a hen with young chicks typically moves less than 1/4 mile per day.
Nesting: Pheasant nesting begins late April and continues through early August, with a peak hatch period in late June or early July. For successful reproduction, pheasants need grass cover during nesting and cover with an open understory and abundant insects for chick rearing. For this reason, cover crops can meet an important biological need as soon as pheasants hatch.
Brood rearing: Once a brood reaches maturity (late August through September), thermal cover and winter food sources are the main requirements to ensure that they will survive to nest the following year.
Winter survival: Vertical cover and seed sources from cover crops are beneficial from October through March. Plants with rigid stems withstand heavy snow during severe winters and provide cover through the following spring. Vertical cover which is not going to be left on the landscape through summer should be removed before May to prevent the area from becoming a trap for nesting hen pheasants.
For more information about enhancing and providing and providing nesting cover and food sources, see sections on Field Borders and Buffer Strips, Inside-out Haying, Livestock Management, Cover Crops, Planting Native Grasses and Forbs, Reduced Tillage, Promoting Forbs and Mechanical Manipulation, see Habitat Management Practices for the Northern Great Plains.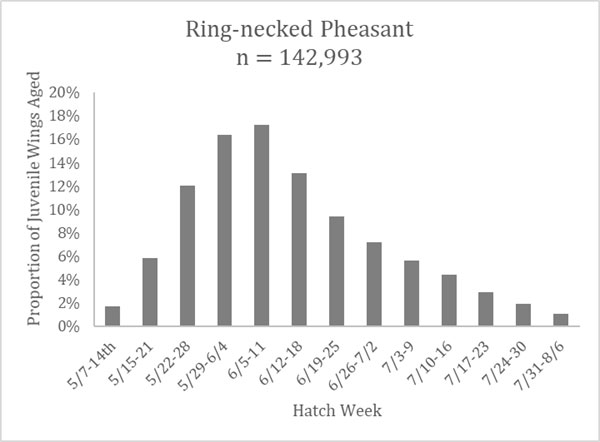 Figure 1. Distribution of ring-necked pheasant hatch dates in North Dakota.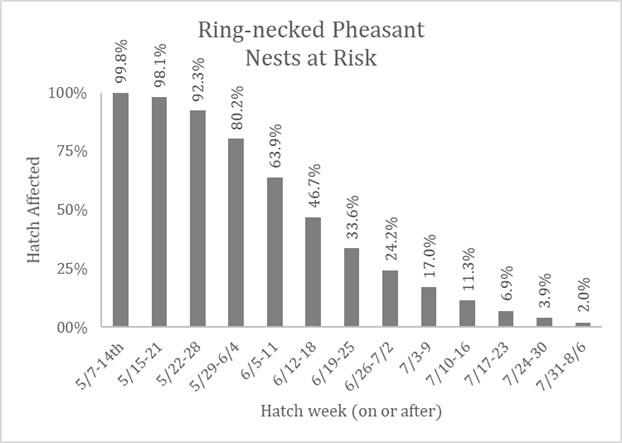 Figure 2. Distribution of the percent of ring-necked pheasant nests at risk during the haying season. Note: pheasant chicks are flightless and vulnerable to haying, harvest, burning or other management of nesting and brood-rearing cover until 2-4 weeks of age, so percentages of chicks at risk would be 2-4 weeks after dates indicated for the bars in this figure.