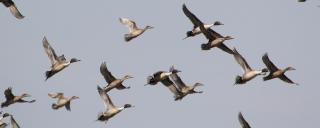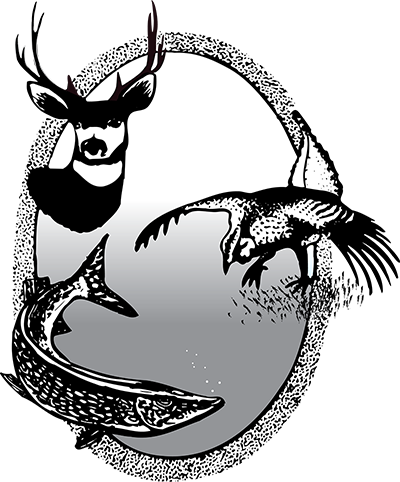 Fact Sheet

| | |
| --- | --- |
| Scientific Name | Anas acuta |
| General Description | L 21", WS 34", 1.8 lb. Long and slender throughout. Sports a distinctive pointed black tail, white breast, and brown head. |
| Status | Occurs in North Dakota from March to November. Peak breeding season from early April to early May. |
| Abundance | Common to abundant. |
| Primary Habitat | Wetland complexes of open water and associated upland prairie. |
| Federal Status | Migratory Bird. |
| Reason for Designation | Identified as a species of High Continental Priority in the North American Waterfowl Management Plan. |
Locations and Conditions of Key Habitat
Preferred Habitat
Ideal nesting habitat for Northern Pintails is native prairie of low cover interspersed with seasonal or semi-permanent wetlands. CRP, hayfields, pastures, and weedy field borders are utilized. Temporary, seasonal, and semi-permanent wetlands, shallow river impoundments, stock ponds, and dugouts are utilized for foraging. Feed on vegetation consisting of seeds of sedges, grasses, pondweeds, and smartweeds. Primarily feed on aquatic invertebrates during spring that are abundant in shallow temporary and seasonal ponds. Hens in particular utilize aquatic invertebrates as an important food source during breeding, as do ducklings until about 6 weeks of age. Pintails may also use cropland ponds with basins of tilled bottom soil; however, nests initiated in croplands are prone to high failure rates. Annual nest success and productivity vary with water conditions, predation, and weather.
Key Areas and Conditions for Northern Pintail in North Dakota
The USFWS Habitat Population Evaluation Team has built spatially explicit models to depict highest densities of breeding pairs of ducks for targeting conservation.
Problems Which May Affect this Species
Habitat
Conversion of grassland to cropland, energy development and wetland drainage. Degradation of grasslands from invasive plants, woody encroachment, succession, and loss of diversity. Wetland loss and/or degradation limit nesting habitat and food resources.
Other Natural or Manmade Factors
The occurrence of lead poisoning in this species is reduced since the ban on lead shot for waterfowl. Destruction of nests initiated in cropland by farm machinery. Predation by mammal species reduces nest success. Mortality from collisions with power lines and wind turbines. Expanding oil and gas development in North Dakota may impact Northern Pintails and there is increasing risk of oilfield contamination to wetlands.
Research and Survey Efforts
Current Research or Surveys
Traditional waterfowl survey efforts occur annually.
The effects of oil and gas development on waterfowl and waterfowl production is being studied in North Dakota.
Southern Illinois University (ND SWG T-43-R) is studying abundance, productivity and nest survival of grassland nesting birds in different vegetation types. A final report is anticipated in 2016.
Previous Research or Surveys
The U.S. Fish and Wildlife Service (ND SWG T2-10-R) studied waterfowl use of varying habitat types, including dense nesting cover and restored multi-species native plantings The project was initiated in 2010, a final report was provided in 2014 (Fisher 2014), and thesis in 2012 (Haffele 2012).
Numerous published reports and gray literature on this species throughout its range and in North Dakota. For a comprehensive list of efforts see the "Bibliography for Northern Pintails."
Additional Research or Surveys Needed
Contact the North Dakota Game and Fish Department Waterfowl Biologists for most current information needs.
Population and Trend Estimates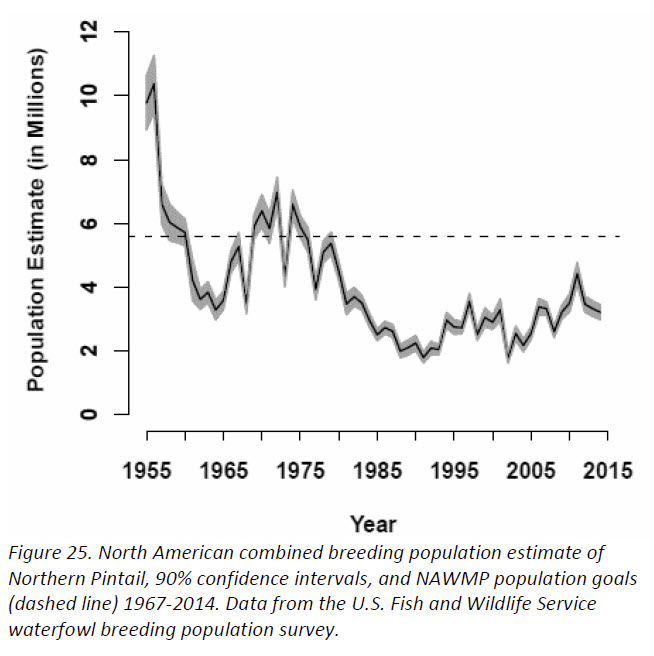 2014 Waterfowl Breeding Population: 3,200,000 ± 0.2 million, see figure 25
North American Waterfowl Management Plan Objective : 5,600,000
Management Recommendations
Preserve large tracts of grasslands and wetland complexes.
Maintain a diversity of planted grassland on the landscape, including DNC and multi-species native grassland restoration.
Maintain grasslands free of or with little woody vegetation.
Restore hydrology and vegetation to degraded wetlands.
Include winter cereal crops in crop rotations.
Leave grassed buffer strips around wetlands and waterways to prevent erosion and runoff into wetlands.
Delay cutting from April 15 – August 1, and use a stripper header and flushing bars. When cutting, leave the highest possible height (12-24 inches).
Stocking fish in shallow wetlands is detrimental to waterfowl production.
Utility development should follow the guidance of "Reducing Avian Collisions with Power Lines" including marking power lines and creating an Avian Protection Plan.
Wind industry companies should collaborate with the American Wind and Wildlife Institute for responsible wind development.
Monitoring Plans
For nearly 50 years, the May Waterfowl Breeding Population and Habitat Survey have been in place. In addition, four-square mile and duck brood counts are conducted annually by the U.S. Fish and Wildlife Service. The North Dakota Game and Fish Department also conducts annual mid-July duck brood index surveys. At this time, there appears to be no additional monitoring needs.
2005-2015 Progress
The Northern Pintail remains a Level II Species of Conservation Priority. Several State Wildlife Grant Projects (T2-9-R, T-18-R, T-27-HM ) have contributed to habitat enhancement of wetlands for Northern Pintail and other wetland dependent birds.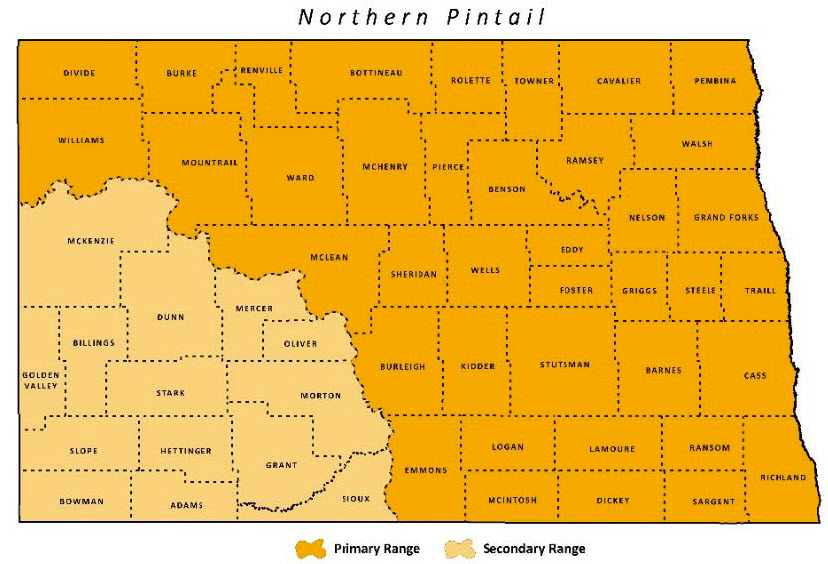 Note: A listing of works consulted when compiling the information on this page may be found in the 2015 State Wildlife Action Plan.