Accessing or Creating an Account
If you have purchased licenses, applied for lotteries, registered boats, etc. with the Department in the past, you should be able to look up your information in the new system. There will be some growing pains with this system as a large amount of historical data had to be consolidated. If you are a previous customer and cannot find your account, or if your information seems incorrect (ex. you cannot find a boat that is registered to you, your hunter safety number isn't listed under your account, your bonus points are incorrect, etc.) please contact the Department at 701-328-6335, and our staff will work to fix the problem.
NOTE: During the purchase/application process, do not use your browser's back button to navigate to previous pages. Always use the buttons provided within the webpage itself.
Online Services Links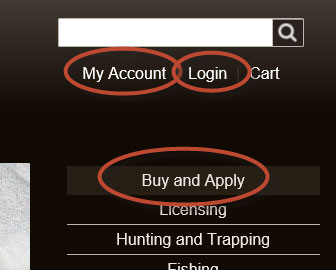 You can access or create an account either by clicking on the 'My Account' or 'Login' link at the top of any page, or by clicking on the 'Buy and Apply' link on the menu then clicking on one of the links on the Buy and Apply page.
---
Enter Identifying Information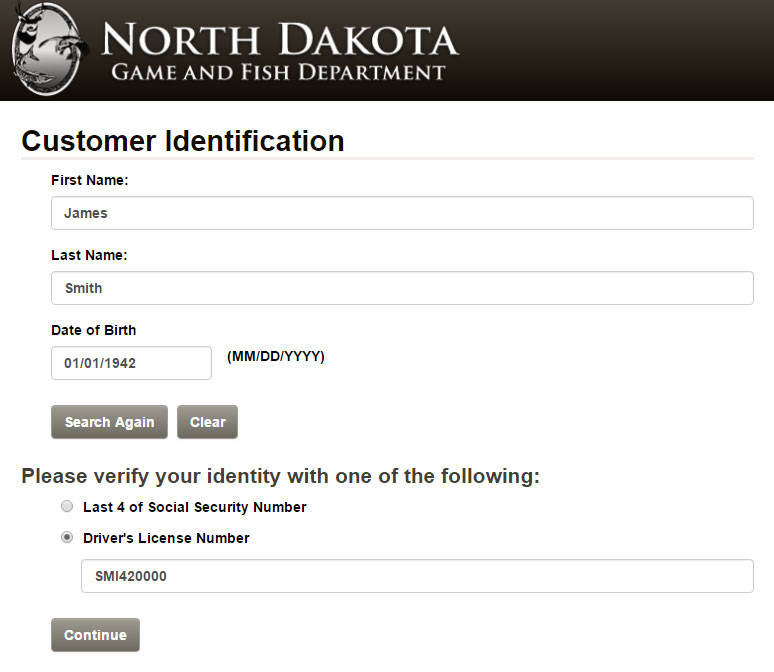 Enter your name and date of birth then click on 'Continue'.
If the system finds your record, you will be asked to provide your driver's license number, the last 4 of your SSN, or another piece of identifying information
(Note: The information that can be used at this step in the process is dependent upon what information the department has on file for you. The more complete your profile, the more types of identifying information you can use.)
---
If No Account is Found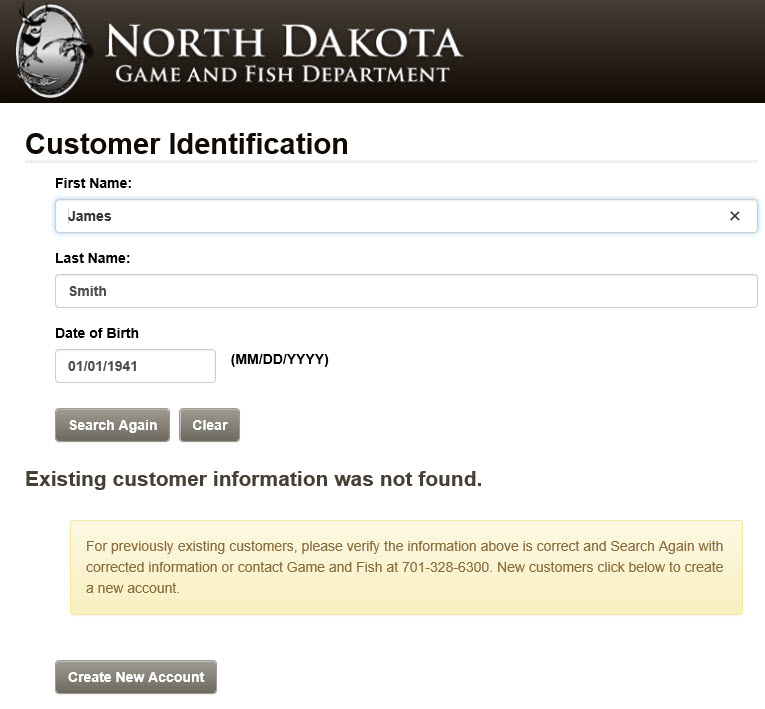 If no account was found, you will have the option to search again or to create a new account.
NOTE: If you have done business with us before and the system does not find your account, please call the department at 701-328-6335. If you create a new account, you may lose bonus points or be unable to renew boat registrations online.