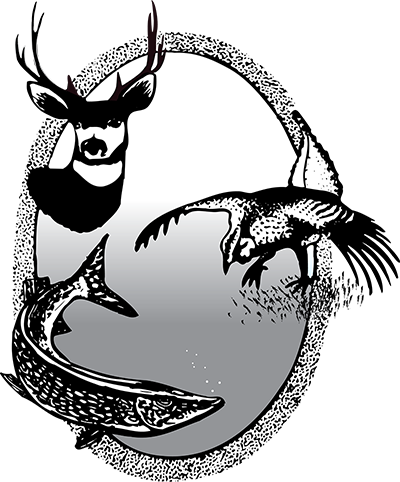 Course Descriptions and Definitions
Hunter Education Classroom (Traditional) Course
The traditional hunter education course is offered as a classroom course and is mandated by state law to be a minimum of 14 hours. Classes are taught by certified volunteers who determine the location and time of classes within their communities. Classes are open to students age 11 (or who will turn 11 during the calendar year the class is held) and older (parents may accompany their kids). In larger communities, some instructors offer adult only or women oriented classes to facilitate a variety of learning environments. Classes are offered free of charge.
Gun safety is a primary component of the hunter education course making it a good course for hunters and non-hunters alike. Safety instruction includes crossing fences while carrying a firearm, transporting and carrying firearms safely, ammunition, shooting positions and zones of fire. Other topics include the history of conservation (to demonstrate the importance of hunters in maintaining habitat), the North American Model of Wildlife Management, maintaining landowner relationships, regulations, ethics, wildlife identification, marksmanship and caring for game.
Hunter Education Home Study Course
The North Dakota Game and Fish Department home study course is provided as another option for people to earn a North Dakota hunter education certificate. Unlike the traditional hunter education course, you must be 12 years of age or older to take this class (calendar year in which student turns 12).
Though sometimes referred to as an online course, the course is split between classroom and online study time. State law requires that hunter education courses are a minimum of 14 hours in length. The home study course is a combination of six hours classroom instruction (two meetings) and at least 10 hours of online study. Here is how it works:
NOTE: There is a $19.95 fee to take this course online.
A student enrolls for a home study course.
The student is given the time and location of the initial classroom instruction.

During the initial classroom session the student will fill out a registration card and receive the materials and instructions needed to complete the online portion of the class.
Additionally they will receive training that will help in completing the final written and hands-on practical tests.
The student will also be given a date, time and location for the second meeting.

The student will then have approximately two weeks to complete the online portion of the class on their own.
The second meeting will consist of a review of class materials, the written test and a hands-on practical.
Students who pass the course will receive their hunter education cards 7-10 days after the final class date.
Home Study Links
Sign up for a home study course.

All available hunter education classes will be listed on this page. Home study courses will be designated as '"Home Study" in the "City" column of the listing (ex. Bismarck-Home Study)

.
Online Course Material. The initial classroom introduction/instruction class must be taken before the student takes the online portion of this course.